During his first month in office, the United States' maniac-in-chief has received little pushback on his budding authoritarianism from Republicans in Congress, who have been mostly content to focus on unwinding various regulations and gutting an increasingly popular health care law that has brought the US uninsured rate to record lows. Naturally, a lot of Americans are fairly upset.

Rather than deal with this, many members of Congress held fundraisers instead of free in-person events for the constituents who pay their salaries. Telephone town halls, in which constituents can't yell out of turn or tweak anyone's ego on camera, suddenly became a popular option. And while official phone lines have been frequently tied up over the past five weeks, others opted for a variety of wild excuses to bail altogether. Sen. Marco Rubio, for example, pretended he was in Europe and then complained that town halls "are designed to heckle and scream at me in front of cameras," while Texas Rep. Louie Gohmert invoked Gabby Giffords' shooting and a fear of "the more violent strains of the leftist ideology" to avoid meeting with constituents ("Have some courage," Giffords responded in a withering statement).
Republican members of Congress who did hold events didn't fare too well. One man yelled at Sen. Chuck Grassley to not repeal Obamacare but "improve it, for god's sakes!" while Sen. Tom Cotton got publicly burned by a 7-year-old. Although Tea Party parallels have been duly noted, the "liberal activist" organizers that became the subject of a bizarrely accurate presidential tweet have sprung up around a genuine and overwhelming wave of mass energy and fear (and while there were certainly a lot of people who hated Obama, that's not entirely how it happened last time).
In this wake, a plethora of groups have been created to provide resources for concerned citizens. The Town Hall Project is one such website helping people organize and find events at which to talk to their representatives; another is The United State of Women, a 501(c)(3) that began as a gender equality summit hosted by the White House, and collaborated with groups like Indivisible and Women's March to help prepare constituents to voice their concerns at last week's town halls. In a call with 58,000 women across the country, leaders from those three organizations—plus Senators Kirsten Gillibrand and Patty Murray, Rep. Pramila Jayapal, and Planned Parenthood president Cecile Richards—shared best practices for communicating politely and effectively with representatives and took questions from callers. An informal poll conducted during the call found that the issue concerning the largest percentage of callers was "protecting our democracy," followed by "protecting reproductive rights."

G/O Media may get a commission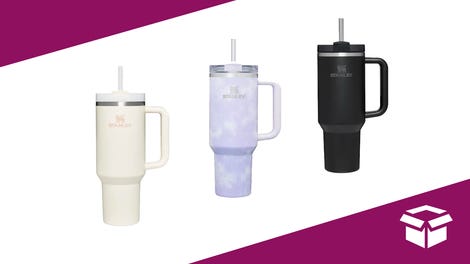 Up to 45% off
Stanley Cup Sale
In a phone interview with Jezebel, Jordan Brooks, an Obama administration alum and newly-hired COO and managing director of The United State of Women, brushed off accusations that town hall attendees are somehow inauthentic or menacing. "We've seen so many people out for the first time," she said. "It is a very positive thing, to have people coming out to town halls and meeting with their representatives; that is how government works. We're really excited to help give people tools to be able to do that."
After the call, the United State of Women solicited voicemails from listeners, who voiced their concerns to organizers. Mariel Ferriero, a first-generation Mexican-American from Kansas, said that ever since the Women's March, she's started volunteering for local organizations and getting involved in immigration issues. "Hopefully I can influence the state of Kansas to be more positive towards immigration and towards naturalizing citizens," she said in one voicemail recording. Maryland resident Lani Steffens called to express her support for the Affordable Care Act. According to her message, the medication she takes to control her migraines would cause birth defects if she were to get pregnant, so "access to birth control, and if needed, abortion, is actually very very important and relevant to me," she said.
A number of people who reached out to Jezebel following our call-out were new at interacting with their elected officials, and while some were connected up with national organizing apparatuses like Indivisible, the anti-Trump movement started by former congressional staffers, many weren't. The constituents we spoke to were largely liberal. Kathryn Shelton, 33, an attorney from Savannah, Georgia, was motivated after her local Women's March to join a Facebook group called Savannah Taking Action for Resistance, a retooled Pantsuit Nation group that has connected her with a network of mostly women community members working to communicate with their representatives and push for local change. Shelton, who was diagnosed with rheumatoid arthritis a few years ago, met privately with Rep. Buddy Carter (R-GA 1st District) before attending multiple town halls.
"What I tried to communicate to Buddy is that technically having insurance available to sell to me is meaningless if I can't afford it," she said in a phone call with Jezebel, noting that she'd likely become disabled if she was unable to afford medication. Under a recently-leaked draft of one GOP Obamacare replacement plan, Shelton could be pushed into a high-risk pool that would make insurance unaffordable.
"In 2014-2015, my hands hurt so badly that I could barely pick up my fork," she said. "Just thinking about it right now, my heart is racing. It's panic-inducing to think, oh my gosh, I don't want to go back to that." While she said his staff was accommodating and the meeting was easy to set up, Rep. Carter—according to Shelton, and a transcript she provided Jezebel of the meeting—repeatedly referenced a need to "give wide latitude to the states," yet was unable to quell Shelton and her companions' concerns that the state of Georgia might not prioritize keeping her insurance costs at a reasonable level. "Look, I don't have a crystal ball, I can't tell you how it's going to play out," he replied when pressed.
Laura Schmitt Olabisi, an associate professor at Michigan State University, wrote to us about an interaction she'd had with her representative Mike Bishop (R-MI 8th District), who has held tele-town halls but didn't participate in an in-person event for constituents in his district. Two weeks ago, "I signed a Moveon.org petition requesting that he 'come out of hiding' and host an in-person town hall, and tweeted it at him," she told Jezebel. (She said they'd previously had a Twitter exchange about the EPA gag order, which she described as cordial). He then DMed her on Twitter:
"I thought the whole thing was a bit weird," she told Jezebel. Rep. Bishop didn't immediately return a request for comment.
Most of the people who reached out to Jezebel didn't have such intimate interactions with their representatives. One Michigan reader sent a video of the police getting involved when a group of constituents approached the office of absent Rep. Dave Trott (R-MI 11th District):

After a staffer closed the door in their faces, the group of citizens were told by police that they were trespassing.
Another Michigan reader flagged a letter to the editor published in the Michigan Northern Express by fellow constituent Peggy Raddatz, who claimed her reception in the office of Rep. Jack Bergman (R-MI 1st District) had changed drastically since the last time she'd been there. "A security window one sees in a gas station welcomes Bergman's constituents!" she wrote. "In groups of three or four we entered the anti-chamber, autographed the sign-in sheet, then voiced our concern through the voice hole to a staffer who didn't even take notes."
In districts with absent representatives, alternative town hall events were held. TX25 Indivisible, a local chapter, hosted an event in Dripping Springs, Texas, that included a cardboard cutout of Rep. Roger Williams (R-Texas 25th District).

Chris, 34, wrote to Jezebel about an unofficial town hall meeting named "With or Without Congressman Tim Murphy" that was organized by the United Home Care Workers of PA and SEIU Healthcare Pennsylvania (Rep. Murphy [R-PA 18th District] told the Observer-Reporter that he was never formally invited). "We mostly talked about ACA and how devastating it would be if it was removed," he said, adding that his father, a cancer survivor, is on Medicare, which covers "ridiculously expensive" daily medications.
Heather Glass, a 30-year-old administrative assistant from Mobile, Alabama, participated in a similar event held on February 21, noting wryly that Rep. Bradley Byrne (R-AL 1st District) was in Singapore at the time.
"We had about 75 people turn out, a pretty amazing response in a deeply red district that had TWO freaking Trump rallies (we were the city with the Christmas tree issue)," she wrote. (Trump held rallies in Mobile in August and December 2016.) "Most of the questions concerned the proposed ACA repeal, environmental concerns, Women's health and abortion access, and calls to investigate Trump's ties to Russia. After the meeting I felt like we'd made at least a small impact, and it felt good to take a proactive step."
"Alexandra," 34, a professional mother of two who requested we not use her name, also had a positive experience at a town hall for Rep. Adriano Espaillat (D-NY 13th District)—though Espaillat, formerly a state senator, got heat from the crowd for his replacement's choice to join the Independent Democratic Caucus in the New York Senate, which other Democrats blame for kneecapping progressive priorities in Albany. However, "I found the experience really encouraging—it was great to see so many people advocating for positive change and to see that our member of Congress is on our side," she wrote to Jezebel. She also included some tips for bringing your kids to a town hall:
"Attending a town hall with kids is doable. Get there early, claim a space on the floor in the back corner, note your nearest exit, and bring snacks and crayons. Leave early if you need to—people will understand."
Richard Young, 27, a non-profit consultant from Lexington, Kentucky, was frustrated that Rep. Andy Barr (R-KY 6th District) held his town hall at a time and location that seemed orchestrated to shake off attendance—8 a.m. on a Tuesday in Mount Sterling, Kentucky, an hour from Lexington. If so, it wasn't particularly effective. "There was a pretty good amount of people from Lexington, which sucks for Mount Sterling, because they probably don't get a whole lot of opportunities to interact with him," Young said in a phone call. "But that's really Andy Barr's fault, for only having that one town hall." (Barr did schedule another event in Fleming County, which Young noted is twice as far from Lexington.)
"There was a lot of booing, there was some hissing, which was interesting," he said, laughing. "Everyone was just really frustrated by the end of it. I had my hand up from the very beginning, sitting in the front row, and he didn't call on me. He probably left with like 20 people's hands in the air." Young wanted to ask about the repeal of the Affordable Care Act, and why Barr wasn't having more town halls about something that's going to impact so many Kentuckians.
"My dad has cancer, and if the ACA gets repealed and preexisting conditions doesn't come back, I don't think he'll be able to get health insurance, so what does that mean for him?" he said. Young said he connected with a group of attendees after the event, and they're planning on hosting a town hall for all three of their representatives in March.
"I don't know if any of them are going to show up, but we live in a democracy—the reason these guys don't show up is that they don't want to be booed on camera, [which is] the most cowardly thing possible. It's literally their job."
Nicole, a 24-year-old teacher, had similar logistical issues with a town hall meeting held for Rep. Steve Womack (R-AR 3rd District) on February 21, though she noted that she'd previously had a positive, productive experience calling his office about her concerns about the travel ban.

"He held the meeting in a tiny town in northwest Arkansas (where, believe it or not, there are plenty of decent sized towns, including Bentonville - home of Walmart, and Fayetteville - home of the University of Arkansas) at 8:30 on a Tuesday morning. There were so many people when I arrived that not only wasn't I let into the room where the meeting was being held, but the entire *building* was full. I had to wait in the parking lot with MANY others," she wrote in an email to Jezebel. "As he was driving away, he shouted 'I'll pray for each and every one of you,'" Nicole said, referencing reports from other attendees. (When reached for confirmation on this comment, a staffer responded: "I'm sorry... Are you implying that a Member of Congress praying for his or her constituents is a bad thing?")
The question Nicole had planned on asking: "How, specifically, can we count on you to stand up against cruelty and willful blindness when it comes to clearly established facts?" Womack later referred to the town hall attendees as "not necessarily a lynch mob, but at least an angry mob that was not going to be happy with anything I said."
Kraig Smoley, a 32-year-old mental health professional, also didn't make it inside his event, a town hall meeting for Rep. Tom Emmer (R-MN 6th District) on February 22. "I was alone but gravitated towards an older couple that came from Duluth (so they are outside our district), since the wife was a teacher and they had off this week," he wrote in an email to Jezebel. "The husband said he lived in the Soviet Union for awhile and saw propaganda firsthand, and he said what we are experiencing now is exactly the same."
There were a few Trump supporters there, Smoley said, but "everything was super civil and trust me, these were all 'Minnesota folk,' I can tell. It was 40 degrees with the wind blowing, none of us were paid to be there."

Fellow Minnesotan Andrew Welter expressed deep irritation with his representative, who has not held an in-person town hall. Rep. Jason Lewis (R-MN 2nd District), who has thus far only participated in a telephone town hall, wrote in a letter to the editor in the Star Tribune on February 20:
I'm committed to holding a town hall. While the voting schedule in Washington has been particularly busy, I have been taking advantage of all the ways I have to meet, hear from and see constituents at home or in Washington. I do not endorse a partisan, political point-scoring event filtering down from nationally organized "Indivisible" groups with handbooks from Democrat former staffers. I want a respectful exchange with those who want to be heard.
Lewis hosted a fundraiser in St. Paul, outside of his district, on the 22nd. "The ultimate irony: His campaign slogan (even now) is 'The Leader We Know,'" Welter wrote to Jezebel.
Tim Brosnan, 57, a risk management consultant, attended last week's huge, roiling town hall for Rep. Leonard Lance (R-NJ 7th District), the only Republican holding town halls in New Jersey.
"Lance is a moderate Republican (and a little bit of milksop) with a mostly-good record on the environment, so he doesn't get the same vitriol that's aimed at some of his more reactionary brethren," Brosnan wrote to Jezebel, noting that the crowd loudly disagreed with their rep on a number of issues. "He's a nice guy, but it's not an age for nice guys."
"This is kind of how democracy should work; our employees should show up and tell us what they're thinking," he said.
It's unclear, as of yet, whether the avoidance tactics displayed by some Republicans last week will harden or crumble against constituent pressure. Some, including famously combative meat loaf-eater Chris Christie, have urged fellow Republicans to participate ("let them yell themselves out"), while others, like Rubio, seem to have dug in their heels. But as the Trump administration pursues a shadowy, haphazard agenda that often directly counters supposedly shared democratic values, what we've seen so far is that ignoring tax-paying constituents will just inflame them more.
It's also impossible to know for sure whether this outpouring of energy and participation on the left is sustainable long-term, but it certainly doesn't seem like there will be cause for people to retreat anytime soon. "This is probably going to be a permanent thing for me, there's no going back," Kathryn Shelton said of her newfound political participation. She plans to "keep hammering" Rep. Buddy Carter on the issues that matter to her.
"He's going to remember my name."
Correction: This post has been updated to reflect that Rep. Womack's comment after his town hall event was heard secondhand, and that Rep. Andy Barr hosted two events for constituents.