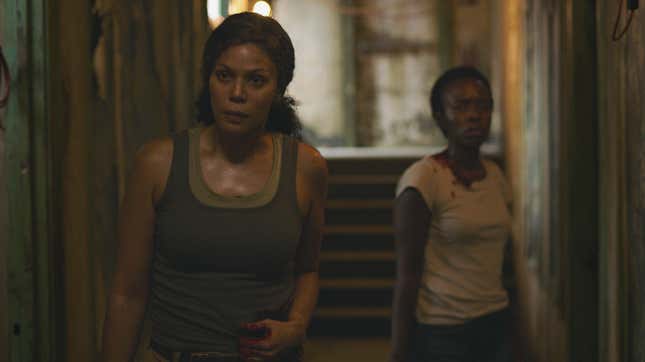 The Last of Us' Merle Dandridge is positively tickled when I tell her the record-breaking HBO series seems to be the internet's favorite show: "I love how much everyone loves The Last of Us," she exclaims as if it's the shock of a lifetime.
'Bridalplasty' was the Frankenstein's Monster of Reality Shows
Only, the dystopian drama's popularity isn't exclusive to TikTok, wherein thirst-edits of Pedro Pascal as the series' grizzled anti-hero, Joel Miller, have reigned supreme since its January premiere. Or even Twitter, which is home to what Pascal's screen partner and surrogate daughter Bella Ramsey calls the "gay army": users who've assembled in defense of the show's poignant—often profoundly painful—queer subplots.
As Marleen, the leader of a robust government resistance group known as the Fireflies, Dandridge is the only actor to star in the video game and reprise their role in the series—an experience she refers to as both a gift and an "artistic exercise."
"I get to play a completely badass character in Marlene," she said. "This is somebody who had a completely different life before the outbreak—who had love, who had family, who had relationships, who had a best friend."
"I've been able to interact and walk alongside Marleen in so many different forms that it's been an artistic exercise," Dandridge continued. "Now to have this new tribe to play opposite of in Bella and Pedro, and the extraordinary, Craig Mazin [the series' co-creator], it's like the gift that keeps on giving."
To audiences, too. With every passing week, records show that The Last of Us' viewership has only ratcheted up—its most recent episode, "When We Are In Need," drew more than 8.1 million viewers. Per Variety, that's a 74 percent increase from the series' pilot episode, which boasted approximately 4.7 million viewers on its first day, making it the second most-watched HBO pilot in the last decade. The first? Game of Thrones prequel, House of the Dragon.
Though the success of the series—which has already gotten the green light for a second season—might be something of a surprise to Dandridge, she doesn't have that hard of a time grasping it. After all, she's been there since 2013, when the game from which the series was adapted gripped gamers far and wide for its startlingly bleak—sometimes bewitching—narrative of survival.
"Honestly, The Last of Us is one of my favorite projects and it was from the get-go because of the incredible storytelling but also just seeing how intimately it portrays what is beautiful and what can also be terrible about love, and how it can completely upend your life...and it happens to be in the backdrop of this unbelievably lush, post-apocalyptic world."
As in the game, audiences met Marleen in the series pilot episode, but haven't seen, nor heard, much more from her as Joel and Ellie traverse what was once a semi-functional nation, now in fungal ruin. In its season finale (airing Sunday, March 12), however, Marleen makes her return.

"One of my favorite things about playing Marlene is that she is kind of the catalyst for the story and of pushing them [Joel and Ellie] across the country and to have this experience that they're having, and yeah, if you've played the game, you know there's a lot more Marlene storytelling to come," Dandridge teased.
Despite knowing what's in store (no spoilers, gamers!) for Joel, Ellie, and Marleen, she recalled being overwhelmed by this season's conclusion.
"I was overcome when I read the season finale, and I was really thrilled to play it out and I think audiences will feel...the same kind of moral conflict that they felt in the game," she said. "I think it'll start a lot of important conversations, and be a really exciting hour of television."
As for what she thinks of the character she's spent a decade with, well, she knows right where she stands—even if we'll identify with a certain daddy instead.
"I see a woman fighting tooth and nail for what she thinks is right," Dandridge explained. "At the core, she wants safety, goodness, and a rich life for everyone, and she's willing to sacrifice her own personal joy for that...it's up to the audience to decide whether she's right or wrong."