Last night, GQ held a party for their "Men of the Year." A good number of ladies stole the spotlight with their colorful ensembles, although the little black dress had a strong showing as well.
Bubble hems give me horrorgasms and I spy two of them! Hem horror aside, Anna Faris is cute as a button. Nonetheless, I don't love the butterfly splashed across her chest or the choice of a black belt and black pumps with that dress. Sarah Silverman looks slovenly but also curiously refreshed, thanks, in large part, to the power of a good blush and a good pink lipstick. Jaime King always shows up in something interesting, well-fitted, and totally flattering for her shape. The girl never has a hair out of place, literally. Perfection is infuriating.
Elizabeth Moss, is that you? Her lips and feet have somewhat disappeared, but holy smokes, she is looking FIERCE. Speaking of women whose girls were in fine form last night, Judy Greer kept things simple in a LBD with a lace peek-a-boo. I wonder if Alexandra Breckenridge's dress is vintage? Anyway, I like the gothy 50's prom vibes.
G/O Media may get a commission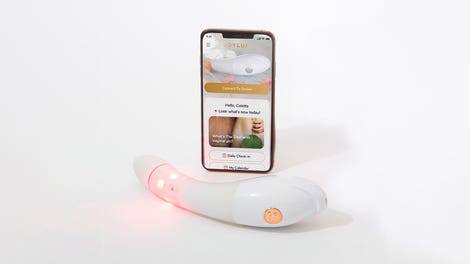 $50 Off
Joylux vFit Gold Device
Emma Roberts, the youngest of these three actresses, showed up in the most mature dress. Are these awful drapey dresses with partially exposed belts becoming a trend? They keep popping up at celebrity events. I can't figure out the print on Cobie Smulders' dress. I see arrows and possibly volcanoes spewing out ash. What about you?
Oh look, it's Nicole Scherzinger in a tight, leather dress. I yawn big, like a lion, at this tired image. Zooey Deschanel and Alison Brie (who I can never recognize when she's not in her Mad Men drag!) show us two ways to do a metallic dress: flirty and swingy on Zooey, and sophisticated and fitted on Alison.
Good efforts, Aisha Tyler and Kerry Washington but Blanche, Rose, and Dorothy did it better. The colors on Jaime Chung's dress resemble the lights at a bad rave.
Minka Kelly looks so coy and coquettish, but the top of her dress is basically a ringer tee, which totally kills the mood for me. Sometimes the fashion at these events can be kind of a drag because everyone plays it safe in monochromatic looks, but then I see two examples of not playing it safe on Becki Newton and Hannah Simone, and I think, Girl, just get thee to an LBD already. Or: Get thee to a colorblocked dress that isn't majorly tacky.
Natalie Imbruglia in the house! Whatta whatta? Remember when she had that asymmetrical haircut and sang that song about being "torn" and "lying naked on the floor?" And dated the dude from Silverchair who publicly talked about his anorexia? Um, I obviously do. Anyway, back on task. These three ladies are doing a good job representing the long-sleeved LDB. Natalie's has a sequined racing track across the arms and shoulders. Jessica Biel has sequined fireworks on hers, and Jaime Pressly is wearing her long-sleeved LBD ass-tight and off the shoulders.
These ladies did NOT do a good job representing the fitted jacket over dress look. From left to right: boring, mismatched, and WTF. On a side note—there were so many booties on the black carpet last night! I don't mean the ones you sit on, but the kind that gives you stumpy legs.
Reasons #35239508234575, #35239508234576, and #35239508234577 why fitted satin dresses are really, really hard to pull off on the red carpet.
Mama have mercy! The women last night were not afraid of color. Mariana Klaveno's dress did right by apple green. Jacqueline Emerson looks stunning in bronze, but the dress could stand to be a little less droopy. Brie Larson looks like a 60's punker gone mod. I like the idea of her scooter dress, but the execution feels cheap.
I guess since this is a GQ event to honor men, we can include some men in this slideshow. James Van Der Beek and Kimberly Brook are a beautiful couple, but I really want Mr. Van Der Beek to button up his shirt. No couple was cuter last night than Chris Pratt and Anna Faris. They look like two former geeks who fell in love over a Calculus cram session and then one day, blossomed into facially victorious human beings. Anna Faris' bangs and the sweater and tie on Chris Pratt are attacking me from all sides with cuteness. Thank goodness Milo Ventimiglia is around to bring me back down to "ew."
Justin Timberlake manages to look boyish and clever in his blue suit and red bowtie. Josh Hutcherson is rocking a three-piecer in hunter green. And the gingham shirt is just the cherry on his amazeballs sundae. Jon Hamm is perpetually hot onscreen, but offscreen he always manages to look just a little bit creepy. And dang, he wears his suits tight.
Watch the throne Jay-Z, because John Cho and Aaron Paul are BRINGING IT.
Jimmy Fallon always looks exactly the same, wherever he goes. Chris Pine's brown, tweed suit might have looked stodgy without the purple shirt, but instead he looks like he could be a bank teller (who is also secretly great at shooting guns) in an old Western film. It's probably the pornstache + soul patch, but Kellan Lutz looks really fucking sleazy.