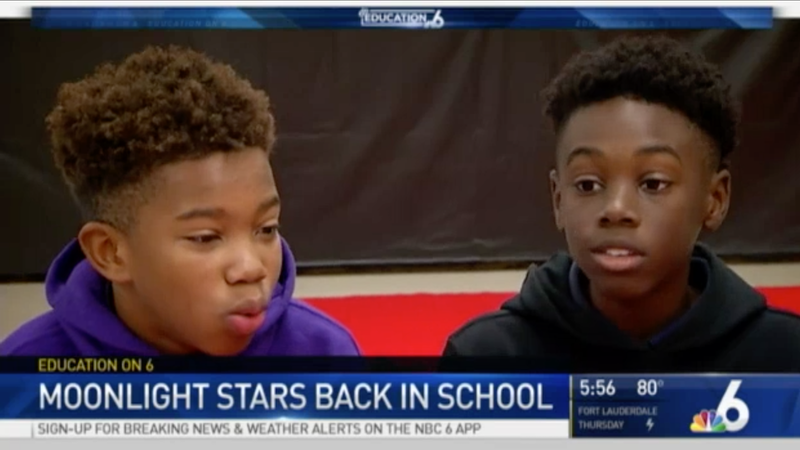 After feeling the euphoria of Oscar night and geeking out over their movie winning Best Picture, the two young actors from Moonlight had to go back to school and be normal adorable kids who get to say they starred in an Academy Award-winning film.
Alex Hibbert, who played the youngest version of the film's protagonist Chiron, and Jaden Piner (Chiron's childhood best friend Kevin) were modest about their win, after returning to their 7th grade class at Norland Middle School in Miami, where there was a literal red carpet. Personally, I'd be walking around dressed like a tiny Oscar trophy if I were them.
"It was a different feel," Piner told local NBC 6, about going back to school. "Everybody was saying congratulations and everything and it felt wonderful." Moonlight was their first film, and their drama teacher Tanisha Cidel also appeared in the movie.
Hibbert, who has a Showtime role lined up next, added, "We got the audition from school so we thought it was gonna be like a little play, a short film or something. Just to see it go and be something as big as this, it's just amazing." While most child actors tend to be annoying humans, in my opinion, these two are a joy.
The two also talked about their reactions to the on-stage confusion over La La Land and Moonlight.
"When they first was like, Moonlight got it, we were like, yeah, nice joke," Hibbert recapped. "But they were like serious, you guys got it, and all I remember, I jumped over this guy and he was screaming. And I was like, sorry, I just won an award!"