Critics say The Kids Are All Right, starring Julianne Moore and Annette Bening as lesbian moms, is a rare gem: "A comedy that doesn't take cheap shots, a drama that doesn't manipulate, a movie of ideas that doesn't preach."
Bening and Moore play Nic and Jules, a married couple living in Southern California with thier two teenagers. When Joni (Alice in Wonderland's Mia Wasikowska) turns 18, her younger brother Laser (Josh Hutcherson) urges her to call the sperm bank that supplied their moms with genetic material to find out who their biological dad is. The kids make contact with Paul (Mark Ruffalo), the owner of an organic restaurant, and he slowly becomes integrated into their family life.
While the film, which opens today, centers around a gay marriage (and certain plot elements have angered some lesbians), it's designed to be a realistic portrait of family life that appeals to mainstream viewers, not a polemic on gay rights. Reviewers particularly praised director/screenwriter Lisa Cholodenko's dialogue, and "ear for the way therapeutic catchphrases and hazy insights recalled from college reading lists filter into everyday conversation" (though The New Yorker complained about this "extra-planetary prattling" in the lone negative review). The leads' performances are also excellent: Bening "gives an Oscar-caliber performance," Moore "plays every note perfectly," Ruffalo gives one of his best performances, and the kids are "refreshingly real." Overall, it "leaves you feeling wistful for at least three reasons: because of what happens in the story, because the movie's over, and because there aren't more of them this good."
Below, the reviews:
Guided by an outstanding script, everyone is able to go deep into her or his character. Particular huzzahs are due Bening for the precision she brings to the brusque yet emotionally expressive Nic. A famously natural, mature beauty in a Hollywood culture of youth-oriented artifice, Bening uses physical authenticity as a source of dramatic strength. Comfortable in her own skin, she's at ease inhabiting the body and exposing the soul of Nic, a complicated woman who also knows exactly who she is.
G/O Media may get a commission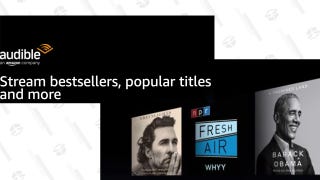 FREE
Audible Premium Plus 3-Month Free Trial
Annette Bening has a genius for a kind of "existential" acting-for illuminating the chink (or moat, or abyss) between a person's front and the quivering creature underneath, desperately trying to hold the mask in place. As Nic, the more patriarchal half of a same-sex married couple in Lisa Cholodenko's high-strung comedy The Kids Are All Right, she wears a short, blunt haircut; drops her voice (she purges the tinkle); and presents to her teenage children, a boy and a girl, a façade of stability, of someone who values structure above all. Nic's political agenda is unspoken but implicit: that two mothers (the other is Jules, played by Julianne Moore) can create a home that's every bit as traditional as one with a mother and father. Nic is admirable, inspiring, but also a bit of a pill (and a compulsive drinker). Like the best comic protagonists, she takes herself very, very seriously and tries so hard to do the right thing-which all but guarantees that her orderly world will become unmoored and collapse in a shower of travestied ideals.

Cholodenko, who wrote the screenplay with Stuart Blumberg, has a female partner and a child, and in this political climate, with gay marriage and parenting under fire, you wouldn't expect she'd even flirt with the notion that two moms aren't enough. But she's a true comic dramatist. She tests what is, presumably, her ideal, her design for living; she bombards it with every weapon in her arsenal. Then she surveys the wreckage, ostensibly in the hope it can be reassembled into something more in balance. And why not? Boys do, in this culture, look to fathers to help form their identities. Introspective modern kids do attempt to discern which parts of their personalities are nature and which nurture. As in her High Art and (to a lesser extent) Laurel Canyon, Cholodenko's world is too complex, too discombobulated, to let the characters she loves-all of whom practice an "alternative lifestyle"-get away with thinking their revolutionary bubbles are necessarily impregnable.
It is almost impossible to find the right shorthand for these women. Their speech patterns and habits certainly seem familiar. The screenwriters' ear for the way therapeutic catchphrases and hazy insights recalled from college reading lists filter into everyday conversation is as unerring as Ms. Moore's offbeat comic timing or Ms. Bening's tactical use of silence. But though they are recognizable, Nic and Jules are hardly predictable; they are not types, but people, and the acid of satire is applied to them sparingly and sensitively enough to avoid corroding the essential empathy that grounds the movie.
All of this is made so much worse by everyone's aching need to be holier, and hipper, than thou. The California that we get in this film is a greener, gayer update of the California that Woody Allen took such perfect potshots at, more than thirty years ago, in "Annie Hall," the difference being that Cholodenko doesn't always know that it is funny. She wants us to laugh at Paul's initial response when he learns of the family setup ("I love lesbians!"), and she rightly notes the casual, bantering racism of the liberal bourgeoisie (listen to Jules address a Mexican gardener), but do the screenwriters not realize that half of the women's conversation-"We just talked conceptually," "It hasn't risen to the point of consciousness for you," "It's so indigenous!"-is pure, extra-planetary prattling and nothing but? The prattle turns chronic when Jules, who fancies herself as a landscape designer, is hired by Paul to reshape his back yard; she suggests "a trellisy, hidden garden kind of thing," or, alternatively, "you could go with the Asiany." I wouldn't trust her to pick a rose.
Lisa Cholodenko's The Kids Are All Right (Focus Features) is the movie we've been waiting for all year: a comedy that doesn't take cheap shots, a drama that doesn't manipulate, a movie of ideas that doesn't preach. It's a rich, layered, juicy film, with quiet revelations punctuated by big laughs. And it leaves you feeling wistful for at least three reasons: because of what happens in the story, because the movie's over, and because there aren't more of them this good.
More than anything, The Kids Are All Right is a film about marriage. Not about gay marriage in particular, though the portrait of this couple's decades-long bond underscores the absurdity of the debate about what to call same-sex unions. Cholodenko, who has a donor child with her partner, isn't making a rah-rah commercial for alternative families-in fact, some gay viewers may bristle at the movie's less-than-orthodox take on lesbian sexuality and the complications of donor parenthood. What Cholodenko has aimed for, and achieved, is something bigger: a serious and funny film about the simple yet incomprehensibly fraught act of moving through time with the person you love.
Where Nic is brittle, Jules is the bough that breaks and in taking her there Moore is fearless. There are countless moments when the actress strips bare before the camera - sometimes literally, sometimes emotionally, but always with an abandon that exposes all of the character's complicated layers. Jules is an existential bundle of unrealized need and midlife uncertainty, and Moore plays every note perfectly.

The kids, who really serve as a counterweight for the craziness brought about by bio-dad's desire to have a place in their lives, are refreshingly real. Wasikowska, in particular, is exceptional - disappointment lingering in her eyes, face quivering on the edge of tears as one after another of her parents lets her down, as parents inevitably do. While she may be best known for her delightful Alice in Tim Burton's "Alice in Wonderland," it is the mix of vulnerability and steel she brings to HBO's "In Treatment," as one of Gabriel Byrne's troubled clients, that most informs Joni.
Cholodenko's casually observant style perfectly matches the cast's thoughtful work, though the film ultimately proves more successful at creating messy situations than trying to resolve them: The final act finds character after character saying out loud what they've been expressing without words for much of the film. That's a small failure amid tremendous successes, however, and one that arrives on the heels of beautifully realized scenes like a long Joni Mitchell-inspired dinner-conversation-turned-sing-along. In moments like these, the film almost seems to melt away as we observe lives being lived before our eyes, with neither the hurt nor the beauty filtered out.
I'd describe Cholodenko as an old-fashioned dramatist (in the best possible sense) whose heart and imagination are big enough for all these people. Each of the five principal characters takes a turn at the center of the story; each of them makes ferocious mistakes and must struggle to overcome them. It would be easy for her to cast Paul as the story's comic villain, the blithe, privileged, good-looking straight white guy who screws up the happy lesbian household. But Cholodenko draws out one of Ruffalo's best performances, capturing Paul as a sweet, sad Peter Pan figure whose principal sin is a sudden longing for what he can't have.
Bening gives an Oscar-caliber performance as a strong-willed, though emotionally vulnerable workaholic doctor, suspicious of the laid-back Paul. Moore is excellent as her landscape designer partner, more open-minded and temperamentally less inclined to reflection. Two of the best actresses of their generation, they make even a contrived porn gag feel like plausible situational humor.
Ruffalo shows his depth in a pitch-perfect performance of a freewheeling guy who seems like an older brother of the rootless fellow he played so captivatingly a decade ago in You Can Count On Me. Paul's a handsome charmer and somewhat of an overgrown kid. His father and child reunion leaves the family reeling. Hutcherson (Journey to the Center of the Earth) and Wasikowska (Alice in Wonderland) are terrific and thoroughly believable as sensitive, well-adjusted teens.
While snappy, realistic dialogue is one of the strengths of Cholodenko and co-writer Stuart Blumberg's nonchalantly breezy script, the writers often strive a bit too obviously for perceived authenticity (the phrase "I'm just sayin'" seems to be repeated with the frequency of an advertising disclaimer). Despite some key character-motivation omissions, Moore, Bening and Ruffalo all deliver endearingly quirky comic performances, with Wasikowska also particularly effective as the confused and resentful Joni.

Cholodenko's polished directing and Igor Jadue-Lillo's cinematography burnish the boho LA settings with an almost tactile sheen, while production design by Julie Berghoff ornaments key scenes with revealing details.
Cholodenko, writing with Stuart Blumberg, is wise to keep her tone light. "The Kids Are All Right" isn't a laffaminit comedy, but it is a comedy, and fondly satirical of Nic's tendency to be quite serious. I refuse to call it a "gay film." I toyed with the idea of not even using the word "lesbian" and leaving it to you to figure out that the couple was female. This is a romantic triangle happening to involve these three people.

What interests Cholodenko is who they are. Moore and Bening are superb actors here, evoking a marriage of more than 20 years, and all of its shadings and secrets, idealism and compromise. Nic is more of the mind, Jules is more of the heart. The film gives them convincing, intelligent dialogue, mannerisms that fit and children who, having been raised outside homophobic hysteria, are nice and well-adjusted. And with Mark Ruffalo's Paul, the film creates a slightly exaggerated version of a character like many we may have met: casually progressive, a little unfocused, pleasant and agreeable. I mean, why not?
Every good movie is a singular event; if it weren't distinctive it wouldn't be good. Yet this summer has produced a fascinating trend that's starting to look like a genuine phenomenon-female American filmmakers using modest budgets and limited resources to turn out some of the best movies of the year. First it was Nicole Holofcener's "Please Give," an urban celebration of empathy in flawlessly comic terms. Then came Debra Granik's "Winter's Bone," an example of ethnography harnessed to a heart-stopping story with a fearless heroine. Now Ms. Cholodenko has joined the party with yet another terrific film that bears the indelible stamp of a woman, and an American woman at that. "Party" may not be the right word, though. It's starting to feel like a home-grown renaissance.
Earlier: Why Lesibans Might Object To The Kids Are All Right