On this week's episode of Keeping Up with the Kardashians, our A-Plot was the continued Kardashian reign in Cuba; our B-Plot was Scott's Cuba FOMO; and our C-Plot was Lamar's recovery. #LEGGO

In Havana, Khloe and Everybody's Favorite Best Friend, Malika, ride around with their driver Armando. The trio talks of fresh Cuban fruit and laughs at the misunderstanding of EFBF Malika thinking Armando is asking her to taste his "penis" and not his "peanuts." The ride takes a more serious turn when Khloe talks to EFBF Malika about Lamar. Khloe was able to get in touch with him and said that Lamar didn't just sound good on the phone; he sounded too good. He seems to have quickly and completely forgotten the dark thoughts he was having at night, and it's unsettling to Khloe. She hates questioning his progress, whether it be natural or altered, but it's clear Lamar is taking a mental and emotional toll on her. EFBF Malika, keeps it real and tells Khloe that it's natural to be anxious, but he still is a grown man making grown man decisions. This scene was filmed on May 5, 2016.

Scene 6: Filmed on May 5, 2016
The eldest Kardashian women, their children and mates all go salsa dancing in Cuba. Each woman is donning a colorful skirt they brought from home, except for Kim, who forgot both her and North's salsa dancing outfits. Luckily, they don't have to worry for long because fashion designer extraordinaire, Kanye West, is on hand to make a skirt for Kim and a dress for his daughter; all made out of loose fabric and pins. It is hard to knock Kanye's design skills because he made these outfits out of found fabric, and was working about as fast as the real people designing your favorite items overseas. So, well done. Once Kanye is done laboring over the design details, the ladies get to dancing. Kim, who is consistently vocal about how much she is not a dancer, is 100 percent not a dancer. Now, it could be a mixed bag of unfortunate tricks with her ankle length bodycon skirt, but Kimberly Noel is light as a feather and stiff as a board trying to move her body to the Cuban beats! We over at KUWTKE have never seen anything like it. Her sisters on the other hand are nothing to write home about, but at least they allow the rhythm of the beat to work with them rather than against them. Like Scene 3, this scene was also filmed on May 5, 2016.
G/O Media may get a commission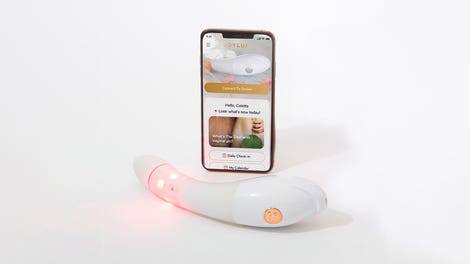 $50 Off
Joylux vFit Gold Device
Scene 9: Filmed on May 5, 2016
At lunch, the Havana crew talks at length about their lack of dance skills. Khloe even shows Kourtney videos she took that really highlight their lack of skill, and the group cackles at the horror. Kim admits that her biggest fight with Kanye was that she doesn't dance at his shows, and she doesn't dance at them because she doesn't dance anywhere. She also talks about how she was anxious during Kanye and Jay Z's Watch the Throne tour because she didn't want to have to be seated next to Beyoncé, the greatest dancer of all time. Kim's biggest fear came to life on the last night of the tour when Beyoncé asked Kim to come sit with her and then asked her join in on a dance mosh pit. Life is the toughest thing ever, isn't it! Again, like the previous scenes, this scene was filmed on May 5, 2016.
At Kylie's house in Calabasas, California, Scott Disick and French Montana roll up in a brightly colored convertible. The entire time the Kardashians have been in Cuba, Scott has battled some serious FOMO, and wants to bring Cuba to Calabasas. So, after renting a convertible and purchasing some cigars and fedoras, he picks up Kylie and Kris to ride around town. The car ride is all cigar puffs and selfies until Kylie requests to be taken home because her Lip Kit launches in 40 minutes. This scene was filmed on May 26, 2016, 20 days after the Kardashians left Cuba.

On their last night in Cuba, the group heads to dinner. Kanye, still not over Kourtney's comments about his blue contacts in the previous episode, asks his daughter North leading questions about what she thinks of her food and dress, just to further the point that Kourtney treats him like a child. Kourtney gets the message and tries to laugh it off. The conversation then moves to Kris and Kylie back home in Calabasas. Kimye is a bit peeved at Kris for booking Kylie an endorsement deal with Puma after Kanye wanted Kylie to possibly model for his deal with Adidas. Puma is an Adidas competitor, and Kanye feels that Kris and Kylie should have honored his relationship with the company. Kris did try to reach out to Adidas for a deal with Kylie, and they declined because they couldn't afford her. So, Kim and Kanye think that Kris made a bad family move while trying to make a good business one. Kanye is especially upset because he didn't find out about Kylie's deal until the world did. In his mind, he thinks this is as bad as starting his own Sunday night show with all of his famous friends, without telling the Kardashians. The room grows quiet because these are two very dissimilar events. However, everyone does agree that Kris shouldn't have gone against the family. After the Adidas/Puma discussion, Kanye asks Kim if she's still planning on abandoning her husband and kids for a photoshoot on Mother's Day. Kim's short answer is a yes, because she doesn't ever back out of work obligations. This scene was filmed on May 4, 2016.

The Cuba Crew has left and they are now scattered about the United States. The Wests are in New York, on Mother's Day, for Kim's photoshoot. She and Kanye were able to come to a consensus, and she got her photoshoot pushed back a few hours so that she could spend some time with her family on Mother's Day morning. Our regular KUWTK footage is intercut with some personal Kanye West footage, showcasing the orchestra he got Kim for the holiday, which leads us to believe that Kanye West's videographer doesn't get holidays off and that their Bel Air home is a portal to the past by the looks of the footage he shot. This is also the first time Saint West has been featured on the show. This scene was filmed on May 8, 2016.

At Kris Jenner's house, Kim visits. Kim isn't in the highest of spirits because she's settling in to read her mom for inking Kylie's Puma deal without first contacting Kanye. Kris doesn't understand the problem because she's a manager and her job is to get deals for her clients, and they wouldn't even be having this discussion if they weren't related. Kim doesn't think that's the case and puts together an Estée Lauder analogy involving another fake client of Kris' inking an Estée Lauder deal rivaling Kendall's with another manager after leaving Kris' management. This somehow gets to Kris and Kris apologizes. After their mini fight, the moguls muse over how far they've come since the days where their biggest deals were with cupcake shops. Kim's choker and glam indicate that this scene was filmed on April 11, 2016.

For some unknown reason, Scott and Kris are still upset about not having gone to Cuba, so Khloe and Kourtney throw a backyard party at Khloe's house with a Cuban vibe. The ladies host Kris, Scott, Corey, Kim, EFBF, Malika, and EFBF, Malika's twin sister, Khadijah. Scott enjoys learning more about Mason's memories from the trip, and the family enjoys a vaguely problematic afternoon together; including a live band with dancers and Cuban flags. The most remarkable aspects of this celebration are Kris Jenner's ensemble and behavior. Main Sis. Kris is draped in a neck to ankle, bell-bottomed, white lace outfit with island themed embellishments that truly stunn and trick the eye. Kris also drinks to the point of bizarrely endearing behavior that allows her to make weird noises with her tongue and mock her children's favorite phrase "OKKKRR" in a way only a mother could. Kris Jenner, you deserve it all. This marvelous scene was filmed on June 1, 2016.

Well, Dolls, the harder the goodbye, the sweeter the hello. Remember to catch me back here next week for another episode of KUWBeyonce's Dance Partner Kim and her Family re-cap on #KUWTKE. #penispeanuts
---
Mariah Smith is a writer and comedic performer who keeps up with the Kardashians. For more Keeping Up With The Kontinuity Errors, click here. You can follow her on Twitter @mRiah.

Images via E!