On this week's episode of Keeping Up with the Kardashians, the A-Plot was Kris Jenner's surprise family trip to Vail; the B-Plot was Rob Kardashian's thinly veiled attempt to ruin his family from the inside out; and the C-Plot was Kourtney's constantly growing annoyance with Scott Disick's existence. #LEGGO

At Kris Jenner's house, Kris Jenner watches three of her daughters, Kourtney, Kim and Kylie, make egg tortillas with no skillet and one tortilla. Kris has invited a portion of her children over so she can formally invite them on their annual family vacation. This time, though, it's a surprise as to where they're going and Kris tells her kids, in between their snaps, to bring a sweater and meet her at the Van Nuys airport the following Monday at 10 am. The ladies are excited, but concerned about the guest list. Everyone agrees that they want Rob there, but Kourtney is lukewarm on Scott's presence, especially if Tyga, her greatest enemy and Scott's biggest accomplice, is in attendance. Kris has spoken to Rob and it seems as though he is totally on board, which makes them happy. Kourtney decides to get back to Kris on how she feels about Scott. This scene was filmed on March 30, 2016.
G/O Media may get a commission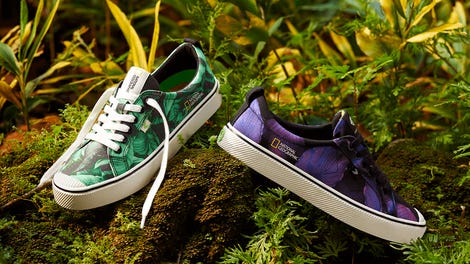 New New New
Cariuma + National Geographic
Back at Kris Jenner's house, Kris stands with Kourtney as Kourtney eats a salad. Proudly, Kourtney tells her mom that she's "leaning towards yes" on inviting Scott to the surprise family trip. Kris is overjoyed and immediately calls Scott to tell him the good news. Scott is delighted and promises to be on his best behavior. Kourtney, keeping those boundaries up, informs Scott that he will be staying in a hotel next door to theirs. Scott's invitation to the surprise family vacation was filmed on May 9, 2016, a good month after the trip took place.
Scene 7: Filmed on April 4, 2016
The Kardashian/Jenner/Disick/West/(Gamble) families head to the Van Nuys airport to board their private jets. In Private Jets #1 and #2, the respective groups try to figure out if Rob is late for the flight or is simply not arriving. On Private Jet #2 Scott mentions Rob having gone to Kentucky for some reason, so he doesn't think the shrinking man will be making it. Meanwhile on Private Jet #1, once it's made clear that Rob is absolutely not showing up, Kylie immediately calls Tyga, who was initially banned from the trip if Rob was in attendance. After take off, the children in Private Jet #2 get dangerously close to the cockpit and Kanye West's cockamamie ramblings. In Private Jet #1, the girls figure out that they're going towards middle America or Colorado. Smarty pants! It's not until they all land that everyone realizes they're in Vail, but only because of the signage on the runway. The Kardashian subset of this blended family are overjoyed, since they haven't been back since David Schwimmer Robert Kardashian passed. As kids, the Kardashians went every year for Thanksgiving and other family trips. The poor little Jenner girls, however, have never been, but have heard multiple stories about their sisters' fun times. This scene and PJO (Private Jet Overload) was filmed on April 4, 2016.

Scene 9: Filmed on April 4, 2016
Everyone arrives at their Vail resort and are pleasantly surprised to see the space decorated in photos of them there as children.This is super sweet, but not sweeter than the Bloody Mary Kris Jenner accepts before resting her fur. While everyone settles down, a surprise knock on the door reveals the families the Kardashians used to vacation with in Vail: the Kolkers and the Kraines (yes, Todd Kraines was there!). Can you imagine? Three white families with K last names annually vacationing together? I wonder what they called themselves in private?? HMMMMMM. Once hugs and pleasantries are out of the way, Kris Jenner pups another surprise out of her hostess knapsack and shows the group MORE old photos in album that she had made. Like Scene 7, this scene was filmed on April 4, 2016.

After a day of skiing and catching up, the Kardashian/Jenner/Disick/West/Kolker/Kraine/(Gamble) families head to dinner at Sweet Basil. This is yet another place in Vail that holds dear memories for the family. While they eat and kiki, Penelope FaceTimes Rob who surprisingly picks up. Rob's face is then passed around the table, lit up by the Lumee case, and he expresses his love for each and every person he encounters. Everyone begs Rob to hop on a plane and head out to Vail. He declines. Rob's dinner FaceTime is so sad but completely on brand for Rob. This scene, like Scenes 7 and 9, was also filmed on April 4, 2016.

Tyga has finally arrived in Vail, and before he can clock in a good hello to his girlfriend's kin, Kourtney pulls him away for a chat. Kourtney is concerned that Tyga is supporting Scott's reckless lifestyle and considers him to be a bad influence to a father of three who is recovering from various addictions. Tyga tries to understand where Kourtney is coming from and defends himself, explaining that he's one of Scott's better influences because Scott trusts Tyga's opinion. Tyga also thinks that Kourtney should allow herself to be comfortable with the fact that Scott is a grown man who has to make decisions for himself. Now, y'all can just kick me in the gut and call me Shelly because I never knew drawstring trash bags could both have and express opinions!! Kourtney ends up agreeing with Tyga and the two part on good terms. This scene was filmed on April 6, 2016.
In a glam room, the only living Kardashians that matter, Kourtney, Kim and Khloe, get their looks together for the day. A grey cloud hovers over the space and professional grade lighting systems as the sisters discuss Rob's engagement the night prior. They're quite confused because they found out, with the world, that he proposed to his girlfriend, Blac Chyna, the night before. This surprise proposal happened either before or after their dinner FaceTime, and he gave them no warning. The sisters aren't the only hurting ones, though. Khloe tells them that when Everybody's Favorite Best Friend, Malika, heard the news she cried, cried! Kourtney on the other hand gets the shock and concern, but thinks that everyone should take a good look in the mirror. In her opinion, there's a reason Rob didn't share this information and that reason is because they're bitches. She also tells the room that they need to just be happy that their brother is leaving the house and that they can't argue with God's plan. Okay, speak a word on this here cable television show, Kourtney Mary Kardashian! Aside from Rob's engagement, the most perplexing moment in this scene was Kourtney getting her baby hairs brushed down with a gold plated toothbrush. Y'all, the hood calls at any and every budget. This scene was filmed on April 5, 2016.

Wow! That's it for this week, but remember that hard goodbyes make for better hellos. Check me out next week for another KUWThe KKK re-cap on #KUWTKE. #EnjoyVail

---
Mariah Smith is a writer and comedic performer who keeps up with the Kardashians. For more Keeping Up With The Kontinuity Errors, click here. You can follow her on Twitter @mRiah.

Images via E!