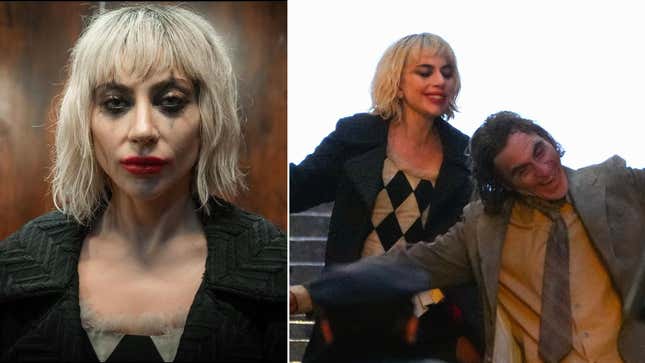 Joker: Folie à Deux hits theaters in 2024, five years after the first Joker film exploded in incel forums across the internet. And yet, this time around, nearly everything I've seen of Folie à Deux thus far has come from Lady Gaga fan accounts sharing set photos of her, in their words, "slaying" and "serving cunt" as the Joker's partner-in-crime, Ms. Harleen Quinzel. Suffice to say, despite my misgivings about the first Joker, I will be seated for Folie à Deux.

Jennifer Hudson Achieves EGOT Status, is True American Idol
There was a lot about the original Joker in 2019 and the discourse that ensconced it that made me quite uncomfortable. Through the villain's struggles with unemployment, social ostracism, and mental illness, the movie heavily focused on male pain and aggrieved toxic masculinity within an economic system that simultaneously strips working class men of power and convinces them that women and marginalized people—rather than capitalism and patriarchy—are the source of their woes. By incorporating some of these messages, the original movie made a splash among terminally online men's rights activists who saw themselves reflected in its miserable protagonist.
But Folie à Deux will be a bit different. The beloved clown king of Andrew Tate devotees will share the screen with Lady-freaking-Gaga, who comes armed with her own wildly active fan base of girlies. And her fan base, mind you would have zero overlap with original Joker fans on a cultural Venn diagram.
And guess what?? I hate to sound like a neolib preaching civility as the world burns, but we're all just going to have to learn to get along—for at least, like, the two hour duration of Joker: Folie à Deux. Because my god, we are talking about hordes of 4Chan users purchasing tickets to the same cinematic event as Gaga stans who earnestly type out the words "yass queen" on Twitter.
I can't lie—I'm fairly excited about this movie. Of course, given the wildly sexist reactions to Margot Robbie's Harley Quinn in 2020's Birds of Prey, I have some concerns about what Gaga's rendition of the character will draw out from male superhero fandoms. Probably nothing good! But if there's one thing Gaga stans are great at, it's shutting down trolls.