As someone who would be awed by "Finding Dory on Ice"-people jumping around on knives, holy shit–I need some guidance through NBC's 176 hours of live coverage of the 2018 Winter Olympics.

I must know how to sort through nearly 200 hours of superhuman achievement for the critical particulars, so that I can stay relevant when situations arise such as: participating in "HQ" trivia night in the presence of knowledgable people; discussing the subtext of Wheaties packaging next month; and being able to say "I remember that!" when ESPN, FX, or a major Hollywood studio eventually develops an Olympic rivalry into a docudrama/tentpole movie on class or race in America.
So, I turn to Twitter.
And here's today's schedule. Figure skating and ice dancing commence 8PM EST.
People to watch:
BBC journalists whose water-based makeup is freezing on their faces.
From the Opening Ceremony:
Tonga's famed shirtless flag-bearer, who first appeared in Rio, went shirtless again in 28 degree weather.

G/O Media may get a commission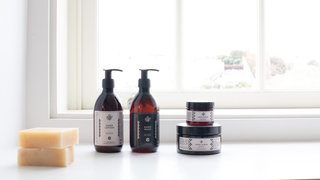 Exfoliate and Hydrate
The Handmade Soap Company
Many have noted that USA's Opening Ceremony gloves bear a striking resemblance to Jim Carrey's Dumb&Dumber costume and are now extrapolating:
It was agreed that Jamaica made the best entrance:
North and South Korea marching together:
Oh Jesus, people are singing Imagine with candles:
I am totally rooting for:
Adam Rippon, aka "sass master": gay Team USA Olympic figure skater, who turned down a meeting with Mike Pence after criticizing him as head of the US delegation for the Olympics. "You mean Mike Pence, the same Mike Pence that funded gay conversion therapy?" he told USA Today. "I'm not buying it." He also happens to be stunning. Figure skating starts on NBC at 8PM EST on Saturday.
Nigerian women's bobsled team, the first African team at the Winter Olympics, have been inspiring Instagram since they started off with crowdfunding and gorilla tape (above) over a year ago. Bobsledding starts airing on NBC Sunday, February 18th, at 9:30AM and 7PM.

Jamaica's first women's bobsled team, also.
Tessa Virtue and Scott Moir, the Canadian duo who toned down their choreography after the storied vagina move above. Naturally I am enthralled.

#HamFam: brother-sister team Matt and Becca Hamilton in mixed curling were eliminated on Saturday. :( The jury is still out, however, on whether Matt is Kansas City Chiefs football coach Andy Reid or Mario.
This child:
Finally, on North Korea:
See Mike Pence rigidly seated with "mother" a row ahead of Kim Jong-un's sister Kim Yo Jong, who is reportedly the first of the Kim family to cross the border into South Korea. Pence did not stand for Korea (North and South marched together) during the opening ceremony. "I hope Pyongyang and Seoul get closer in our people's hearts and move forward the future of prosperous unification," Kim Yo Jong said in an official statement. CNN is veering hopeful:
Pence, on the other hand, is avoiding the North Korean delegation and instead visited NBC's Lester Holt to discuss military options.
Otto Warmbier's father Fred accompanied Pence as his special guest. "We have to put this in context in the spirit of the Olympics and why we're here," Warmbier reportedly told NBC's Lester Holt in an interview which will run on Saturday evening. "And so when you put it that way they're not really participating in the Olympics."
Three US citizens, including two teachers, remain in North Korean prison, which has gotten infinitesimal media play, possibly because they are ethnically Korean. For that reason, I'm not embedding videos of their "army of beauties," or North Korea's militantly disciplined 200 cheerleaders who are press magnets at unified women's Korean ice hockey games.
TIME reports that the North and South Korean team members are hitting it off.