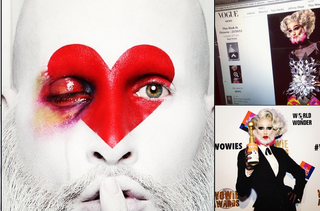 This is the Instagram account of Mathu Andersen and it is amazing, folks.
Andersen, who is the makeup artist for Drag Race host and star Ru Paul, spends his free time creating beautifully elaborate images such as these.
His Instagram is filled to the brim with delightful and enchanting self-portraits; he builds upon high fashion tropes and drag, transforming from one gender-bending enigma into the next. His journey leads from his living room to the dark spaces inhabited by a skeleton bride and her bridegroom (both Mathu).
Meanwhile, today I managed fold and put away the basket of laundry I washed two weeks ago. Talk about glamorous and visionary, man.
Images via Mathu7