Despite all of its many and varied uses for acquiring and sharing knowledge or engaging in real, empathetic dialogue with strangers, the internet is, in the words of the inimitable Trekkie Monster, for porn. Also, the internet is for arguments about the sexuality of Harry Styles, which just serves as further proof that when we finally send people to Mars, they'll be searching for large-genitaled Martians that can harmonize.
Since porn is the all-consuming internet pastime in America, it makes sense that data collected from porn sites like the ever-collating and categorizing Pornhub can reveal an awful lot about the American porn viewer's psyche. With porn so easily viewable (and data about porn viewership so easily collected), demographers can finally take note of who's watching the most porn, who's watching what kind of porn, and how quickly it takes for porn watchers to finish watching porn or [insert any euphemism for achieving orgasm].
The most recent crop of data from Pornhub (which has started leading a double life as a data blog) suggested that bosses frequently infect company computers with viruses from porn sites, which led the data hounds at Pando Daily to ask Pornhub to gather data about a possible income gap between porn users. Well? Do the porn perusing habits of higher incomer viewers differ from those of lower income viewers? Or is everyone synched to the same clips as they baste their genitals with body lotions and exotic oils?
G/O Media may get a commission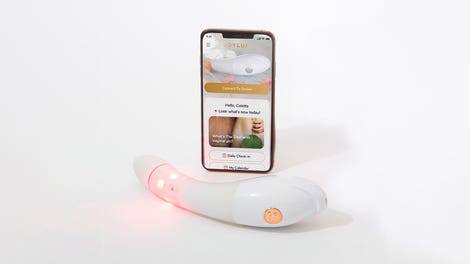 $50 Off
Joylux vFit Gold Device
Results from this groundbreaking porn research actually suggested that the porn habits of viewers in high income areas, i.e. New York, San Francisco, Napa, are remarkably similar to those of viewers in low income areas, i.e. Monroe, LA, Cumberland, MD, Lake Havasu City/Kingman, AZ. The biggest difference was is viewing time — viewers in high income areas logged less time on Pornhub, an average duration of 9.54 minutes versus the 11.5 minutes in low income areas. However, before any bootstrapping capitalist suggests that OF COURSE the poors are wasting all their time on free internet porn and cheap schnapps, Pornhub data found that porn pageviews per capita in high income cities was 9.44, compared to only 6.74 in low income cities.
Such data suggests, according to Pando Daily, that the nagging income gap has led to a porn gap, as faster internet connections in high income communities facilitate more efficient porn browsing:
It could be that high-earning pornhounds are simply more efficient in their consumption. More likely this is due to faster Internet connections and higher Internet penetration in high-income communities.
Other than a marked difference in porn browsing efficiency, though, Pornhub's data revealed that categories and search terms remain pretty consistent, regardless of the income gap:
In fact, the top five search terms are the same across high-income and low-income cities, although the order is different. In high-income cities, the top five are 1. Gay 2. Ebony 3. Teen 4. Lesbian and 5. MILF, while in low-income cities they are 1. Teen 2. Lesbian 3. MILF 4. Ebony 5. Gay.

Other differences: "Asian" makes the top 10 in six high-income cities but in no low income cities. "Big Dick" makes the top 10 in all 10 low-income cities but only two high-income cities (Washington, DC and Trenton, NJ). Meanwhile, "Squirt" makes the Top 10 in seven low-income cities, but only one high-income city (Hi, New York City). Finally, the highfalutin' folks in San Jose, Boulder, Thousand Oaks, Stamford, and Napa, like their porn in HD.
Porn doesn't seem like an entertainment form particularly well-suited to the epidermal rigors of HD, but we're not here to judge — we're here to learn, because the internet is for learning (but mostly porn).
"The porn gap" [Pando Daily]
h/t: The Dish
Image via Gajus / Shutterstock.