Except for the sex part. I obviously expected that. Come on, the tagline is "May the odds be ever in your beaver."
Friends, Wood Rocket, the porn production company that brings us some top notch porn parodies, is back with another adult adaptation of a cultural touchstone. This time, they've taken the beloved multimillion dollar franchise The Hunger Games, and turned it into The Humper Games because literally why the fuck not.
Like Wood Rocket's other fun features, the first few minutes of the The Humper Games—The XXX Parody (Link NSFW obvi) is dedicated to unloading a slew of culturally relevant references. As far as porns go, I feel like Wood Rocket is on top of their pop culture game, but with Humper Games, they proved they can drop savvy one liners as fast as Kantmiss Everyween (we'll get to that later) drops her panties. Haha, just kidding! She doesn't even wear panties under that body suit.
G/O Media may get a commission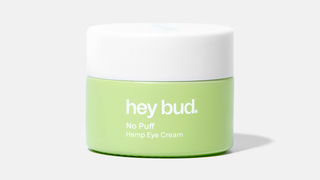 15% off
Hey Bud - No Puff Hemp Eye Cream
Of course, the video opens with a message from Effyou (Trinket) to District 69, jam packed with eye-rolling riffs on minimum wage, health care, Justin Bieber, debated source material Battle Royale, Jian Ghomeshi, and the never-ending relevance of cat videos. She then chooses two definitely-18-year-old tributes: Puta Malarkey and Kantmiss Everyween (I would have gone with Katkiss Everydick or just waited until the budget was big enough for James Deen for the real EverDeen, helloooo). But the topical nods don't end there!
Not only does Kantmiss reenact Hollaback's street harassment video "10 Hours of Walking in NYC as a Woman," but she fires an arrow into her harasser's eyeball. You best not fuck with Kantmiss. Unless you're Puta.
After a quick montage of Kantmiss firing arrows (with a shoutout to the new crossguard light saber from the week-old Star Wars: The Force Awakens teaser because Wood Rocket is really trying to round out that SEO), set against a backdrop of possibly my old backyard in Colorado, we finally move on to the almost sex but not sex. Don't let that fabulous and certainly velvet furniture deceive you. There is no fucking on the tiger skin couch. :(
Kantmiss (inexplicably but not really a California valley girl) and Puta (whose wig gives one helluva performance) have to sit down with Pleaser Fuckerman (who I am pretty sure played Jimmy Jr. in the Bob's Burgers parody) for an interview, and this is where things get weird. See, the premise of this porn (and there really is sex in this porn, I promise) is that despite the skill, resourcefulness and bravery of Kantmiss Everyween, the people of Panem just want to see what her boobs look like. Can you tell where they're going with this? You can tell, right? When Kantmiss refuses, Pleaser Fuckerman leaks her sex tape with Puta on behalf of the Capitol.
Oh.
That's right. After entire minutes of groan-inducing jabs (not sexy groaning), the real joke is the celebrity photo hack—of which Jennifer Lawrence, star of Hunger Games was a victim. Hardy. Fucking. Har. Har. The concept that a woman who by trade offers her sex for consumption on the internet is portraying a victim of an internet sex crime is pretty surreal. The fact that a widespread highly publicized sex crime that affected several women and hijacked their ownership over their own bodies has become the punchline in a pornographic video isn't just "too soon." It's fucked up and would probably be more fucked up if we weren't um, watching free porn.
Here's the thing.
Kantmiss kills Pleaser Fuckerman. She gets revenge. She points an arrow at him, and after he pleads with her, reminding her she has "an audience to win over," she responds, "That's true, but to be fair, I really really want to see you die. Seems like the right thing to do." (This isn't exactly Kramer vs. Kramer-level writing, here.) And then Kantmiss Everyween unleashes an arrow, presumably killing Fuckerman, which by the way, marks the video's second death due to fatal levels of misogyny. Fin.
While part of me kind of suspects Kantmiss' revenge was thrown in as a gimmick to appease those offended by the premise, I'd like to think that Wood Rocket positively dealt with the Fappening in a way that well, only a porn company could. Forget for a moment that that arrow doesn't actually have an arrowhead. They explored the themes of Hunger Games (and each other, oh god I am sorry) and reconciled a real-life injustice. People, this might just be porn in its truest form—a fuckin' feel good fantasy.
Oh and the sex was pretty standard (Veronica Vice gives a solid performance as Kantmiss), but at least there was some cunnilingus, which was so pleasurable, valley girl Kantmiss described it as "Angora Cum," which I then realized was actually her saying, "I'm going to come." Also, she really "lavs" Puta's "dack." Oh, and to remind viewers that they were indeed watching a Hunger Games-themed porn, the set designer included some genuine props to enhance the setting.
Sadly, there was no three-finger salute. But goddammit, we did make out with this priceless gem:
Images via Wood Rocket.