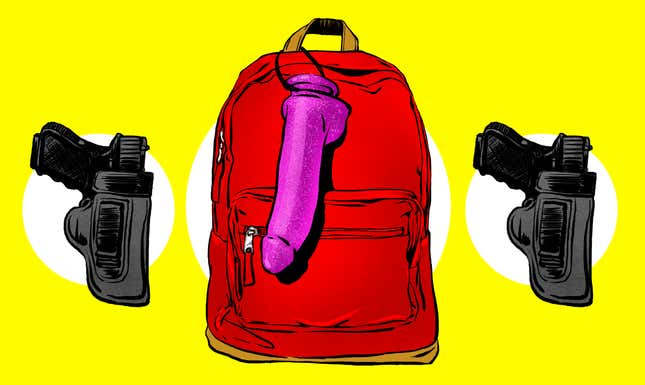 On the first day of fall classes on August 24 at the University of Texas, Austin, students were scrambling to catch florid plastic dildos flying over their heads, eager to display them on the outside of their backpacks. Outrageous? Embarrassing? Absurd? That's the point. More than a thousand protesters— students and professors—were gathering beneath the campus's clock tower to expose the absurdity of a gun culture whose laws encourage students to carry concealed guns onto college campuses but ban the open display of sex toys. At a pre-rally the day before, 4,000 of the playthings disappeared over the first 30 minutes in a mashup of outstretched limbs.
There is provocative juvenile symbolism and then there is provocative juvenile symbolism. Last year, as part of the ongoing campaign to make everyone everywhere accept guns as an inescapable feature of everyday life, the Texas state legislature passed a law permitting seniors at all public colleges and universities to pack heat on campus. They timed the law to take effect on the 50th anniversary of the darkest chapter in UT Austin's history: August 1, 1966, when a student climbed the infamous clock tower with a footlocker full of weapons and showed the world how easily someone could buy enough guns in America to commit mass murder in a public space.
Jessica Jin, the organizer of the "Cocks not Glocks" protest, never thought she would be interested in protesting America's insane love of guns. She was raised in San Antonio by parents who were Chinese immigrants. She describes them as a Tiger Mom and a professorial father who cared not a whit about U.S. politics. That left Jin, she says, with no role models for how to be an American. In public schools, she received an education steeped in Texas-style hyper-conservatism.
"Conservatives follow the rules and work hard for what they want," she recalled a fourth grade teacher lecturing. "Liberals are loosey-goosey, they ignore rules and kill babies. Now, which are you: conservative or liberal?" (You can guess which every student chose.)
Jin says she was subjected to constant ridicule as a "slant-eye" and was uncomfortable with the "inauthentic" American name her parents chose for her—yet the last thing she wanted was to stand out as different. She was a stickler for rules, and by fifth grade, she had abruptly come of age politically. On the news she heard about a President named Clinton and an intern named Monica Lewinsky. She ran home and told her father he had to vote for George W. Bush.

It was by extreme accident that she swerved 180 degrees in her early twenties to become a Democratic activist. She was disturbed by a flurry of campus shootings around the country. Last October, as she drove through Austin, she heard a right wing pundit say on the radio that Americans would just have to live with these acts of violence and brace for them to happen. "I just rolled my eyes so hard, I thought my eyeballs were going to roll out of my head." In response, Jin created a Facebook group and posted a subversive joke to mock the fact that the state has a law against "obscene public displays" of such reverential items as dildos, but was about to encourage post-adolescents with raging hormones to carry guns on campus:
Your dildo will be just as effective at deterring a mass shooter, but much safer for recreational play.
The next day, Jin cringed. "I thought it was an extremely immature and crass joke," she told me. But overnight her post went viral and thousands of people RSVP'd, wanting to join in a protest she flippantly suggested against the "campus carry law." The coverage was international, in the BBC, the Sydney Morning Herald, all over Europe. As Jin said, "Other countries love making fun of our gun culture, and this gave them another opportunity to laugh at it."
From then on, Jin threw herself into planning the very real Campus Dildo Carry protest staged this week at her alma mater. Ultimately, she said, her joke was a good thing: "That helped me make young women comfortable with my more subversive messaging, because they appreciate the satire and humor."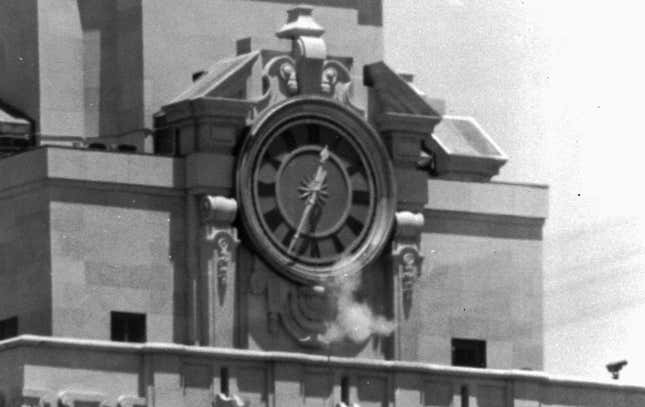 She has since received support from other women active in the gun control movement, including Sarah Clements, who was jolted into awareness of the total disregard for the most defenseless victims of gun violence when she heard about the shooting at Sandy Hook Elementary School. Her mother Abbey was a second grade teacher there. Six teachers—all in the pathway of the gunman—were murdered, along with 20 children under the age of eight. Abbey managed to hide her students in a supply closet, and all survived.

"I direct-messaged Jessica after her page went viral, because I know what it's like to be harassed online for doing this type of work," said Clements, now a junior at Georgetown University. "I told her how inspiring her radicalism was." Jin responded immediately. Clements offered an ear to absorb some of the fears and frustrations the novice activist was experiencing. She was the first of many survivors and their family members who contacted Jin to make sure she was well-informed. They suggested professional strategies to help bring millennial women into the gun sense conversation.
On the night before her long-planned event, Jin was delighted that local sex shops had made donations of phalluses to meet the unexpected demand. She was particularly tickled by the gift of over 100 hand-crafted ceramic phalluses sculpted by a woman for her 1980s thesis on "toxic masculinity."
But when I saw her late that night, fatigued beyond speech, her tiny frame dissolved into a sofa like a soggy pretzel. Would she recover from her exhaustion? Would anybody show up? Or was it all just a big joke with no impact beyond the ephemeral world of social media?
---
The same week that Jin called for her dildo protest, about a thousand of the university's academics—under the banner of Guns Free UT—held a solemn commemoration of the 14 people killed in 1966 and the 32 others who were wounded. Scars from that massacre are still raw for survivors like Claire Wilson.
It happened on a beautifully sunny summer day as students passed to their first classes, among them Wilson, who was a new freshman, and her boyfriend Thomas Eckman. Wilson didn't register the pain, only the jolt. It was the first shot. The sniper was a Marine and picked his targets. "Baby, what's wrong?" Eckman said. Wilson was visibly pregnant and the bullet had found her baby and annihilated it. All at once both she and her boyfriend were falling to the ground. "I had no idea what it was," Wilson recently told an Austin TV station. "I was just lying there looking up and thinking how beautifully blue the sky was." Her boyfriend made no sound. The second bullet had split his back and killed him almost instantly.
The horrifying memories may have faded for some, but the bullet holes in the clock tower are still visible. Hundreds of students, professors, tourists, and store clerks witnessed the 96-minute killing spree as they crouched behind trees, hid under desks, took cover in stairwells, or, if they had been hit, played dead. "It seemed like every other guy had a rifle," recalls Ann Major, who was a senior at UT Austin at the time and is now a romance novelist living in Corpus Christi. "There was a sort of cowboy atmosphere, 'Let's get him' spirit."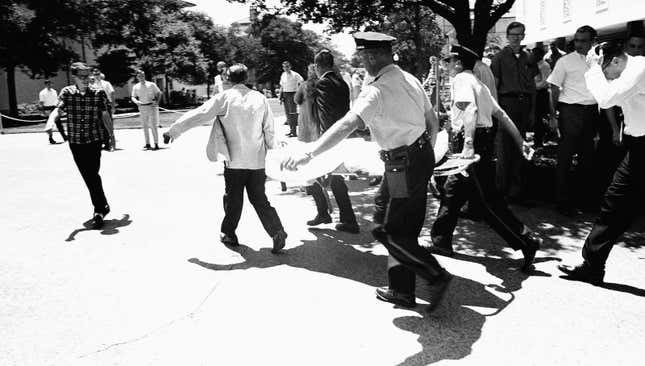 That day, August 1, 1966, engraved a new template on American culture, to be copied by high schools like Columbine in Colorado, where two disturbed high school boys unleashed a wave of me-too killings; state universities like Virginia Tech that gave us the massacre of 32 people; churches like the historically African-American Emanuel congregation in Charleston, South Carolina, where a 21-year-old racist killed nine people with a handgun; and nightclubs like Pulse in Orlando, Florida, where 49 mostly Latino LGBT people were slaughtered and 43 wounded easily surpassing the Texas clock tower killings and setting a record as the most violent mass murder in U.S. history.

That night of the Orlando bloodbath was when Robert Disney, a tireless veteran of the 40-plus-year-old Brady campaign, began to believe a tipping point has been reached. "It activated gays and lesbians to join the mounting movement against gun violence," he said. People of all ages and walks of life are being drawn into a mass consciousness about something that has gone terribly wrong with our way of life, Disney said. Parents expect to send their children to schools and universities where they will be protected while they grow up. Private citizens of all ages and persuasions expect to pray or play without the risk of paying with their lives.
"We see a major cultural shift occurring," Disney said. And the most hopeful recent addition to gun sense activism is that the millennial generation now has a "poster girl" in Jessica Jin.
---
On the big day, as students passed to their early classes, not a single backpack could be spotted carrying a signature sex toy. The most active hawkers at that hour were middle-aged men offering copies of the New Testament.

It wasn't until noon that volunteers began screen-printing orange tees at breakneck speed with the hashtag #COCKSNOTGLOCKS.
A five-foot-one junior, Rosie Zander, began waving a gorilla-sized plastic phallus and shouting, "We've got dicks for you! I'm the Oprah of dickage!"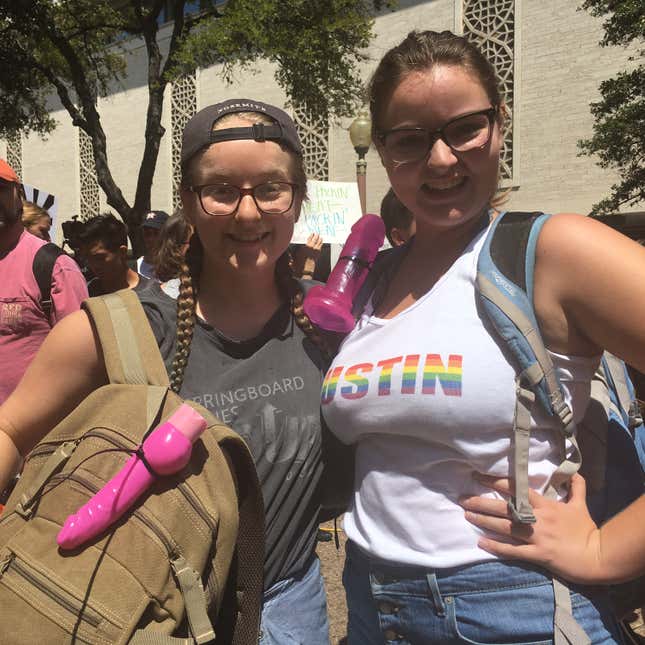 "This level of excitement on campus is beyond our wildest dreams," Zander told me. She is campus director of University Democrats, which has a remarkably small membership of about 70 on a campus of 50,000. An on-campus statue of Jefferson Davis was removed only last year. During our conversation, Zander brushed aside the insults she heard from gun zealots, like the male student who shouted, "You're a liberal idiot—once you get shot, you'll understand." He had obviously bought the NRA line: "The best defense against a bad guy with a gun is a good guy with a gun." Zander went right back to hawking, "Get your dildos now before we run out again!"
Moms Demand Action for Gun Sense in America, an advocacy group with chapters in all 50 states, was represented at the rally by Nicole Golden, one of three and a half million mothers in a grassroots organization patterned on Mothers Against Drunk Driving.* "We are so happy to see a campus movement beginning on this crucial issue and led by women," Gold said.
I was jolted back to the '60s and '70s, when the great revolutionary movements of my own co-ed years were led almost exclusively by men. Rather than work together, anti-war and civil rights protesters regularly clashed. Women who wanted to play an equal role in these radical movements were ignored, sometimes ridiculed, and reduced to carrying messages and iced drinks to the male hierarchy.
There were plenty of men mingling among the protesters, including a tall handsome senior who had to step away from his Christian fellowship group to tell me what he really thinks of the event. "It's so shocking, so hilarious, so disgusting, it will definitely create a lot of buzz, but it won't change any laws tomorrow."
What would he do, I asked, if he found himself in one of the campus's 300-seat lecture halls when a "bad guy" with a gun opens up on lots of "good guys" with only four hours of required training to use the weapons in their backpacks?
He took a long moment. "I'd like to think I'd be a hero, but to be honest, I'd probably be too terrified to pull out a gun—it makes you a target." At the end of our talk, he dared to give his first name: Brandon. He comforted himself by predicting the infinitesimal chance of a lone shooter is matched only by the infinitesimal chance that his classmates with guns would hurt innocents if they fired back.
That is what nearly happened when students in '66 ran home to get their guns and spread a lot of friendly fire during the long confrontation with the killer. The chief of police, who had climbed to the top of the tower, complained of a bullet that narrowly missed him.
In this era, it is largely and significantly millennial women college students who have broken the harmful silence on campus sexual assault and reinvigorated campus activism. These women have pointed fingers not only at their excused assailants, but also at the university administrations expected to protect them. Emma Sulkowicz's mattress was as provocative a symbol as Jin's sex toys. By famously carrying her burden on campus for a whole school year to protest the non-expulsion of her alleged rapist, Sulkowicz helped to build the most effective, organized anti-rape movement since the late '70s. Meanwhile, Jin and her fellow organizers are hoping the campus gun movement starts with dildos.
At the end of the event, Jin ran up the steps to admit she hadn't prepared a speech—she had been busy up to the last moment, lugging around 55-pound boxes of the sex toys.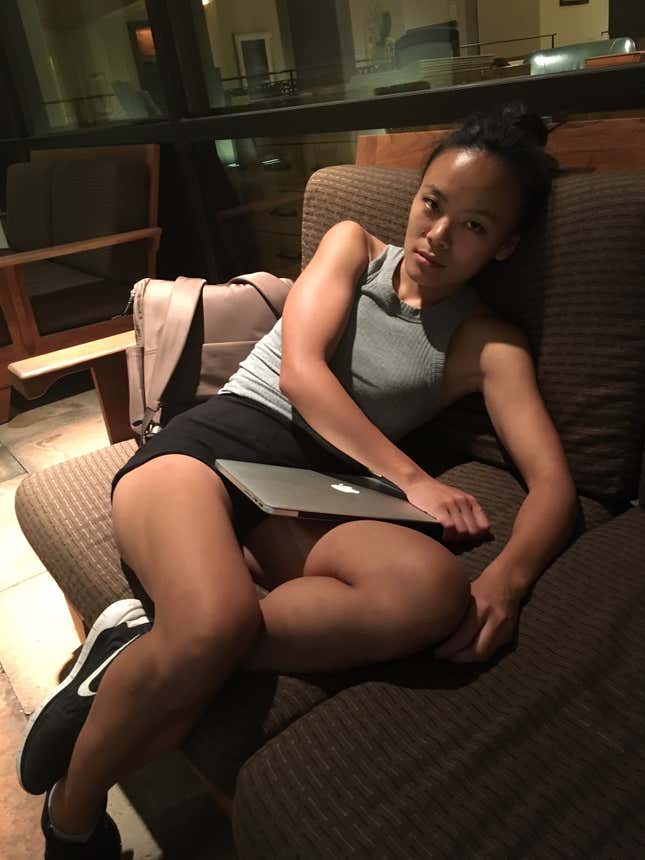 "Let's put a dildo in the hands of every pissed-off college student who hasn't been heard yet in this safety conversation!" she called out breathlessly, as cheers rose. Then her tone shifted to the personal: "I know it doesn't feel good to walk around with a dildo. I walked into Home Depot with a dildo on yesterday, buying zip ties for all of y'all, and it felt horrible. Embarrassing. I was self-conscious. I worried about the impact that I would have on the people around me."
Jin told me she has paid a price in the last year, sacrificing sleep, privacy, and personal safety. One man got ahold of her address and email and keeps sending her threatening messages. But she swears she is not afraid. "If someone were to try to hurt me, it would just prove my point," she said. "If they were to get that angry over a joke or being made fun of, they can't control their tempers, and they shouldn't have guns."
When she addressed the eager protesters who had answered her call, her voice conveyed no fatigue or hesitation: "We want to force that kind of conscientiousness on people who are so ingrained in gun culture that they don't understand the impact they're having on the people around them." More cheers.
"So strap it on, deal with the discomfort, deal with the weird looks. Wear it loud, wear it proud. And don't take off your dildos until people take their guns home."
---
Gail Sheehy is one of the founding writers of New York and has been a contributing editor to Vanity Fair since 1984. She has written about the character and psychology of presidential candidates from Robert Kennedy to Hillary Clinton and Barack Obama, and world leaders from Margaret Thatcher to Saddam Hussein. Sheehy is the author of 17 books. Passages (1976) was named by the Library of Congress one of the ten most influential books of our times. Her latest book is a memoir called DARING: My Passages.

*An earlier version of this article stated Nicole Golden's name was "Nicole Gold" and referred to Moms Demand Action as a "research group" instead of an "advocacy group." Jezebel regrets the errors.