On September 29 former Yves Saint Laurent director Hedi Slimane, newly appointed at Celine where he immediately dropped the é, showed his first collection for the house. And it was. A. Fucking. Disaster.
The former Celine designer Phoebe Philo, known for her structural, feminine minimalism, had been replaced by evil stepdaddy Slimane, who dressed skinny models in what looked like upscale Forever 21: sequined mini-dresses, leather jackets, leopard coats. All of it looked like it was designed by someone who has only ever read issues of NYLON magazine circa-2006 and it all seemed to be exactly what Slimane had been doing, season after season, at Yves Saint Laurent.
The good news? Many critics also hated it, gloriously! Here are some highlights from the criticism:
For those who, upon hearing that Mr. Slimane had been named Lord Chief Overseer (O.K.: artistic, creative and image director) of Celine, feared that the days when this brand defined what it meant to be a smart, adult, self-sufficient, ambitious and elegantly neurotic woman were at an end—you were right.

For those who worried that maybe, after reinventing Dior Homme in his own Thin Dark Duke image, and Saint Laurent in the shape of dissolute morning-after Los Angeles teenagers, perhaps Mr. Slimane did not have another brand vision in him —you were right, too.
Though Celine has had other designers since its founder, including American Michael Kors, it was Phoebe Philo who transformed the brand in the modern era. She had a keen understanding of women's lives—well, some women's lives—and what they needed from their clothes to make those lives a little less complicated.

Slimane doesn't seem particularly interested in addressing the mundane issues in a woman's life. His fashion is not here to solve your problems. Save your problems for your therapist. His designs are about his vision. They are not welcoming. They exist behind the velvet rope. They are the after after party.
G/O Media may get a commission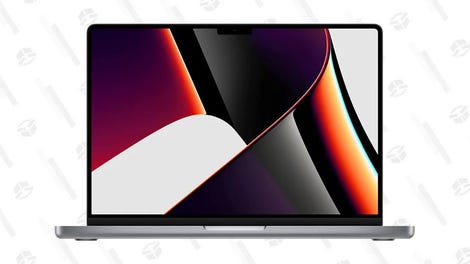 Save $300
2021 14" 1TB MacBook Pro
...what of the women who looked to Celine—particularly, to its former designer Phoebe Philo—for the kind of sophisticated, subtle, artful clothes that made them feel their very best? Those customers will be forced to look elsewhere, as the fashion industry has once again relied upon a man with proven marketing prowess and some exhausted-yet-profitable ideas to help bring in higher sales numbers. Interesting and thoughtful designs are simply not enough to keep even the most beloved business afloat.
I'm not going to blub about how a catwalk that once offered chic solution clothes in which a woman could walk with confidence, was now awash with groupie-boy tailoring and broken ballerina dresses in which a 17-year-old girl might walk the streets. You can feel all the fuzzy-edged nostalgia you want for Obama, but that doesn't change the fact we got a Trump.
Rachel Tashijan, GARAGE:
This is fun clothing that will look slammin' on a slammin' bod—and I don't mean a withering white one. But the people who actually matter in fashion now—the real influencers—weren't represented on the runway. Slimane will need them to bring the clothing to life—here's hoping they show him what that look is capable of.
Emilia Petrarca, The Cut:
Slimane was in a unique position of power on Friday. He had a clean slate and an enormous, billion-dollar platform at his disposal. And he used that opportunity to offer some slightly different tailoring?
The minis couldn't have been shorter had they been designed by a gynecologist.
I am taking a break from my outrage at the racist/sexist men of the Kavanaugh Hearing to indulge in some outrage over Hedi Slimane's entirely predictable, heinous Céline debut (Saint Laurent 2.0 on primarily emaciated white models). Fuck power-hungry white men.
While he has a way of unearthing our hidden desires from time to time (all the financial reports from his tenure at Saint Laurent will attest to that), the white youth obsession is something we definitely won't be buying into lol.