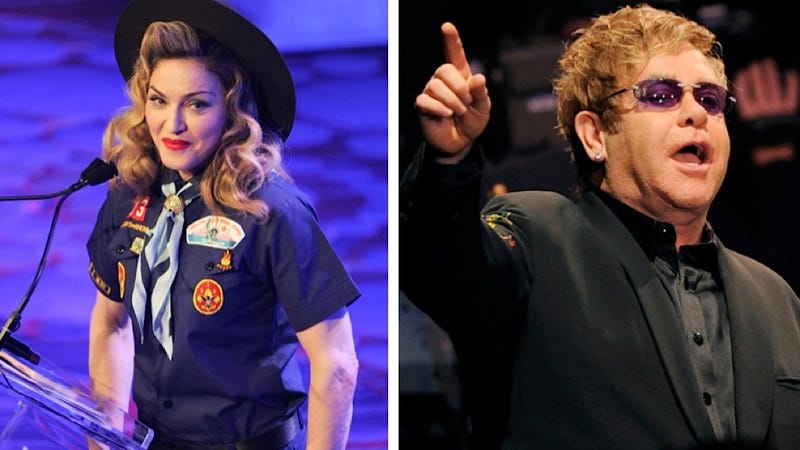 The long-standing feud between Elton John and Madonna is over now, according to Elton John. Go ahead, frightened citizens — emerge from your bunkers to greet this new day of peace between the celebrity Olympians.
In an interview with Extra (because this story is just too volatile for NBC Nightly News), Elton and and David Furnish calmly explained that they no longer bear Madonna any ill-will. Seriously, the feud is officially off.
Quoth Sir Elton:
We were in a restaurant in France in the summertime. She came in, and I sent over a note. She was very gracious. I apologized profusely because what I said should never have appeared in public. She accepted our apology, and then we bought her dinner. That's over and done with.
Madge agreed that bygones should be bygones and now everything is, as the British so haughtily say, splendid. If you recall, the feud in question began in 2002 when Elton John criticized Madonna's song for the really awful Bond movie Die Another Day. In 2004, Sir Elton not-so-chivalrously accused Madonna of lip syncing during her Re-Invention Tour, and then, just last year, David Furnish said Madonna should "stick to what she is good at" after criticizing her directorial debut for the film W.E.
Really, this "feud" was just a series of Elton John and David Furnish's snarkiest moments, but they've still taught us all that we just need to give peace a chance.
[Extra]
Image via AP, Chris Pizzello and Evan Agostini