Did you watch the Latin Billboards last night? I watched some of my favorites—ROMEO, J.Lo's Selena tribute with la familia Quintanilla, above—but switched somewhere between the unrepentant and perpetual uplifting of boring-ass Enrique Iglesias and the baroque guitar duel between Juanes and Carlos Santana (both are fine, I just don't care that much about dudes playing guitars). Didn't shut it off before looking at the gowns, though, of course, so here we have it: so many princess dresses and a surprising amount of sheer paneling! So much sheer. A surprising amount of it!
Oh, how lovely that we have entered the era of the new neutrals, wherein the regality of tan, gold, and merlot is—wait, WHAT THE? IS THAT MY TEENSY HERMANA BECKY G? Where does the time go? One day you'll be telling your friends about this cool Chicana teen whose YouTubes you're obsessed with, and then before you know it, she is totally dating Austin Mahone and is channeling J.Lo so hard that J.Lo's essential J.Lo-ness was overshadowed at what was basically her own event. Becky G! She is 18 now! She can vote! WHERE DOES THE TIME GO. Anyway: I wish I'd had the wherewithal to wear a skintight dress made of diamonds when I was 18. Could do without the train, but if that's the least of your problems (that and maybe losing a Swarovski on your seat), you're doing A-OK.
Actors Cynthia Olavarría and Dad Dáger are working two sides of the princess coin: Olavarría's sumptuous, full skirted gown infers traditional ballerina splendor, while Dáger is straight Leia, a lovely cascade of desert-future chiffon. And New York City's own baddie-about-town Dascha Polanco is getting cannier with her style choices—she's cultivating a look that is distinctly hers, which I respect—so here she is wearing a dress made basically of fishnet. The contrasting, prim green pumps are a nice touch.
G/O Media may get a commission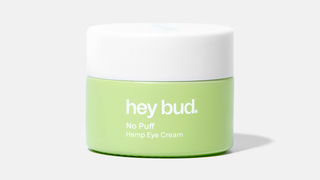 15% off
Hey Bud - No Puff Hemp Eye Cream
No but really, let's discuss the new neutrals: dusty rose, glimmering silver, sclera white. I love all these simple dresses: Erika de La Vega's simple but daring cut-out one-sleeve, and actor Kary Musa's glimmering strappy number that makes her look like the human embodiment of a diamond mine. Laura Sánchez matched her lovely look to her dye job, an excellent instinct befitting a make-up artist, and Méxican actor Liz Gallardo seems to know that simplest, easiest of tenets: fringe always looks damn fancy, hallelu.
So, Marc Anthony won some award (I was half paying attention) and the camera was on him, and he basically had a G-rated makeout with his new wife Shannon de Lima, kept kissing her like he couldn't pull away, which I found overtly demonstrative for a show that his ex-wife was basically headlining. ANYWAY! He is always impeccably dressed in his way, and de Lima is there to match in this standard but fairly pretty beaded number. Singers Mariana Vega and Roselyn Sanchez are both doing something that I like, which is wearing nontraditional, interesting, asymmetrical and modern dresses on the carpet that don't play into the awards show narrative of dressing like a glitzy cake topper. Vega's close to my ideal, really, of dressing like a Kawakubo-obsessed Chelsea art gallerist in the late 1980s, and Sanchez's devotion to asymmetry in fuchsia is a bold choice that I must salute, also donde compraste ese 'cause I need it in white.
Look at all this sheer, look at all this ombre! :(
Colombian telenovela star Maritza Rodríguez had a nice idea theoretically but the color contrast is giving off a spider web effect. Which could be very cool, but I'm pretty sure that's not what she was going for. Also theoretically, Azucena Cierco's dress is very pretty, and beadwork is a pretty ingenious way to do a gradient color shift but, I don't know, I just don't like the way it cascades into essentially stripes down to an excess of tulle or whatever on the hemline. SUE ME. And while the sheer skirt/matching underwear trend has been a fun experience, it's probably time for it to die, no offense to Cristal Marie and Kimberly Dos Ramos. It all just hit me at once, between the KEYHOLE NECKLINE with GAUNTLET SLEEVES and the POINTY SWEETHEART NECKLINE BUSTIER with an EYELET CLOSURE and a goddamn BELT. I need a drink.
What was I saying about silver as a neutral? These ladies flipped it, wore it to fully stand out. Colombian singer Marcia Jones (left) and Dominican bachata star Santaye (right) had two variations on the same silver/sheer idea, to fully different effects: Jones is doing a kind of brocade tablecloth ingenue thing, which works, and Santaye is giving carnival queen vibes. I would be here for it, but I wish she weren't standing like that, like she is afraid the cams will sneak-pic her punani! In that kind of dress you just have to own it, like reggaeton's own Natti Natasha in her cage-top mermaid number.
Whoa, nelly! Carmen Villalobos's gown is so freaking CONFUSING, but actually because of that I might kind of like it? It's Mad Max up top, and on the bottom a... gilded and triumphant depiction of cranes mid-flight. What? Yeah, okay, I'm really into it, because I do not understand it. Unfortunately, there is way too much to understand about Carolina Laursen's look—overstanding, if you will—and that is the act of wearing a gown too garish for Barbie. Props for boldness, though. Agueda Lopez, here with her husband Luis Fonsi, is a continuation on my feeling that sheer should be banned, and that no designer should ever attempt to copy Givenchy couture again. And then we have Martha Lopez, who is... not really wearing that offensive a gown, but it has sheer sleeves, and sheer must now be banned accordingly.
Desperately in need of a palate cleanser right now, so let's take a look at my absolute favorite looks, all on Spanish singer Natalia Jimenez:
THAT SKIRT. (Yeah, it's sheer, whatever.) THE CHILE PEPPER DRESS. (Don't tell anyone like Cecily Strong or whoever cause, you know, spicy jokes, but I still love it. CHILES ARE AN IMPORTANT PART OF OUR CULTURES.) That black top with the inexplicable strap with no apparent function! I love it all.
Goddamn I love it when dem boys get spiffed up. Angolan singer Coréon Dú is giving gorgeous patterns in excess—why are American men so afraid of brightly colored suits?—while Julión Álvarez y su Norteño Banda are seriously murking the contrast detailing and estilo vaquero. My boys Los Rakas are excellent—seriously, so great to see them on the carpet, rising up and up, they've worked very hard to get to this point. Also, I HAVE NEVER SEEN THEM LOOK SO FANCY! Props to this, especially Raka Rich's Panamanian swagu in the light blue suit and tank. Meanwhile, Venezuelan songwriter/producer Motiff is out here dressed up like a goddamn steampunk superhero and y'all don't even know. Get INTO IT. MOTIFF!
Romeo Santos performed "Hilito" and I got into a mild kerfuffle on Twitter with my friend Mark over who gets to marry him. I love Romeo, but I would like to adjust his style like, 20 percent to the right—this look is a lot. He can keep the mesh sweatshirt, however. Hi.
I leave you with our patron saint La Lopez, who was channeling Selena in her tribute, above—the ruffly dresses, the crop top bustier—but on the carpet, in couture Zuhair Murad, she was pure 100 percent Jennifer damn Lopez, not from the block but in your dreams. Boom.