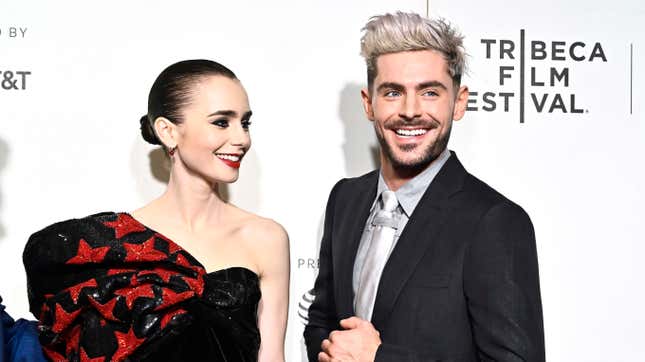 As any number of listicles can attest, there's no dearth of Ted Bundy content. There's the 2004 movie The Riverman, which visits the serial killer in jail; Natural Porn Killers, which interrogates Bundy's sexuality, and the most recent Netflix project, a docuseries on the serial killer. Most of these movies, focus on unpacking Bundy's character—his motivations, his skill, his looks—at the expense of any depiction of his victim's lives.
But Bundy's victims are finally talking, according to Lily Collins, and thankfully, they love her new movie.
Collins stars alongside Zac Efron as Liz Kendall, Bundy's girlfriend, in the Netflix movie Extremely Wicked, Shockingly Evil and Vile, which debuted on the streaming service and in select theaters on May 3. Collins recalls repeatedly waking up in the middle of the night and being visited by ghosts of Bundy's victims, who expressed their silent support of her decision to participate in this movie.
Collins told the Guardian that she would wake up at 3:05 a.m. every night, and, just like every middle schooler in the early 2000s did after seeing The Exorcism of Emily Rose, she Googled the significance of the time. "I discovered that 3am is the time when the veil between the realms is the thinnest and one can be visited," she said. Collins thinks it was the ghosts of the women Bundy murdered, coming to say, "Yeah, totally, make a movie about us."
"I didn't feel scared – I felt supported. I felt like people were saying: "We're here listening. We're here to support. Thank you for telling the story."
She joins Zac Efron in his breathless defense of the movie. Per Metro:
'I wasn't interested in playing a serial killer,' Zac continued on Wednesday evening. 'I'm not in the business of glamourising such a horrendous person or his acts.

'But there is something unique about the way going into the psyche of Ted and his longtime girlfriend Liz, it's a different perspective and not your run-of-the-mill serial killer, cliche, bodycount gets higher and higher and "oh the guy you always knew did it." It was what it was like to be there on the day.'
Director Joe Berlinger, who also worked on the Bundy documentary, told Decider that he wanted to do Extremely Wicked because he loved that the script came "from a victim's perspective." In the same interview, he leaned into the dramatic story arch of—guess who—Bundy's character. "Let's take people on this ride of deception and betrayal to such a degree that you're actually questioning Bundy's guilt, because of the sincerity of the performance," he said.
It's an interesting way to define perspective, but hey, at least Collins has an endorsement.