With so many season finales airing this week, you might think that Americans turn off their TV sets after Memorial Day weekend and only turn it back on again in September. But this is America! All we care about is TV (and food)! Here are some of the new shows—and returning favorites—that will make lying in air-conditioned bliss that much more enjoyable until Labor Day.
Summer TV is a bit different than what airs during the rest of the year. Many of the big-budget series are on hiatus and some networks pad out their schedules with crappy reruns.
But it's also the time of year when we're given frothy dramas, flirty reality shows, and other amusing diversions. Summer TV can be silly, but what more do you want while trying to stay cool?

New Shows
G/O Media may get a commission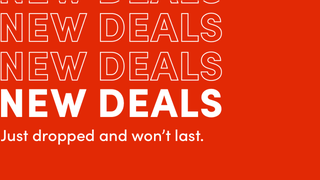 Up to 70% off
Wayfair - Cyber Week Deals
Single Ladies
When? Monday, May 30, 9pm
Which Channel? VH1
What Is It? Finally, a scripted series on VH1. Here Stacey Dash (of Clueless fame) and her three best friends do their best Sex and the City, except the city is Atlanta.

---
Million Dollar Decorators
When? Tuesday, May 31, 10pm
Which Channel? Bravo
What Is It? It's like HGTV with a bigger budget and more drama as L.A.'s fanciest interior designers (including one seriously sexy silver fox) do their thing.

---
Love in the Wild
When? Wednesday, June 1, 10pm
Which Channel? NBC
What Is It? Twenty singles go on their first date while spelunking around the jungle. Expect hot people in little clothing, fighting, wild animals, and lots of chaste making out.

---
Franklin and Bash
When? Wednesday, June 1, 9pm
Which Channel? TNT
What Is It? No, this isn't about a furniture brand or a strange British dish (Bubble and Squeak, coming this fall). The cable channel switches it up from "procedurals featuring strong women" to "procedurals featuring skuzzy male lawyers." At least one is Zack Morris.

---
Love Bites
When? Thursday, June 2, 10pm
Which Channel? NBC
What Is It? Like they say, every week features "different stars, different stories" about love. Too bad it's the same old programming formula for this modern day Love Boat.

---
Teen Wolf
When? Sunday, June 5, 10pm
Which Channel? MTV
What Is It? Just like the old Michael J. Fox movie, except sexier, angstier, and they play lacrosse instead of basketball (ugh, suburban white people and their lacrosse).

---
The Glee Project
When? Sunday, June 12, 9pm
Which Channel? Oxygen
What Is It? Twelve teens vie for a role on Glee so that they can be subsequently mocked by all the fans who used to like Glee but now only watch it to make fun of it.

---
9 Lives of Chloe King
When? Tuesday, June 14, 9pm
Which Channel? ABC Family
What Is It? Apparently all of the teenagers are turning into animals on cable this summer. Here's a show about a girl who turns into a cat. Maybe she and Teen Wolf should date?

---
101 Ways to Leave a Game Show
When? Tuesday, June 21, 9pm
Which Channel? ABC
What Is It? There's no trailer for the ABC version yet, but if it is anything like the BBC version of this show on which it's based (see right), it's totally going to rule. Watch as contestants who get wrong answers are booted off a game show in cruel and creative ways.

---
Falling Skies
When? Sunday, June 19, 9pm
Which Channel? TNT
What Is It? Aliens! Noah Wylie! Explosions! Hooray!

---
Expedition Impossible
When? Thursday, June 23, 9pm
Which Channel? ABC
What Is It? Thirteen teams of three trek across Morocco in a game much like The Amazing Race but even harder. It's sort of like Sex and the City 2 if Samantha died of a hot flash and the rest of the girls had to fight to stay alive.

---
Wilfred
When? Thursday, June 23, 10pm
Which Channel? FX
What Is It? A depressed man (Elijah Wood) is the only one who sees his neighbor's dog as a real man wearing a dog outfit. It's based on a hit Australian show. When was the last time that happened?

---
Necessary Roughness
When? Wednesday, June 29, 10pm
Which Channel? USA
What Is It? A sexy psychologist helps a football player get over his performance issues and becomes the new shrink of choice for a rotating collection of athletes. ESPN devotees are gonna go bonkers for this.

---
Alphas
When? Monday, July 11, 10pm
Which Channel? SyFy
What Is It? A team of people with superpowers stop crimes and fight villains and stuff. It's Heroes, but, you know, actually kind of good.

Also New This Summer
Extreme Makeover: Weightloss Edition, May 30, ABC: Do I need to tell you?
Rocco's Dinner Party, June 22, Bravo: Rocco DiSpirito tries, once again, to be a reality TV star.
Same Name, July 24, CBS: Celebrities spend a day living the life of a normal Joe that has the same name as they do.
Take the Money and Run, July 28, ABC: People try to outwit spies to win money.
Whisker Wars, August 5, IFC: A competitive beard growing show. No, for real.
Returning Shows
So You Think You Can Dance, May 26, Fox: This time with 100% more Mary Murphy!
America's Got Talent, May 31, NBC: Get ready for the onslaught of jugglers and hula hoopers.
Men of a Certain Age, June 1, TNT: At least Tim Allen isn't on this old male comedian show.
MasterChef, June 6, Fox: Please help Gordon Ramsey escape bankruptcy.
White Collar, June 7, USA: Your mom will be so happy her boyfriend Matthew Bomer is back on TV.
Keep Up with the Kardashians, June 12, E!: In case you have gone 72 hours without seeing America's favorite Klan in some form of media, here is your fix.
Pretty Little Liars, June 14, ABC Family: Your niece and Richard Lawson's Twitter feeds will be dominated by this.
HawthoRNe, June 14, TNT: Let the bad spelling begin.
Hot in Cleveland, June 15, TV Land: Don't let Betty White stop working now.
Drop Dead Diva, June 19, Lifetime: Don't make a fat joke. Please.
Wipeout, June 23, ABC: You know you have watched this and laughed hysterically. It's OK. We all have our weaknesses.
Burn Notice, June 23, USA: Hot spies doing silly things in Miami. That's what summer is all about.
Futurama, June 23, Comedy Central: This will be on until the 33rd century.
Louie, June 23, FX: New York magazine told me I had to start watching this show.
True Blood, June 26, HBO: The citizens of Bon Temps fight the two things they hate the most: witches and wearing clothing.
The Marriage Ref, June 26, NBC: Yes. Really.
Weeds, June 27, Showtime: Nancy Botwin is in prison for crimes against good sitcoms.
The Big C, June 27, Showtime: Laura Linney still isn't dead.
Royal Pains, June 29, USA: Hot doctors in the Hamptons! Sign us up!
Big Brother, July 7, CBS: Television's most perfection reality competition show returns with more buff beefcakes and buxom babes.
Curb Your Enthusiasm, July 10, HBO: This time Larry David harasses New York.
The Closer, July 11, USA: Kyra Sedgewick is still trying make back all that money she lost thanks to Bernie Madoff.
Rizzoli & Isles, July 11, USA: Is this show about a haberdashery, as the name suggests?
Rescue Me, July 12, FX: Let's drag out Dennis Leary and his fire fighters one more time, for good measure.
Damages, July 13, DirecTV: If you have a satellite dish, you're lucky. The rest of us have to wait for the DVD.
Breaking Bad, July 17, AMC: If you want to know what's going on at the Emmys, you better tune in.
Hell's Kitchen, July 19, Fox: See "Gordon Ramsay, bankruptcy" above.
Entourage, July 24, HBO: Finally, it's ending!
Related