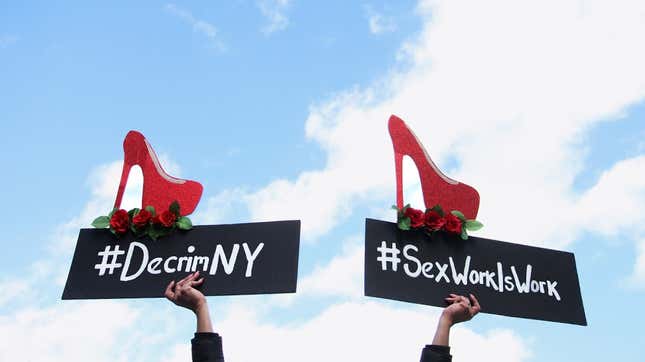 Kate Zen, 32, was a student at Columbia University when she began to do sex work to meet her economic needs. "Even though I was a scholarship student, I struggled to cover all of the costs," she told a scrum of reporters near City Hall in Lower Manhattan Monday morning.

But in one terrifying instance, Zen says she was assaulted after responding to an online advertisement. "I was beat up, had all of my wages and personal property stolen by this person, and was forced to do sex work without a condom," she recounted. "Afterwards, when I reported the incident to a police officer, he told me that since I was engaging in illegal activity I may not look sympathetic as a victim."
Zen is now an organizer with the sex worker-led coalition Decrim NY, and wants her personal experience to illustrate the danger of working in a criminalized industry where the role of law enforcement has historically been to arrest—not protect. This could change, she says, with Monday's introduction of the Stop Violence in the Sex Trades Act, first-of-its kind state legislation that would decriminalize the consensual adult sex trade in New York.
The 27-page act—co-sponsored by Manhattan Assemblyman Dick Gottfried and Brooklyn Senator Julia Salazar and drafted in collaboration with Decrim NY—would repeal and amend a slew of penal code sections to decriminalize sex work, while also preserving all mechanisms for prosecuting the trafficking of adults or minors (which by definition must include elements of force, fraud or coercion). It also aims to address other consequences of criminalization, from eviction to burdensome criminal records.
It is a vision without precedent. (The proposal's closest cousin is a far-reaching decriminalization bill recently re-introduced in Washington, D.C.) The term "decriminalization" has been invoked frequently this year, but imprecisely. California Sen. Kamala Harris made headlines as the first 2020 candidate to call for it, but the platform she detailed isn't actually decriminalization at all. The sex trades as a whole would continue to be policed, even if certain charges around the sale of sex were eliminated.
Audacia Ray, a member of Decrim NY's steering committee and longtime advocate for sex worker rights, pored over state law to help draft the act. Some of these laws "were written in the Victorian Era," she says, pointing to terms like "bawdy house," and "lewd persons."
"They were created to police morality," she says. "And the discussion we are having now is not about morality. It is about economic justice."
Though they expect a long fight, advocates and legislators hope the Stop Violence in the Sex Trades Act will serve as a model for other states. Crucially, the bill takes direction from those who have experienced the harms decriminalization would correct—sex workers themselves.
Senator Salazar acknowledged this Monday. "It's always important to remember that it took years of sex workers fighting… for us to get to this moment," she said.
---
"Sex work saved my life," TS Candii, a 26-year-old trans organizer with Vocal NY, told reporters Monday. It provided the money she needed for gender-affirming healthcare, rent, and her phone bill. "Because of criminalization, however, I had to worry about getting a prostitution charge on my criminal record."

The new legislation in New York would change this. What the Decrim NY bill lays out is distinct from legalization which, in practice, has contained and regulated the sex trade. In Nevada, for example, sex work is only legal in 10 counties, and within those counties, there are licensing and zoning requirements. In order to receive a "work card," a person must submit fingerprints—essentially, the legality of sex work is left to the full discretion of the licensing board. What this means in practice, as Juno Mac and Molly Smith cite in their book Revolting Prostitutes: The Fight for Sex Worker Rights, is that workers can be excluded for low-level "survival" crimes like shoplifting. Illegal sex work is still policed, and the most marginalized workers are often left behind. (Decrim NY, which launched in February in the wake of nationwide, sex worker-led opposition to SESTA/FOSTA, is intentionally centering the voices of those most vulnerable to law enforcement, including trans women of color, queer youth, and migrant massage workers.)
As a model of what's possible, advocates for decriminalization in New York and elsewhere point to sex worker-led reforms in New Zealand, where studies show decriminalization has helped sex workers feel safe refusing clients and reporting trafficking and other forms of abuse to law enforcement. The law also means that basic labor protections guard against workplace harassment. For example, under the Prostitution Reform Act, a New Zealand sex worker brought a successful sexual harassment case against a brothel operator in 2014. Still, the laws have their limits: in these cases, non-citizens are excluded, and New York advocates intend to avoid such carveouts.
Under the Stop Violence in the Sex Trades Act, charges for prostitution and "promoting" prostitution in the third or fourth degree would also be repealed—another major legal victory, advocates say. (More serious promotion charges, involving suspected force or intimidation, would be untouched.)
"These promotion laws are so incredibly broad," says Jared Trujillo, an attorney with the Legal Aid Society, Decrim NY member, and former sex worker. "Safety mechanisms that sex workers use in order to keep each other safe—sharing a living space, one person arranging a client date for another person—these are all mechanisms that this community knows keeps them safe, yet we criminalize them."

The act also eliminates language that criminalizes purchasing sex from an adult. All prior convictions decriminalized under the act would be eligible for clearing through an application process, mirroring guidelines in New York's proposed legal marijuana legislation.

---
Overall prostitution-related arrests have declined significantly in New York City since 2012, from roughly 4,000 to about 1,500 last year. But police still cause harm, including harassment and arrest, which can result in deportation for immigrants. Decrim NY member organization Red Canary Song, of which Kate Zen is a lead organizer, formed last year in response to the death of Yang Song, a 38-year-old migrant sex worker who fell four stories during an NYPD Vice Unit raid on her Flushing workplace. The first ten months of 2018 also saw a 188 percent spike in prostitution-related loitering arrests, predominantly of trans women and black and brown New Yorkers. (Legislation introduced last year, backed by Decrim NY, would specifically eliminate the loitering law.)

Opponents of Decrim NY, including anti-human trafficking and mainstream feminist groups that often conflate consensual adult sex work and human trafficking, favor the so-called 'Nordic Model.' Established in countries including Sweden and France—and currently up for debate in Maine and Massachusetts—these laws aim to remove people who sell sex from an otherwise criminalized industry, which they say is inherently degrading and dangerous.

"Prostitution is not work," said Dorchen Leidholdt, director of the Center for Battered Women's Legal Services at Sanctuary for Families, on Monday. "Prostitution is not an economic solution to their economic needs."

Decrim NY counters that under the Nordic Model police still sweep workplaces and hold sex workers for questioning. It does not address sex workers' deep mistrust of law enforcement, or chip away at the stigma they face.
As transformative as it might be, Ray sees decriminalization as just one incremental step. The Stop Violence in the Sex Trades Act does not include basic protections against wage theft and workplace discrimination, for example. This will require tackling the labor code, and developing regulations while trying to avoid exclusionary pitfalls. It's a reality both difficult and important to acknowledge, because the fight to pass the Stop Violence in the Sex Trades Act will be long and difficult. "Decrim is not the end," Ray said. "It is the beginning of what comes next."
The Stop Violence in the Sex Trades Act by Katie on Scribd
Emma Whitford is a freelance journalist based in Brooklyn.