This weekend, former Real Housewife Jill Zarin hosted a luncheon/trade show at her Southampton home. It was perfect, but for what I'm sure was an inadvertent oversight: They forgot to give me a gift bag.

Zarin is a former New York Real Housewife and the current host of the Fourth Annual Jill Zarin Luxury Luncheon, which takes place—apparently annually—at Zarin's Southampton home, an '80s modern contemporary with a beautiful infinity pool overlooking the Shinnecock Bay. Zarin's main claim to fame is her four-year run on the Bravo reality franchise, which ended in 2011 when she was fired from the show—a minor detail that has not, in fact, stopped her from prominently displaying a Real Housewives director's chair in her living room.
I'm not sure that Jill Zarin and I hold the same definition of the word "luncheon," though there was an open bar and two food vendors with frankly delicious paninis:
G/O Media may get a commission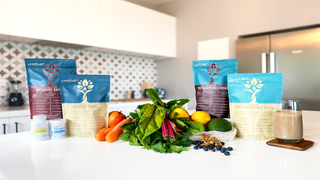 For Jill's party was a buffet of brands, not sandwiches. Among them: Agless La Cure, Alkamind, Antico Noe, Aristocrat, Belucci Napoli, Blue Ice Vodka, Boxed Water, Bronze Buffer, Cambria, Cane + Austin, Chic Boutique, Clio, Coca Cola, Coola, Crossings, Cyntha Bailey Eye Wear, Discover The Palm Beaches, Douglas Elliman, Dr. Cindy Bressler Veterinarian, Eppa Sangria, FabFitFun, GiGi New York, Glamboxes, GlossyBox, Go Raw, GoVino, Grande Naturals, Hollow + Plank, Honest Hazel, Honest Tea, Iguana Yachts, Intergrated Genetics Solutions, Jet Smarter, Josh Cellars, Kiss USA, Nurit K Designs, Juvly, Kyle by Alene Too, Love-Thirteen, LuMee, Lyla Renai, Marchesa, Martha Clara Vineyards, MCushion, Nervana, NATIONAL HAIR LOSS, NEST, Nugg Beauty, Palaso Aspen, Phytomer, Poo-pourri, Powerboard by Hoverboard, Priv, Quilted Koala, Radha Beauty, RPZL, RX Bar, Sania's Brow Bar, Soul 36, Soto Sake, Spongelle, Studio Wines Boisset Collection, Super Detox Me, Super Smile, Tan Towel, Ubons Bloody Mary Mix, üllo, Voila Chocolat, and Zarin Fabrics. There was even a Zarin-branded port-a-potty.
Or so I'm told by the publicist who invited me. Mostly it seemed like a few dozen anti-aging and beauty lines with tables set up along the perimeter of the house that Zarin Fabrics built. I'm guessing the majority of the featured brands were included in the gift bags.

Here's where I would have described them:
[...]

Instead I'll list the Real Housewives who attended, despite Zarin's aforementioned dismissal from the series. Atlanta Housewife Cynthia Bailey, standing under the tent taking selfies with New York Housewife Ramona Singer. Orange County Housewife Vicki Gunvalson, inside the house hugging a woman selling beaded charm bracelets she swore would would bring "love and light" into her life. Kathy and Richie Wakile of the Housewives New Jersey hiding out in a cabana by the pool. Former New York Housewives Kristin Taekman, Cindy Barshop, and Kelly Bensimon doing... something. Jonathan Cheban was also there?
Anyway, they all got gift bags.
I did not personally interview Jill Zarin but here are a few things she yelled in my vicinity: "WE NEED WATER." "JASON BINN IS HERE, I'M BEING SUCH A BITCH." "WHERE'S DAVID, DAMNIT?" Also I would like to add that it was insanely hot and her backyard is all white, making it difficult to see or breathe.
But I cannot, in good conscience, claim to have the full report, because I have no idea what was inside the important gift bags. The Fourth Annual Jill Zarin Luxury Luncheon, you see, had a tier system delineated by wristband color. My wristband—red for media—meant "No gift bag." There was also some sort of requisite "golden ticket" involved in the exchange, because we all like to have fun.
My ignorance is not for lack of trying. As I left the event with my visibly relieved boyfriend, I asked one of the ladies what was inside her bedazzled peace sign bag. I'll tell you exactly what happened: She looked at me with pity and said, "Everything."
After the event, I received the following email from the PR firm:
Upon leaving the event VIP guests and celebrities were given "better gift bags than you would receive at the Oscars!" – Quoted by Cynthia Bailey, Real Housewife of Atlanta including flight credits from JETSMARTER.
Not to cause drama at Jill's event, but are you fucking kidding me?