As a woman of the hip-hop generation, I've fought long and hard for my place in that world. From demanding respect behind the scenes to calling fouls in the mainstream — I mean, a male colleague recently admitted to me that he initially thought I was a lesbian because I apparently know too much about rap music for any heterosexual woman. Gah. Calling out sexism, especially when it comes from someone who's supposed to be an ally, is never enjoyable or easy.
Unfortunately that role fell to Rutgers' Dr. Brittney Cooper earlier this week during a heated HuffPost Live discussion about whether "hood sites" like WorldstarHipHop normalize black stereotypes. Sadly, the men who should've been aware enough to just agree with her, instead decided to show their asses and inherent sexism. Failz.
In the context of the HuffPo conversation, the term "hood sites" refers to video platforms like Worldstar, which became popular thanks to a steady diet of violent clips, bad rap videos and, most recently, teen girls attacking each other just for the camera, like the infamously horrible Sharkeisha clip. In the latter, one girl named Sharkeisha begins punching and brutalizing another girl, Shamichael, who does not expect it. It is as crazy and unwarranted as it sounds. One friend called Worldstar the bottom of the Internet and I agree. The site is different from content platforms like vimeo or YouTube because there is someone behind the curtain picking one bum fight over another in the quest for clicks.
On the show, host Marc Lamont Hill moderates Dr. Cooper, performance artist Amanda Seales, rapper and political hopeful Che "Rhymefest" Smith, University of Houston's Dr. Shayne Lee and filmmaker Mandon Lovett about whether the violence portrayed on sites lingers after viewers close their browser. Here's where it all went awry. Cooper asserted that while there is conversation about black youth violence at large, most of it revolves around young black males, not young black women. Instead, when clips like Sharkeisha arise, people think it's comical entertainment instead of a blazing red flag representing the anger and violence directed at black female bodies.
"… you guys want to … advocate a site that situates itself solidly within hip-hop culture without having any ethical responsibility for taking care of the community that it's appealing to," Cooper said.

"The issue is not ragging on WorldstarHipHop … but what we see in this conversation is young men who are struggling with questions of the violence and how that affects them," she continued. "And then we're seeing young women and there's a celebration of them hurting each other. In our communities, we're very disturbed by the ways in which black men are killing one another, and we should be, but we're snickering off to the side about what seem to be these harmless fights that happen to black girls."
G/O Media may get a commission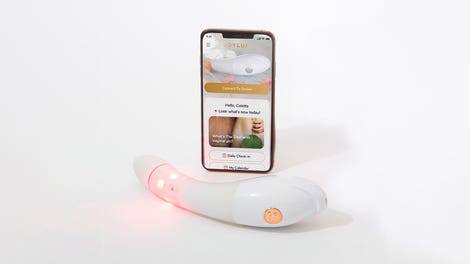 $50 Off
Joylux vFit Gold Device
Now doesn't that sound like a normal, intelligent opinion? Not to Dr. Lee and Rhymefest, who was really on the show to plug a documentary he's recently released tackling Chicago gun and gang violence among black youth that was financially backed by Worldstar.
To them, Cooper's point was divisive. So divisive in fact that Rhymefest decided it was time to shout down Cooper by asking her "Why you so mad?" In an attempt to discredit not only her point but her as a person, the rapper essentially called the professor an angry black woman stereotype in a conversation about harmful stereotypes.
The fuck?
Then Rhymefest and Dr. Lee continued and tried to make Cooper the enemy of black men to counter her points about lack of concern around black female violence and that's when the conversation got really real.
"Why I'm mad? First of all, don't be sexist and disregard what I'm saying by calling me emotional," Cooper said. "On the second point, I have the right to be angry because little black girls are getting punched in the fucking face. ...

"I'm not making an argument that black boys don't matter," she continued. "Black women are always in the street fighting for black boys' livelihood. But what I've seen from this conversation, other than the exception of Marc and the film maker dude, we can't get one brother to stand up and say there is something ethically wrong and disturbing with the circulation of these images. … I'm angry and animated and I'm defensive because you guys won't stand up and defend us, so we'll defend ourselves and we'll defend you too!"
At this point, the HuffPo Live host, tried to give the cavemen a chance to prove they were indeed intelligent, non-sexist men by asking if Dr. Lee could at least agree that images like Sharkeisha were problematic. When violence against women becomes entertainment, there is also the message of "she deserved it," which is dangerous because the attackers depicted in the clips are celebrated with every click. But they, of course, ruined that too.
"The beauty of the Bible and Wordstar is that it shows a full range of human experience," said Dr. Lee with a straight face. "It picks on all different races, Philistines, all different races … it shows the beauty and ugliness of humanity. Worldstar … doesn't just pick on black women! It shows a full scope of wild urban madness. So why should we just point out the times they have fights with black women?"
At this point in the program, I ripped out my earphones and shouted at my computer screen. Then to cement the foolishness in his closing statements, Rhymefest echoed what Cooper was saying the entire time, but was too ignorant to realize it.
"We have to start fighting for our people and not just part of our people," he said.
Oh, word Rhymefest? You'd think the guy who beat Eminem in a rap battle would be able to absorb the meaning of words, but I guess not.
Obviously, what I've described is infuriating for any sane person that cares about young black people because, if Lee and Rhymefest represent larger male opinion in hip-hop — hell, African American culture in general — women of color are fucked. On the other hand, it also reminded me of the black female rallying cries from the 1970s Black Power movement who said activists like Stokely Carmichael and others really saw the black nationalist agenda as the black male agenda. The struggle for equality didn't really include women, because then who would some black men be able to subjugate! Y'all know it's 2014, right?
Can we all touch and agree that the fight for black rights is all inclusive? Men, women, LGBTQ, trans, poor, rich ... we all have ways that we suffer but we'll all get to the promised land much faster by acknowledging each other's importance, experience and voice.
image via HuffPost Live