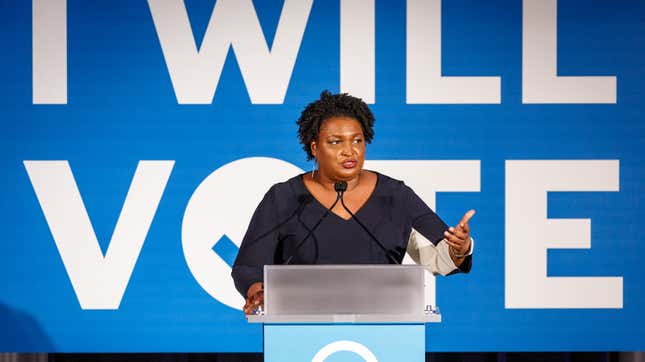 After Georgia Republicans voted to effectively criminalize abortion in the state with a horrific, near-total ban on the procedure, some powerful figures in the film industry called for a boycott if the law goes into effect.
Taylor Lautner Doesn't Even Remember Saying 'Bella! Where the Hell Have You Been Loca?'
In May, the day after the bill was signed, "The Wire" creator David Simon announced his production company, Blown Deadline Productions, would boycott filming in Georgia in response to the six-week ban. Others quickly followed suit, including the Duplass Brothers and comedian Kristen Wiig. AMC Networks, which produces "The Walking Dead," said in May that if "this highly restrictive legislation goes into effect, we will reevaluate our activity in Georgia" and the network is "watching it all very closely." NBCUniversal, Netflix, Disney, WarnerMedia, and SonyPictures have issued similar statements. According to McKinsey, Hollywood generates a $9.5 billion industry in the state and created more than 90,000 jobs last year.)
Boycotts can be a powerful way to send a message to elected officials—as musician John Legend said of boycotting the state: "I don't know that it will definitely work, but I know that money talks," he said. "Particularly when these studios are hiring people and bringing people to the state and saying, 'Come work with us here in this state,' but if you get pregnant there you're going to be treated like a second-class citizen."
But the call to shut down production in Georgia has been met with resistance by some progressive politicians, including Stacey Abrams.
Abrams, who ran a progressive campaign against Kemp in Georgia in 2018 and in 2008 helped pass a tax credit bill to incentivize film production in Georgia, is urging Hollywood production companies to stay and fight the laws. Another way of looking at a boycott, especially in light of the response to North Carolina's bathroom bill, a boycott may end up taking away valuable resources that could have been used to help create jobs and organize fights against abortion restrictions. "My mission is to make sure these jobs stay in Georgia. That should be everyone's mission," Abrams said.

She isn't the only progressive making this argument: The Washington Post reports that a group of film industry workers have formed a campaign called #StayAndFightGeorgia to ask companies to stay, and to raise money for the American Civil Liberties Union's legal challenge to the abortion law. The boycott is "ultimately hurting more people than it is going to do any justice," one anonymous worker told BuzzFeed.
Similarly, Hollywood producer and investor Peter Chernin has launched a campaign to raise $15 million for the ACLU's fight, and urged companies to stay and fight. "Firing workers, most of whom oppose this legislation, does not seem like a just response," Chernin wrote in an email that was forwarded to the New York Times adding, "Taking action against only Georgia felt like a highly narrow and targeted response to a national battle. Abandoning and isolating parts of the country that we don't agree with strikes me as a dangerous response."
Still, an increasing number of Hollywood production companies are threatening to pull projects from Georgia, looking instead to relocate to places like New Mexico, a film-friendly state that poses far fewer restrictions on abortion. According to the Albuquerque Journal, Hollywood's exodus from Louisiana and Georgia has led to a spike in inquiries from production crews, and the state "is set to more than double its annual state spending cap on film incentives." Amazon's upcoming series, "The Power," is among the shows considering filming in New Mexico "specifically" because of Georgia's abortion ban, according to the New Mexico Film Office.
The calculus goes like this: money sends a message. In 2016, businesses and celebrities boycotted North Carolina over HB2, the discriminatory bill that blocked protections for gender identity or sexual orientation and barred people from using public restrooms that corresponded with their gender. As a result, the state lost an estimated $200 million in revenue from conventions, sporting events, and concerts within a year.

But in the end, the boycott didn't achieve its intended effect. While Democrats and Republicans scrapped HB2 and passed a new compromise bill, it was a trick—the new bill, which is now law, is almost as bad as the old bill. Yet businesses returned and the boycott ended. In Slate, Leigh Ann Carey criticized the boycott, writing, "The losses wrought here make legislators elsewhere think twice about proposing bigoted bills. And yet LGBTQ people here still live without nondiscrimination protections today. The leadership responsible for this mess is still in power and 100 percent unbothered by those boycotts and other admonitions."
But effective boycotts do more than create an economic incentive. They are also a form of free speech in a climate when politicians do not represent the majority's interests, as is the case with abortion rights. Successful boycotts also keep sustained media attention on an issue, which, when targeting a company, can affect its reputation and thus pressure it into changing. It's hard to say, however, how much Republicans, who seem to be pretty comfortable trampling on basic human rights, care about their reputation.
Despite the tension around tactics, the question of whether or not the boycotts will even happen remains to be seen: Hollywood has been reluctant to fully embrace a boycott in Georgia because, as the New York Times reports, the industry has been wary of taking a stance on abortion rights. "When companies decide to take overt stances, they want to align with young consumers, because that's their future," Mary-Hunter McDonnell, a management professor at Wharton, told the Times. "With abortion, there's more debate and uncertainty within that population about how to feel."
I guess we'll find out how they feel soon enough.