True balance in a superhero film is achieved by demonstrating power and loss in equal measure. The good guys never lose the big war, but they must lose many other ones along the way. What the Avengers franchise understood as much as it could in the Marvel framework, was the value of emotional investment, extended over 10 years of origin stories, characters, sequels, and lots of predictable winning, including a big win from the ultimate villain, Thanos, in Avengers: Infinity War. His win led to death, which led to grief. But there was no greater loss than that of Chris Evans's beard.

Spoilers ahead. 

Granted, I'd been prepared for this based on the Endgame trailer. After a Hawkeye-centric prologue reminiscent of Leftovers, the Avengers find Thanos in a relaxing garden; the movie then picks up five years after half the universe is gone. The world is different. The death of some of the heroes in Infinity War, even as obvious non-deaths, jolted an audience not quite used to that type of finality. It also set up an essential series of losses before the eventual comeback. In this final sequence of events, Captain America remains the levelheaded strategist in the group, leading surviving Avengers on a time-travel field trip to retrieve the Infinity Stones and undo Thanos's destruction. It's a tedious, implausible, fun quantum mission with Iron Man and Captain America at the head and the use of an actual time machine, the logistics of which I do not understand.
Cap is an excellent leader. He reassembles a crew in various stages of grief and spearheads a plan; he maintains his cool and pushes people only as much as they need to be pushed into action. But he does it all with a zero-o-clock shadow on his face. Two Captain America films starring a shaven Evans bled into an Avengers world in which he finally got to show off his fuzz. It feels cruel to giveth and then taketh away. (His facial hair even fueled debate among the Avengers cast during promo, though for what it is worth, Chris Evans himself prefers the unshaven look.) What if, then, when the Avengers went back in time and confronted their past selves across different eras, a newly bearded Captain America got to battle a shaven Captain America and realize how much he'd evolved? The series already explores this idea so well: of being two sides of the same coin, human and also more than human. Evans is still a snack, but what a missed opportunity.
By the end of the movie, Cap has traveled through time again on his own, and the effects of aging are visible on his face. He has no more physical fight left in him, so he hands his shield over to Falcon, thus allowing Anthony Mackie to presumably Mackie more. You feel like Cap's gonna die soon, but at least he got to live some of his life with a beard.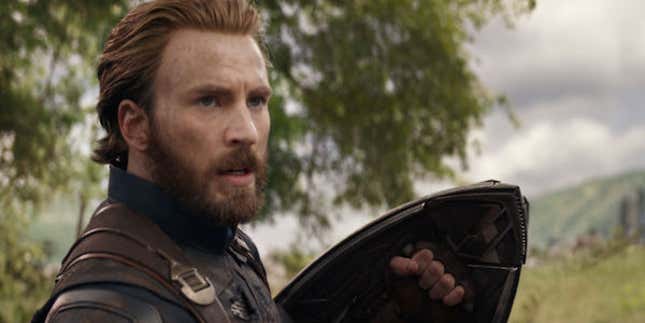 The second-best Chris, Hemsworth—Thor—is in the least "heroic" physical and mental shape in this movie, having lost his mother and brother, most of his Asgard home, and many of his funny, strong friends. Mostly, he's poked fun at because of his weight gain, and the fact that he's no longer a chiseled specimen. Can a guy not be conventionally perfect all the time? The jokes and sight gags get not only tiring but far too easy, and Thor doesn't seem to mind his beer belly as much as everyone else around him does. Could they not see him for the god he still was under the cloak of his trauma? I did. Like Evans, Hemsworth's hotness shines through, whether he's dressed like a battle rapper or covered in Jonathan Van Ness tresses. It's a glorious moment when Thor lifts himself out of his somber state (of course, his past-tense mom helps him out) and reclaims his hammer.

Here's where I have to praise Avengers for marginalizing Chris Pratt, who is absent for the movie's first approximate 10 hours until the final act, where he reappears looking goofy and mostly in scenes with other people. It was during this earth-shaking battle scene against Thanos's army—after the Avengers successfully reconfigure time—that the theater went NBA-playoffs-Game 7-level apeshit. The woman next to me with a child in her lap let out ear-splitting screams of "YESSSS!!!" for each Marvel character who showed up one by one; when Pratt surfaced, I responded by yelling "NOOO!" The least-Chris (Pratt) does at one point have his Chrisness enhanced by No. 2 (Hemsworth) in a particularly good epilogue spaceship scene about who's the real guardian of the galaxy. Hemsworth brings out the best.
Endgame did what such a greatest hits compilation should and gave its heroes and movie-goers closure, while promoting the strength of a unit against personal battles. Even when all the Marvel women team up at the end to manipulate my excitement, the girl-power chills set in; I had to give in and just feel it.
This is, for now, the end of the MCU: The Marvel Chris Universe. Years from now, generations of new Chrises will look back on these old ones with sparkles in their eyes and see that Avengers did what no other franchise could: hired three of the four famous white Chrises, made them superhuman, split them up into their own films, and then assembled them in not one but two great ensemble movies. It forced audiences to think about order of magnitude in a way they hadn't. Who is the best? Maybe it doesn't matter. (But actually it does.) Life is a numbers game after all.