Last week, the University of Alabama's Alpha Phi sorority received widespread attention—first positive, then negative—for a slickly produced video of their sisters living their best lives on campus. How did we get here, to a point where sorority recruitment videos, created to boost interest in a particular chapter on a particular campus, have become a viral internet phenomenon akin to "Call Me Maybe" parody videos?

As recently as a few years ago, the public sorority recruitment video as we now know it did not exist. But they have precursors: in the '90s, as one former sorority sister recalls, college Panhellenic councils put out VHS tapes that you could request before you arrived on campus if you really wanted to know how recruitment works. Those types of videos still exist, and are still put out by the Panhellenic councils of the colleges. But they're created to explain the entire Greek system, not to promote a particular sorority.
Take this one, found at random, from Illinois Wesleyan University.
Videos like these focus on the positive, friendly aspects of Greek life: how—as is commonly stressed—sororities and frats teach leadership skills, and provide "a network of support throughout your undergraduate experience and beyond." They're set to uplifting pop songs (often remixes, presumably because of copyright issues), and feature women wearing the letters of their chosen sorority with pride. There are fraternity equivalents, some featuring the Greek councils as an umbrella, produced officially at various schools.
But videos made specifically for potential sorority sisters are slightly different from these general, rah-rah Greek life ones. At some schools, as a former sorority sister who was in college in the mid-2000s remembers it, sororities use these videos as internal advertising, screening them for rushees that made it past the initial few rounds of recruitment. Rush begins with the rushees trying to attract the attention of sororities; around halfway, it switches, and the sororities try to attract you. "We made the video to try to complement an image of the sorority girls being super busy and super cool," said the former member; there'd be footage of the sisters doing charity work, playing sports, performing, followed by a slideshow set to music showing a ten-minute stretch of party pics.
These videos were all relatively private, though, in that only women invited to the house saw them. They are essentially tamer versions of the videos the sororities themselves have started putting out—but only in the past few years. How did this formerly private way to convincing women to join your cool club become public? More importantly: why publicize them? As Alpha Phi's viral recruitment video shows, the appeal of these videos may not just be limited but the potential backlash enormous—and maybe even inevitable.
The biggest impetus for this change is clearly the advent of YouTube, in 2006, and the proliferation of cheap video editing software, both of which allowed anyone to fire up a MacBook and easily cut together a pretty decent looking video that could be uploaded in minutes and kept there for easy reference. And then, on a larger level, Facebook, Twitter, Instagram, and Tumblr have given sororities new platforms to promote their brands and make it clear to potential sisters what they're all about. They've also upped the competitiveness between these groups in a more public forum, and made it very clear to fraternities how attractive they are, who often become an important deciding factor in whether a chapter is cool or not. (In a meta turn of events, fraternities have also started taking it upon themselves to parody these videos, and their parodies have gone viral.)
G/O Media may get a commission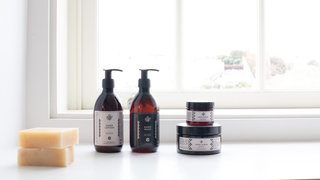 Exfoliate and Hydrate
The Handmade Soap Company
At Sorority Stylista last year, Taylor Sullivan wrote a post encouraging sorority members to use videos to make themselves stand out:
When I went through recruitment, every sorority had the same type of idea. From the color coordinated outfits to the poster boards that show what the sorority does around campus, it's obvious that ideas are going to fall short eventually. Over the past couple years, the big thing to do is making a recruitment video to show during one of the rounds. It's a great way to show the PNMs what your sorority is like and it's also a fun way for your chapter to bond in the process of making the video.
And to really stand out, the details matter, as explained by Stephanie Petit on College Candy. "The songs on your recruitment video need to be sweet and feel good, but the last thing you want it to have the same songs as every other house. Seriously, these girls can only hear 'I Love It' by Icona Pop and Phillip Phillip's 'Home' so many times."
Whether sorority recruitment videos—particularly the public kind—are the norm at any given school depends on individual Panhellenic council rules. At many schools, sororities and/or individual sisters are forbidden from using social media during rush, to varying degrees of seriousness. And it's a longstanding tradition that, for at least some stretch of the recruitment process, sisters can't talk to rushees (even the ones they know already) outside of pre-approved events. Now, that rule has extended even to the social accounts for sisters who separate themselves from their sorority for rush, going "house-agnostic" to help facilitate events. (At most schools, these women are known as Panhellenic Counselors, or Pi Chis.)
The stringency of this rule depends on the school, but sorority recruitment videos are a canny way to get around it—a reference point, a fixed way for the sorority to communicate a message during a time when their communication with rushees is both unpredictable (what if a cool potential new member ends up talking to a legacy who's sort of a dud?) as well as rigidly controlled. Some Panhellenic Councils, however, require approval before chapters screen their videos, though that does not appear to be the case with Alabama's Alpha Phi.
Both the rules and the ways around them are arbitrary and increasingly entrenched—and not even really recommended at the national level. General National Panhellenic recruitment rules suggest that sororities should make that "strict" period of no contact a relatively brief one. "Additional silence rules are not desirable, because they can suppress participation... Panhellenics are encouraged to eliminate all silence and no-contact statements from their recruitment rules, except for the strict silence required during the short time period between preference events and bid distribution," the site states. They also dissuade chapters from using tactics like videos to recruit members, calling them "frills."
III. Statement of "No Frills Recruitment"

NOTE: NPC has a policy on no-frills recruitment and encourages Panhellenics to incorporate this concept into all recruitment styles. Nonessential features should be removed from the process, and the focus of membership recruitment should be on the values of each organization and the conversation with potential new members.

[Name of institution] recruitment events shall consist of maximum conversation time, tables with displays pertaining to the event and water for potential new members. Skits, videos, food or costumes should not be included in recruitment.
So, videos like Alpha Phi's would appear to go against NPC suggestions, but much about rush nationwide does. Though their video was criticized for its intense focus on the value of the physical appearance of the women in the sorority (there are slow-motion bikini shots) and the sorority's obvious lack of racial diversity (not only is almost every girl white in the video, they all seem to be flat-ironed blondes), it's not startlingly different from the videos other sororities put out across the country this year, or even at Alabama in particular. The picture painted of vapid Barbie-cyborgs dancing around in a Blake Lively-lit ecstasy haze may appear alarming to an outsider, but videos like these have become pretty much the norm among a certain type of sororities—typically at large, conservative-leaning Midwestern or Southern schools with active Greek communities.

Despite the obvious uniformity shared here, these videos still do allow the women a chance to represent what each chapter is "about." For instance, this one, from Phi Mu, briefly features the women joining together in what appears to be Bible study.
And for other chapters, promoting their brand extends past rush. Some sororities even do videos celebrating Bid Day after the fact, showcasing a successful rush and their excitement for the year to come.
Sorority recruitment videos were not originally created to attract external attention. But the rise of sites like Total Frat Move, Total Sorority Move and Bro Bible have clearly pushed the women inside the sororities to be aware of the image they're presenting to the outside world—even if that world is just former members of their sorority, or former Greeks. Websites like the above have started asking for submissions of the "best" versions of recruitment videos, promoting them to their readers, urging virality in the same way that any online media might. Pressure once came from within the schools, but it's now coming from outside the community.
Only the readership of these websites isn't as safe as just the Greek world, or as accepting of certain traditions; these stories and videos get picked up by numerous other outlets, and clearly not always in a positive way. The greater audience doesn't know these students, and so their intent to encapsulate what they're all about gets lost as they're removed from their environment; additionally, "what they're all about"—particularly outside of the rush context—takes on a fairly vapid sheen. Outside viewers are essentially guaranteed to be blind to the minor delineations these sororities are trying to telegraph; what looks like specific messaging within the confines of a generally homogenous system will, to an outsider, just look like a sea of white smiles. It's not the Alpha Phi's or the Chi O's or the DG's; it's just a pack of women who all seem to be doing the same thing in the same type of clothes with the same hair. The inherent value of advertising in a small college community is debatable as well, given that hearsay and gossip will likely overpower the message of one four-minute video—but that doesn't mean the women involved won't try their hardest to manipulate the end result, even if it can almost only go wrong. The only new audience for the rush video is the haters, basically—and they won't be the converts these sororities seek.
What's particularly interesting about the Alpha Phi/Alabama backlash is that just a few years ago, as these videos started gaining in popularity and audience, University of Alabama's Panhellenic Council released their own that went viral in a (mostly) good way. As the Crimson White reported in 2011:
In addition to setting a new record for the largest sorority rush in United States history, the University of Alabama Panhellenic Association can also likely claim the record for most widely viewed recruitment video in recruitment history.

The video, which was posted on the UA Panhellenic Association's YouTube channel, features ten sorority members, wearing white tank tops, colorful sunglasses and trucker's hats, parading around campus while singing about rush week to the tune of Chris Brown's "Look at Me Now" and Rebecca Black's "Friday."
But their own negative press regarding the current state of their Greek system has turned things around for Greeks at Alabama. While they were once allowed—even encouraged—to actively promoted the fabulousness of their sororities, now they're getting pressure from the administration to shut this type of celebration down; the University denounced Alpha Phi for their video, saying it was "not reflective of UA's expectations for student organizations to be responsible digital citizens." Maybe not, but it's exactly what was bound to happen eventually.
---
Contact the author at dries@jezebel.com.

Screenshots via YouTube