Vivienne Westwood's menswear show on Sunday featured models in frostbitten makeup carrying bed rolls and pushing shopping carts down the runway. It also made us ponder the evolution of the curious (and strangely recurrent) trend known as "homeless chic."
Westwood may not have been aware that little-known German designer Patrick Mohr had already upstaged her — he showed his last collection on a group of models that included actual homeless people. (One, says an observer, muttered as he walked the runway.)
Why is it that fashion seeks to glamorize society's poorest members? Is it considered "edgy"? Has fashion lost touch with the reality of poverty as a social issue, and is it this lack of perspective that allows poverty to be reborn as just another "reference"? Is it simply, as others have argued, that appropriating poor people's "style" of dress is another way to highlight their social status as something lesser? Is this just for lulz?
Whatever the case might be, it has a long history.


G/O Media may get a commission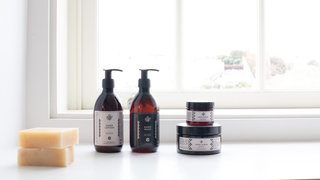 Exfoliate and Hydrate
The Handmade Soap Company
Though he was not the first designer to aestheticize poverty — "It's terrible to say, very often the most exciting outfits are from the poorest people," Christian Lacroix once told Vogue — John Galliano's spring 2000 couture collection for Christian Dior is the commonly-given point of origin for the "homeless" "trend." This was only Galliano's seventh couture collection for Dior, and the designer explained he had taken his inspiration from the street people he'd begun noticing along the banks of the Seine after taking up jogging. The collection was crafted from a specially-designed newspaper-printed silk, as well as other luxury fabrics that were ripped, aged, and abraded so that they would appear dirty, and worn with laddered tights.
Maureen Dowd quoted Galliano as saying, "It's the most spoken-about topic at dinner parties in Paris." He did not mean homelessness. "One can't go into a restaurant without hearing fantastic young ladies talking about the fraying of tulle of the Christian Dior show." Of the actual folks living without shelter on the streets, he said, "Some of these people are like impresarios, their coats worn over their shoulders and their hats worn at a certain angle. It's fantastic."
Photo, from April, 2000 issue of Vogue, via Style Antagonist


In 2005 and 2006, the Olsen twins' (and particularly Mary-Kate's) penchant for wearing extremely oversized clothing in sloppily-assembled layers led many tabloids and fashion magazines to wonder if they were publicizing a new kind of "homeless" style — or just trying to escape the cutesy public image they'd developed in their childhood years. In either case, they were probably the only people to earn comparisons to bag ladies whilst toting Chanel and Botkier.


Tyra Banks has pulled a number of stunts on her now-canceled talk show, including wearing a fat suit on a date, but perhaps the most questionable turn in her perpetual quest for empathy came in 2006, when she dressed up for a day as a homeless woman.
"I did a lot of research on the homeless epidemic in this country, and I came across these crazy, terrifying facts," said Tyra, introducing the segment. Then homeless-Tyra, and her camera crew, learned about how crack is sold and smoked from two homeless teenagers.
The supermodel returned to the theme in 2008, when for Cycle 10 of her modeling reality show, she had the contestants pose with real homeless women for a poverty-themed fashion shoot. One of the women from the background returned as an America's Next Top Model contestant in her own right in Cycle 11.
In September of 2008, model Erin Wasson explained her inspiration for her clothing line with RVCA to Cory Kennedy: "The people with the best style, for me, are the people that are the poorest. Like, when I go down to like Venice Beach and I see the homeless, I'm like, oh my god, you're pulling out like crazy looks. They pulled shit out of like garbage bags." Though she was widely criticized for her remarks, Wasson defended them a year later to the New York Times. "I'm not saying let's glamorize the homeless," said the model.
"It's not like I'm saying, 'Oh, God, that's so inspiring - you got your clothes from a garbage can,' " Ms. Wasson said. What is she saying then? "When I moved down to Venice Beach, I found these people with this amazing mentality, this gypsy mentality - people that you couldn't label and put in a box," said the designer, perhaps forgetting that some of those very people live in one.

W magazine published, in September 2009, a 28-page Craig McDean editorial with the model Sasha Pivovarova. Fashion Week Daily called it "a brilliant Oliver Twist-inspired story" and noted, without apparent irony, "Poor Sasha has nothing in the world except her chic Prada and Chanel paper bags…and she still looks better than 99% of the human race."


In August of last year, Scott Schuman posted a picture of a man who appeared to be homeless to The Sartorialist. "I don't usually shoot homeless people. I don't find it romantic or appealing like a lot of street photographers, and if you asked homeless people they are probably not to happy about their situation either," explained Schuman, who was being interviewed by British Vogue when he took the picture.
We'll be very interested to see whether other designers bring out any creations along these lines at the fall collections next month.