You could tell there was something off about the Grammy Awards this year by the reaction shots: Here was Beck, there was Kevin Richardson (from the Backstreet Boys, if the name rings no bells), and there was Bebe Rexha. But where were the really, really famous people on music's biggest night? They mostly stayed home.
When Taylor Swift, who once made the Grammys meme-able, did not attend the ceremony Sunday night, fans noticed she only received one nomination. Ariana Grande won the Grammy for Best Pop Vocal Album during the pre-ceremony portion of the night—but she chose not to attend after her planned performance dissolved among alleged creative disputes with producer Kevin Ehrlich. Drake, Childish Gambino, and Kendrick Lamar—all nominated for various awards—also turned down offers to perform.
In 2019, the Grammys are on life support, suffering from a glaring relevancy problem. The award show has come under fierce scrutiny in recent years to recognize more women, people of color, and young people making groundbreaking music—but gains have been marginal at best, and artists have been boycotting the ceremony over its persistent gatekeeping. (On the subject of rappers declining to perform, Ehrlich told the New York Times, "The fact of the matter is, we continue to have a problem in the hip-hop world.")
Self-awareness hasn't helped—it's actually made things worse. The 61st annual Grammys show postured itself as progressive—but revealed a stunning flatness to its politics.
To start the night, host Alicia Keys brought out four incredibly talented women onstage—Lady Gaga, Jada Pinkett Smith, Michelle Obama, and Jennifer Lopez—to talk at length about the power of music. After the outgoing head of the Recording Academy Neil Portnow said last year that women should "step up" if they want to be nominated in greater numbers, this feel-good but empty display of solidarity with women felt like a consolation prize. It made little sense: as it dragged on, the moment felt like watching someone explain how the electoral college works at the State of the Union. It also felt incredibly toothless. Was anyone going to mention R. Kelly?
G/O Media may get a commission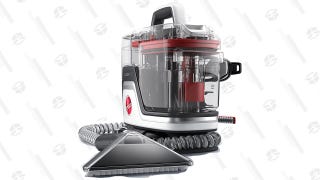 Save $10
Hoover CleanSlate Plus Carpet & Upholstery Cleaner
The Grammys was a series of empty moments, one after the other. The second award of the night went to Childish Gambino, who was not there to receive it. When Drake went up on stage to receive the award for Best Rap Song, he adamantly told the audience, "You don't need this right here right now. You've already won," addressing people making music who haven't been recognized by the Academy yet. His microphone cut out a few moments later.
One of moment that verged on profound came when Record of the Year went, again, to Childish Gambino, for "This Is America." This time, his producers went onstage. One of them spoke about the hardship of immigrants and the pull to be creators. "As a kid growing up in Sweden, loving American music, I always dreamt of migrating here, working with brilliant artists like Donald Glover," Ludwig Goransson said. "I really wish he was here right now." At the end, almost out of time, he gave the first and only broadcast mention of 21 Savage, who was meant to perform the hit "Rockstar" with Post-Malone, but currently sits in an ICE detention facility. "We want to thank all the rappers who are featured on this song, [including] 21 Savage, who should be here tonight."
The more energy the Grammys exerts into being perceived as inclusive, the more of its own blind spots it reveals—especially when it comes to race. Cardi B and Janelle Monae delivered some of the only genuinely fun performances to watch—but when Camila Cabello, Ricky Martin, and J Balvin opened the night with a splashy Latin pop medley, it only served to underscore the fact that the Latin Grammys are still a separate ceremony, in a time when listener demographics are changing and the lines between genres are falling and blurring. When J.Lo performed a Motown tribute, the choice felt confusing and short-sighted—were no black women available? (Clearly not; R&B duo Chloe and Halle were up next.)
In gesturing broadly towards women as a act of good faith, the Grammys showed how little they understand about what fans want. It's not like they haven't had time to think on it. In 1997, Fiona Apple walked on stage to accept the award for Best New Artist at the MTV Video Music Awards, and having not prepared a speech, said: "What I want to say is, um, everybody out there that's watching, everybody that's watching: This world? This world is bullshit." That the Grammys can go on without mention of bad men in the industry who still get to keep their jobs in the face of sexual assault and harassment allegations, that it can exist without making real inroads with black musicians and women and anyone who sings in a different language, is proof of that. In the end, as the Grammys have been inching towards inclusivity, perhaps the Academy hasn't noticed that it's racing towards total irrelevance. The people invited and watching, though, already seem to know it.
This post has been updated to more accurately reflect that Fiona Apple's 1997 speech was at the MTV VMAs, not the Grammys.