First Lady Melania Trump tweeted an absurd photo of herself grinning while holding a baby whose parents were shot and killed during the recent mass shooting in El Paso, Texas. She is flanked by an equally chipper President Trump, giving his signature thumbs-up, and the baby's uncle. To call the optics of this photo shortsighted is a massive fucking understatement, and somehow, the mechanics of how this photo came to be only gets weirder.
The baby, a two-month old named Paul, sustained injuries when his mother, Jordan Anchondo, fell on him in an attempt to shield him from gunfire. She, and her husband, Andre Anchondo, died at the scene. Paul was grazed by a bullet and sustained broken fingers and bruises, but was already discharged from the hospital by the time the Trumps arrived.
The Washington Post reported that none of the eight patients who were being treated at El Paso University Medical Center wanted to meet President Trump. But apparently, baby Paul's uncle did. That's why baby Paul was reportedly brought back to the hospital exclusively for this charming photo opportunity.
Here's what Paul's uncle told NPR before Trump's visit to El Paso:
Though the president has been met by protesters, some of whom think he helped incite the violence in El Paso with his language about immigrants, Tito [Anchondo] sees it differently.
"I can see why people would believe that," Tito says. "And yes, maybe he said things in bad taste. But I think people are misconstruing President Trump's ideas."

Tito Anchondo says his family has always been Republican conservatives. "My brother [Paul's father] was very supportive of Trump," he said, adding that he would like to sit down with the president and tell him about their pain.

"I want to see his reaction in person," he said. "I want to see if he's genuine and see if my political views are right or wrong. And see if he feels maybe some kind of remorse for statements that he's made. I just want to have a human-to-human talk with him and see how he feels."
G/O Media may get a commission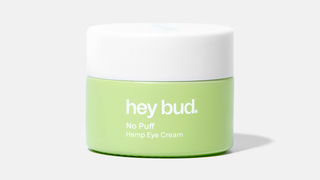 15% off
Hey Bud - No Puff Hemp Eye Cream
Perhaps Tito Anchondo saw some sincerity in Trump's behavior during his visit. Others, including hospital officials and Trump aides, did not.
From Newsweek:
CNN host Jim Acosta said on Thursday night that according to the hospital official, the president displayed an "absence of empathy" during the visit.

The hospital official went on to say the president made other comments similar to his remarks about congressman Beto O'Rourke that left some staffers thinking that Trump was not focused enough on consoling people, Acosta added.

The network also reported how White House aides had conceded that the president's visits to Dayton and El Paso did not go as planned.

New video released show how he bragged about crowd sizes while visiting patients and denouncing local officials.
There's nothing else to say at this point other than "ew."