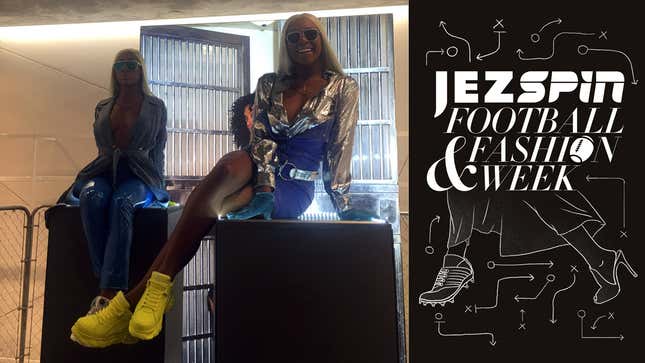 This week, Deadspin and Jezebel swap beats to celebrate America's most dangerous and controversial pastimes: football and fashion, two sports that have far more in common than you think.

The 1990s are back! Specifically, 1990s fashion.
A slideshow from Cosmopolitan earlier this year identified 30 fashion trends from the 1990s that were back in style. Thirty! Even if the list was a bit padded—were Adidas slides ever really out of style?—the sentiment was true. Cargo pants. Fanny packs. Tiny backpacks. Pleated khakis. Fucking scrunchies. Are they going to bring back Structure? How come there hasn't been a pog resurgence?
Also back from the 1990s: Clunky platform sneakers. Specifically: Buffalo London, the brand of clunky platform sneakers favored by three of the Spice Girls (Posh wore designer shoes and Sporty wore Air Maxes, obviously). The brand relaunched Black Friday of last year.
For fashion week this year, they had a presentation at Next Century, the designer end of Century 21's off-price department store in Lower Manhattan. Who better to attend than Jezebel's incoming editor-in-chief (Julianne Escobedo Shepherd) and a sportswriter from Deadspin (Dan McQuade)? Let's see how it went.
G/O Media may get a commission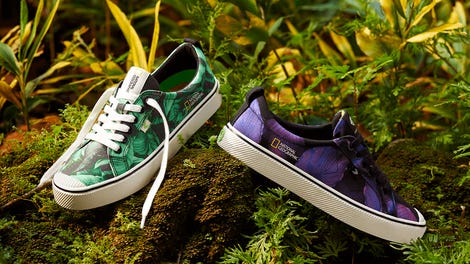 New New New
Cariuma + National Geographic
The Location
Dan: I must confess: Century 21 is my favorite store. Favorite! And it's not close. There's one just a few blocks from my place in Philadelphia, and I go there constantly. When I go to New York, I generally end up in the C21 at the WTC. I can rattle off my steals there: Emporio Armani jeans for $100. A pair of Air Tech Challenge II (in the hot lava colorway) Nikes for $43. An Off-White c/o Virgil Abloh sweatshirt for… well, it's not important how much I paid for it, but it was half-off retail.
It's 2018. Thrift stores have generally been picked clean of anything really interesting. But Century 21 gives me that feel of the thrift store hunt, only I might find something nice. Every time I go into Century 21 I could be Marge finding a Chanel suit for $90. It's like a really, really nice Ross Dress for Less mixed with the feeling of an old, fancy department store. That this event was at Century 21 actually made me feel comfortable at my first ever fashion presentation. Naturally, I wore my Off-White sweatshirt.
Julianne: I, too, love Century 21, though most of the stuff from there I actually WANT-want (rando Italian designers! Jean-Paul Gaultier!) only comes in like sizes 0-4 which, my friends, I am most certainly NOT. Holler at me when couture goes plus, industrywide. (And by "plus," I don't fucking mean size 10.)
Also, I generally love having a reason to go the the Financial District (LOL) that isn't "taking the PATH to a concert in New Jersey."
The Set-Up
Dan: I watch Project Runway. I expected to sit and watch models pass by me. Instead when I walked in there was rapper Vic Mensa standing on a giant box, nearly hitting his head on the ceiling thanks to the giant platform sneakers on his feet. I learned this was actually a presentation, which is different: You walk around the models and look at them.
This is incredibly awkward. I didn't know whether to say hello, or if it were even polite to stare. At one point one model joined another on a little box and they shook hands. It had to be awkward for them, too. There was a lot of free wine. If I hadn't quit drinking two years ago this night would probably have given me yet another reason to consider quitting.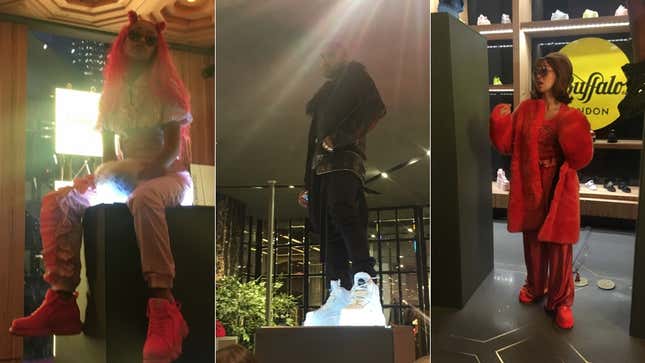 Julianne: I love a fashion presentation much more than a runway show, if I'm being honest; you can get a closer look at the clothes and you're not forced to make a snap judgement from 10 feet away in the 15 seconds it takes a model to walk past you. Runway shows are for people who are scared to let you see their garments!

The Models
Dan: There were celebrities here! I only knew Vic Mensa, really, but also modeling were The Clermont Twins—who I knew from TV, just not by name—Jay IDK and Asian Doll. The invite promised "and more!" but I didn't see any more. Unless the one dude dressed like one of the twins from The Matrix movies was actually the guy from the Matrix movies.
There were a lot of stylish people there.It was often hard to tell the models from the attendees. Or, rather, it would've been if the models weren't the only ones wearing clunky platform sneakers.
Julianne: I took a photo of rapper Asian Doll, my queen, perched upon a platform in leopard-print Buffalos. On trend: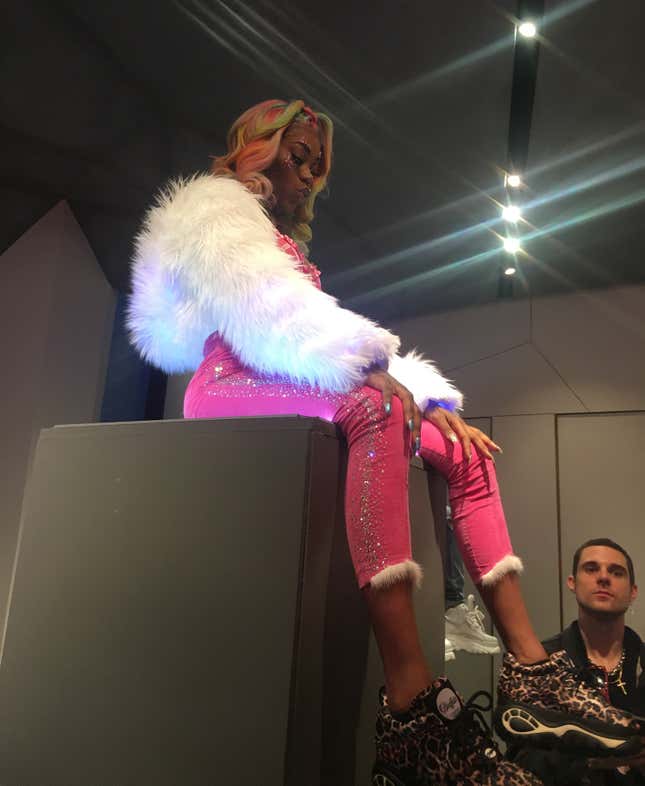 The Sneakers
Dan: I will say it: I am qualified to evaluate these sneakers. I own roughly 50 pairs of sneakers, plus maybe another 10 more pairs of boots and shoes. Ever since I begged my mom to get me the Air Max 180 when I was eight years old, I have been a big sneakerhead. (When I misbehaved, my mom used to threaten me by putting my Jordans in the trashcan and showing them to me.)
Unlike in the 1990s, Buffalo London's platform sneakers are unisex. I don't have much of a use for platform sneakers, though. I actually could've used them in the 1990s when I was like 5-feet tall. Now that I'm a more reasonable 5-foot-11, do I really want to be 6-foot-2? Actually, maybe.
Julianne: I could not afford these sneakers in the 1990s as a teen and so now I am old and have a salary. Am I going to buy the shit out of these? You bet your sweet raving ass I am. Here are some examples from the new line that I desire for Spring 2019: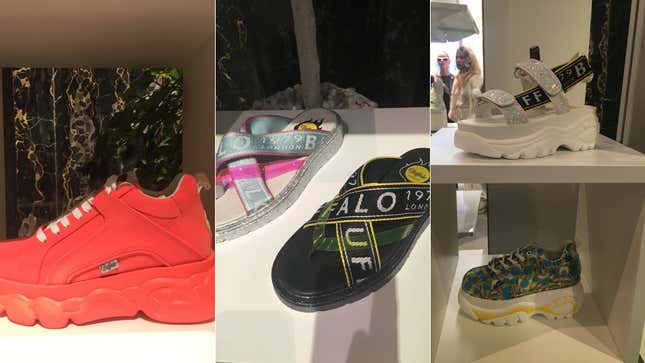 MELON! FLIP FLOPS! A YAYOI KUSAMA-STYLE LOOKIN-ASS SHOE! Hello, welcome to my shoe closet (aka shoe pile in the corner of my bedroom).
Dan: My general beef with fashion sneakers—kicks not made by Nike, Adidas, et cetera—is that they're too derivative. They just look like off-brand version of sneakers made by Nike, Adidas, et cetera. The new Louis Vuitton sneakers are virtually identical to Avias! But what was nice about these sneakers is that they seemed to have their own identity—probably because of the platforms. Sure, some just looked like jacked up Air Max 95s. But for the most part, they were unique.
The Aftermath
Julianne: Generally I felt very good about this collection, if slightly old in comparison to the throngs of extremely attractive early 20somethings also attending this presentation who were all dressed exactly as I did in 1998. But also, because we like the same shit, I also felt extremely on-it. I don't know. Getting old is complex. I went home and was in bed by 11.
Dan: It was only 8 when we left, so I walked outside and then… walked right back in to Century 21. What? There was shopping to be done, and it's open until 9. It was just an OK trip. I didn't buy anything. The highlight was—what else—an Off-White sweatshirt that said "Nebraska." It was also marked as a medium, but somehow it kind of fit.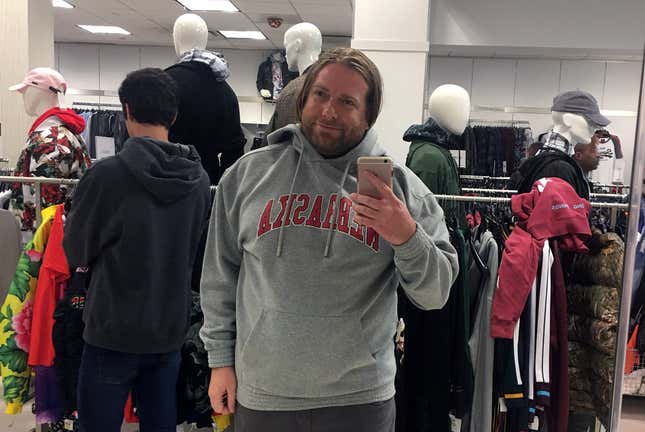 It was $325. I considered this for longer than I'd like to admit. One other thing I like about Century 21 is this: I am always on the precipice of becoming a streetwear Buzz Bissinger, and Century 21 is a way for me to test myself. This is a relatively healthy way to chase a self-destructive impulse: Will I spend hundreds of dollars today? Julianne texted me: "It's good but u can do better Off-White for that amount." I put it down. I lived another day. It felt good. I now regret not buying it.