There was a rumor that M.I.A. would join forces with Donatella Versace, and it appears that said rumor is true. But! What the hell these two are actually cooking up remains a mystery.
According to WWD, the controversial and award-wining singer/rapper designed a capsule collection for Versus, the lower-priced Versace line. Think: Pants, sweatshirts, sunglasses.
M.I.A. has created 19 pieces inspired by a number of counterfeit Versace items found in London markets. Different variations on Versace's iconic designs, such as the Medusa head or the Greek frieze, are mixed with "graphic prints with street energy," the Italian fashion company said. "Prints with gold medallions are reminiscent of the frenzy typical of the [market] stands."
So they're real, very busy, possibly eye-searing Versace pieces based on knockoff Versace pieces? Right. Here's what M.I.A. says of the project:
The theme of counterfeits, of those that produce and sell them has always been part of the culture of M.I.A. … When I was contacted by Versace, it seemed a great idea to invert the circle. Versace's designs have always been copied, now it's Versace that copies the copies, so those that copy must copy the copies. So this will continue.
G/O Media may get a commission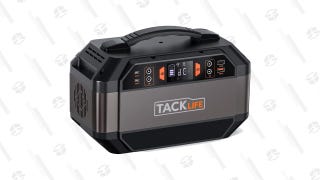 Tacklife Portable Solar Generator
Um… meta.
Here's how Donatella explains it:
I adore the energy of the street, so when M.I.A. proposed to expose the issue of counterfeit Versace pieces by creating a collaboration inspired by these items, I thought it was an incredible idea … The collection represents all that I love of the new Versus Versace: it's fast, it's noisy, it's brazen and it blends the world of music with that of fashion. I can't wait to see it worn.
Okay! Neither can we.