In a dramatic reversal, it now seems likely that the sexual assault charges against DSK will be dropped. While prosecutors have insisted that the case was strong since the start, information uncovered about the victim's possible criminal activities led them to meet with the defense yesterday to discuss whether the case should be dismissed.
In a story attributed to "two well-placed law enforcement officials," The New York Times reports that the investigation has turned up evidence that damages the credibility of Strauss-Kahn's accuser. From the paper:
According to the two officials, the woman had a phone conversation with an incarcerated man within a day of her encounter with Mr. Strauss-Kahn in which she discussed the possible benefits of pursuing the charges against him. The conversation was recorded.

That man, the investigators learned, had been arrested on charges of possessing 400 pounds of marijuana. He is among a number of individuals who made multiple cash deposits, totaling around $100,000, into the woman's bank account over the last two years. The deposits were made in Arizona, Georgia, New York and Pennsylvania.

The investigators also learned that she was paying hundreds of dollars every month in phone charges to five companies. The woman had insisted she had only one phone and said she knew nothing about the deposits except that they were made by a man she described as her fiancé and his friends.
There are also questions about the asylum application from when the woman entered the U.S. from Guinea in 2002. She claims it mentions a previous rape, but there's no note of this in the application. She also said she's been subjected to genital mutilation, but that isn't supported by the document.
Forensic evidence proved that there was a sexual encounter between Strauss-Kahn and the woman, and as prosecutors repeatedly emphasized prior to their change of heart:
"She made outcries to multiple witnesses immediately after the incident, both to hotel staff and law enforcement. She was then taken to the hospital and was given a full sexual assault forensic examination. The observations and findings during that exam corroborate her accounts."
G/O Media may get a commission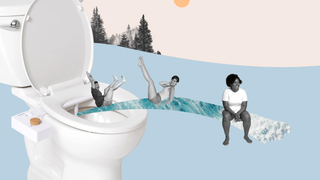 17% off
Tushy 3.0 Warm Water Spa Bidet Attachment
But none of that matters now, because she may have broken the law. Maybe a noble savage could get raped, but not a woman involved in criminal activities. There's really no way a jury would find in her favor over an incredibly powerful man who's been accused of sexual assault multiple times.
Another source said as much to the Associated Press:
A separate law enforcement official who is familiar with the case, but not authorized to speak about it publicly, told the AP that the issue was not necessarily about the rape accusation itself, but about troubling questions surrounding the alleged victim's background that could damage her credibility on the witness stand. The official refused to elaborate.
So, what will happen to Strauss-Kahn now? According to the Times:
Mr. Strauss-Kahn could be released on his own recognizance, and freed from house arrest, reflecting the likelihood that the serious charges against him will not be sustained. The district attorney's office may try to require Mr. Strauss-Kahn to plead guilty to a misdemeanor, but his lawyers are likely to contest such a move.
At a hearing this morning, the district attorney's office plans to request to keep Strauss-Kahn's passport, but allow him to travel within the U.S. In all likelihood this will be another high-profile case where an attacker walks free because a man can't be convicted of sexual assault unless his victim is a saint.
Strauss-Kahn Case Seen As In Jeopardy [NYT]
Differing Takes On Accuser's Credibility [NYT]
AP Source: Accuser Issues Shake Strauss-Kahn Case [AP]
Earlier: Strauss-Kahn's Accuser Portrayed As Noble Savage, "Perfect" Victim