Lawyers for the Department of Justice attempted to block an abortion for an immigrant teenager who said she was raped, insisting that allowing her to do so risked inflicting "additional trauma."

The teen, identified as Jane Poe, was able to undergo her abortion at 22 weeks, thanks to a federal judge who ruled that she be allowed the procedure "promptly and without delay," despite strenuous objections by the Trump administration. What had not been reported at the time the ruling was made was that the 17-year-old's pregnancy was the result of rape.
According to Politico, Office of Refugee Resettlement Director Scott Lloyd accepted the circumstances of Poe's pregnancy, but made it clear they made no difference to him. Though at least one ORR official recommended that Poe be allowed to obtain the procedure, Poe wrote:
"I cannot authorize our program to participate in the abortion requested here, even in this most difficult case," Lloyd wrote in the memo. "At nearly 22 weeks, the child has at least a fighting chance at survival if born."

He said that even though evidence is scant, "it is possible, and perhaps likely, that this young woman would go on to experience an abortion as an additional trauma on top of the trauma she experiences as a result of her sexual assault."
G/O Media may get a commission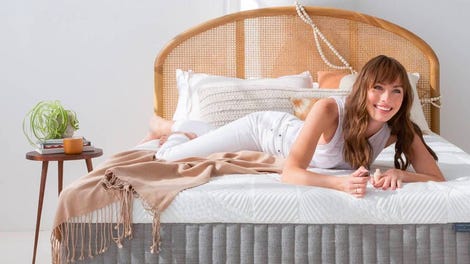 Sleep Sale
Sleep Sale - Brentwood Home
While such a stance is nearly unfathomable in its cruelty, it is in keeping with what is known about Lloyd, a religious zealot who was referred to by the New York Times as "an antiabortion crusader" and once wrote that "contraceptives are the cause of abortion." His bright ideas also included a proposal that "the American people make a deal with women" (apparently considered a separate group from "the American people"):
"So long as you are using the condom, pill or patch I am providing with my money, you are going to promise not to have an abortion if the contraception fails, which it often does," Lloyd wrote.

Women, he added, should "sign a pledge" that if they have an abortion, they would become ineligible for taxpayer-funded contraception.
Lloyd was determined to be qualified for the job as ORR head on the basis that he served as an attorney for the Knights of Columbus public policy office, where he "helped shape the organization's humanitarian response and led its policy advocacy on behalf of the ethnic and religious minorities who are victims of ISIS."
Last week, DOJ lawyers wrote that Poe should simply return to her home country to obtain an abortion, or find an American sponsor. Lloyd did not mention the fact that Poe's sponsor, along with her mother, threatened to beat her if she went through with the procedure.
In his memo, Lloyd wrote:
"In this request, we are being asked to participate in killing a human being in our care. I cannot direct the program to proceed in this manner. We cannot be a place of refuge while we are at the same time a place of violence. We have to choose, and we ought to choose [to] protect life rather than to destroy it."
Both the Bush and Obama administrations followed guidelines that allowed federal funds to be used to abortions of teenage immigrants if they were victims of rape.