Kate Spade's death by suicide at 55 is as shocking as any sudden celebrity death—the designer, mother, and fashion industry innovator is gone abruptly, unexpectedly, and entirely too soon. But the context and circumstances underscore its tragedy: For over two decades, the fashion designer's commercial and personal brand cast a sunny, optimistic notion of women's empowerment in the workplace, her strong perspective on relaxed but professional handbags and easy-to-wear power flats in cheery hues reflecting how women's relationship with work was meant to progress through our perceived ascent in the 1990s and the bright light of the new millennium. It was a light, "approachable" aesthetic that was eminently appealing to women in the era of "women can have it all," and to offer the absolute darkest perspective on it, it is bitter serendipity that Spade's vision, in its icing pinks and canary yellows, came to a devastating, abrupt halt as our basest aspirations are being culturally and federally dismantled.

For more than 20 years, the concept of the Kate Spade woman was synonymous with Spade herself: the plucky head of a small business or a CEO in the creative world, poised to remake corporations in her friendlier, more woman-friendly image—her line, as countless people on social media recounted Tuesday, offered something for the career women who were almost there, and the younger women who wanted to be. (As fashion critic Robin Givhan puts it, "In today's celebrity culture, the designer is the brand. She is presumed to embody it. And to a degree, at least publicly, Spade did.")
The Kate Spade brand made colorful, careerist practicality accessible and vastly popular, but with the rise and fall of lean-in feminists like Sheryl Sandberg and Ivanka Trump, the vivid illusion of empowerment feminism dissipates to make itself truly known: that not all women are lifted up when one woman perseveres within the sexist constructs of capitalism or alternately, as with Spade, seems to emotionally conquer it by pure gumption, ingenuity, and positive thinking. Her tragic death lays bare the mendacities that archetype demands to exist; a steely outward reserve cannot overcome our most intimate, devastating truths. The bootstraps myth is just that.
G/O Media may get a commission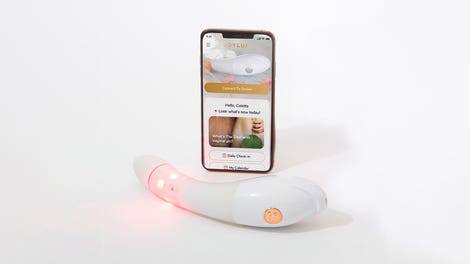 $50 Off
Joylux vFit Gold Device
But that was Spade's public narrative. A former Mademoiselle editor, Spade launched a line of handbags in 1993, beginning with a then-modern nylon backpack before expanding to reflect her aesthetic across accessories: bold, bright, oversized, with a slightly 1960s mod twist. Even after she and husband Andy sold off the company in 2006, her singular, friendly vision was reflected in its design; Kate Spade, the brand, very specifically conveyed an aspirational optimism to scores of women throughout the years, and it extended beyond clothing. In 2004, Kate Spade began publishing a series of coffee-table books on entertaining and empowerment that seemed geared to smart, upwardly mobile women—the 2017 edition, entitled SHE: Muses, Visionaries, and Madcap Heroines, profiled real-life women like Gloria Steinem and fictional characters like Carrie Bradshaw. Its purpose was to reflect "a way of living," a blurb declared, "that is singularly joyous, distinctly feminine, and wildly interesting."
Spade was, outwardly to the world, all of these things, but her death speaks to the immense and often unspoken pressure on women in pursuit of professional perfection: Concurrent with women's fight for recognition in the workplace—which often involves a constant professional pokerface, lest we be typecast as emotional, difficult, or disruptive—has also been a fight for dignity. As #MeToo continues to make apparent: no matter how many "Fearless Girl" statues or "Boss Bitch" t-shirts exist in the world, women must still navigate the space between object and subject in the workplace, and if we reach the top, it is put upon us to appreciate not just what we have achieved for ourselves but what has been allowed to us. This imperative doesn't leave room for much deviation from that perfect narrative of a successful career woman, even as we struggle with the emotional and mental demands of that role.
Even at the top, we are meant to project a happy, positive, comfortable veneer that belies the dissonance successful women often feel in the working sphere—the outside expectations clashing with the inferior self-worth that plagues so many women trying to "have it all." This incongruity can be so dizzying that while Spade's friends seemed blindsided by her death—"This is completely shocking and just seems so out of character," fashion icon Fern Mallis told People—her family was not. Reta Saffo, Spade's sister, told the Kansas City Star via email that over the last several years Spade suffered from mental health issues and displayed several warning signs. Saffo said she and Andy Spade tried to help Kate check into treatment centers, but that she never went because "the 'image' of her brand (happy-go-lucky Kate Spade) was more important for her to keep up. She was definitely worried about what people would say if they found out."

To the public, Spade taking her own life is so jarring because we bought that "happy-go-lucky" notion so thoroughly. Givhan, again, makes the salient point out that it is often the self-imposed role of the designer to not stand in the way of their work; fashion is so often about creating fantasy and manifesting dreams that designers "don't like to show their effort: That spoils the magic." Spade launched a new brand, Frances Valentine in 2016, and wished to embody it so thoroughly she legally changed her last name to Kate Valentine. That line, too, is the domain of sparkly sandals and practical handbags in chirpy colors—clothing you imagine would attract a person with a lust for life. But it's precisely that projection that's a ruse; Spade's designs were attainable, but the perfect image the brand sold emphasizes how much we must openly acknowledge how unattainable these capitalist professional pressures actually are. Because nothing is ever as it seems—it's what the workplace demands. Especially for the woman who is perceived to have it all.
If you would like to speak with someone, call the National Suicide Prevention Hotline at 1-800-273-8255.
---
Update 4:40 p.m.: Regarding Saffo's statements, a source close to Spade's family tells Jezebel, "Kate was a kind, generous, funny, warm, and extremely private person. The family is disgusted and saddened that as this time of great sorrow Kate's sister, who has been estranged from the entire family for more than 10 years would choose to surface with unsubstantiated comments. Her statements paint a picture of someone who didn't know her at all."