The Kardashian family, who seem to have figured out how to make 15 minutes last 15 million years, are in the news yet again, thanks to a series of modeling photos taken by 14-year-old family member Kendall Jenner.
Kendall's half-sister, Kim Kardashian, posted the pictures of Kendall's shoot on her website, noting that "the whole family is so proud of Kendall. Soooo much more to come!" The pictures range from fashion shots, where Kendall is dressed to look a bit like Blair Waldorf, to beach photography that showcases Kendall in bathing suits, with wet hair and smudged eye-makeup. It's the picture above, however, that you're probably going to see quite a bit of over the next few days, for fairly obvious reasons.
Anytime a young girl poses in what can be considered a provocative way, the same arguments tend to break out: "It's artistic!" "She's the same age as fashion models, so what's the big deal?" "We should stop acting like teenage girls aren't sexual beings." "Where are the parents?" "Why can't anyone be a kid anymore?" and so on and so forth. We've been through this before, most recently with Miley Cyrus' Vanity Fair cover shoot and, 10 years ago or so, with Britney Spears' famed underage underwear shot on the cover of Rolling Stone, and yet it seems that the split between those who find these pictures slightly horrifying and those who find them normal hasn't closed much. It's always a controversy, always a scandal, always something that dominates headlines and opens up raging discussions and, naturally, propels the subject of said photographs into the spotlight, something I'm sure the media-savvy Kardashian family is well aware of.
And so it's not entirely surprising that we're here again, this time with a 14-year-old lying on the beach in a string bikini. Still: the comments on Jenner's pics, from the sites of her sisters, Kourtney and Kim, are fairly depressing:
This photo is not 'sex sells'. (Hint hint: she's not selling anything) It's the innocence of a beautiful young woman. In case you haven't noticed this is what girls look like at this age now. Own it, love it… and if you don't , don't comment on it! It's not like she's holding a bottle of tequila or in Maxium, geez. These photos are for her profolio, you're lucky you even got to see them.
Absolutely gorgeous young Kendall is 14 going on 19. She looks sultry and seductive and knows how to work what she's got. Taking after her big sisters in every department. I know there are a whole bunch of guys (girls) wishing she was just like 2 years older. As there younger than 24 they probably got a shot
People!!!!! Seriously get a grip. Kendall looks fabulous. These photos are not bad at all!!!! Modeling is an art. The make-up and clothing is part of the package. This shot is the most revealing and is not bad at all. I have a 15 year old daughter and a 16 year old daughter and these photos look fine to me. I think they are tasteful and beautiful! I hope she is proud of these pics & wish Kendall much love & luck for the future!
G/O Media may get a commission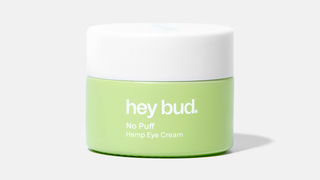 15% off
Hey Bud - No Puff Hemp Eye Cream
The most irritating part of all of this, though, is how publicity-designed it appears to be, and how the family can easily use the controversy to their advantage: Kardashian fans seem comfortable with the sexualized shots, which makes sense, really, as the family has never shied away from using sexy shots to drum up publicity for various endeavors. But Kendall, unlike her sisters, isn't even of age yet, and it's nearly impossible to deny that she's been sexualized here, though I'm sure the usual argument in defense of such pictures—that it's everyone else's problem, and not the photographs themselves—will present the family as defenders as opposed to offenders, painting those of us who don't see pictures of a young girl in a string bikini—being publicly distributed to total strangers, via her sisters' websites, mind you—as "tasteful and beautiful" but rather depressing and unnecessary as overreacting. Either way, the family wins another media cycle, and everyone continues, for whatever reason, to try and keep up with them. One wishes that perhaps they'd just slow down a little and consider that Kendall might need a few more years before she's ready to do so.
[Kendall Looks Amazing At Her Beach Photo Shoot! [Kourtney Kardashian]
Nick Saglimbeni/Kourtney Kardashian." />