Olivia Munn debuted on The Daily Show last night as its "senior Asian correspondent," in what's being called a tryout. The co-host of Attack of the Show will be the second woman currently on the show, and its fifth ever.
The Daily Show currently has two female writers. Its other female on-screen correspondent is, of course, Samantha Bee, who is all over town promoting her memoir.
Just this week, TheWeek.com's Danny Groner caught up with Bee at an event for the book:
I wondered what her experience had been like as the lone female face on yet another late-night show that appears to be heavily male-dominated.

Bee's answer was extremely telling. She said that she's enjoyed her time with the show and hasn't run into any difficulties because of her gender. She credited several reasons that included the facts that a) the show has two female writers; b) their style is not to be over-the-top or crude; c) she has a dirtier mind than all of the men who work for the show; and d) they're prepared to hire another female correspondent.
G/O Media may get a commission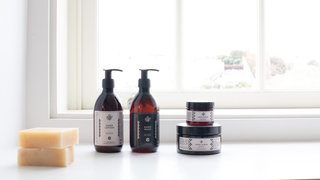 Exfoliate and Hydrate
The Handmade Soap Company
It's not clear if Groner thinks it's "extremely telling" because she hints at the hiring of Munn or because of Bee's robust denials that it's at all difficult to be the only female correspondent on the show.
Last night, when various correspondents crashed Munn's first segment, Bee said, "This show already has a sexy news bunny." Munn replied, "I'm not here to replace anyone." Let's hope there's room for more than one.
Did Samantha Bee Signal That "The Daily Show" Had Hired Olivia Munn? [HuffPo]
Olivia Munn "Trying Out" As 'Daily Show' Correspondent [THR]