A heartbreaking piece about Arnold Lobel, the author/illustrator of the Frog and Toad series, was published in The New Yorker Wednesday morning. Had I not been in the office when reading it, I would have wept and whimpered like a small child watching the end of The Fox and the Hound for the first time. But because I was surrounded by people with functioning eyes and ears, I kept it all bottled up inside.

In Colin Stokes's wonderful piece—you must read the whole thing—he recalls some of Frog and Toad's more memorable moments. They were simple ones—grounded in mundanity of everyday life and free of high drama. Of a story about "Toad waiting anxiously for Frog to arrive at his house for Christmas Eve dinner," Stokes writes:
After Toad imagines all of the most dramatic things that could have happened to Frog on his walk over, and prepares to set out to rescue him, Frog shows up at Toad's door with a gift in hand. He was late because he'd been wrapping it. " 'Oh, Frog,' said Toad, 'I am so glad to be spending Christmas with you.' "
Stokes discussed the relationship between Frog and Toad with Lobel's daughter, Adrianne, a set designer. He writes:
Adrianne suspects that there's another dimension to the series's sustained popularity. Frog and Toad are "of the same sex, and they love each other," she told me. "It was quite ahead of its time in that respect." In 1974, four years after the first book in the series was published, Lobel came out to his family as gay. "I think 'Frog and Toad' really was the beginning of him coming out," Adrianne told me.
G/O Media may get a commission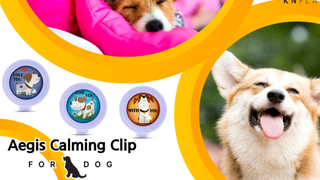 20% off
Aegis Calming Clip for Dogs
And with that little sliver of knowledge, Frog and Toad have been transformed. From this new angle, their stories are more than just lessons for children. They're the aspirations of an adult who longed to live as himself.
...Knowing the strains of sadness in Lobel's life story gives his simple and elegant stories new poignancies. On the final page of "Alone," Frog and Toad, having cleared up their misunderstanding, sit contently on the island looking into the distance, each with his arm around the other. Beneath the drawing, Lobel writes, "They were two close friends, sitting alone together."
Like so many stories from the time, this one ended tragically. Lobel died in 1987 at the age of 54 after a battle with AIDS. "Think of all the stories we missed," Adrianne said.

---
Image via Harper & Row.