I knew this was coming. I had read about it before I got there: Beyoncé and a vertical line of barefoot dancers glide across a conveyor-belt runway and position themselves in a basin of water on a secondary stage—this time at Citi Field on Wednesday, the second night of Beyoncé's Formation Tour in New York—and proceed to perform her brilliantly militant track "Freedom," from Lemonade. The show was coming to an end. Besides the time on the clock, there were visual clues: The women's all-white outfits in metaphorical contrast to their all-black opening looks and Beyoncé in that impossibly large (comically so on anyone else) brimmed hat.
I knew the intended baptism was designed to elicit catharsis, and the choreographed splashes culled from the Motherland flew each time the dancers' feet pierced the water. But still. The transformative feeling that happens at a Beyoncé concert, even if you've witnessed her several times, happened then. Like a shameless soldier, I turned to my friend who came with me and said, "Damn, that made me cry."
It was too cold to think. My acid-wash denim jacket did little to ease the wind chill, momentarily heated over the course of the night by a few welcome blasts of projected flames from the stage set. My "Freedom" moment (a minute of watery eyes, not like crying crying) served as a bookend to a moment earlier in the night when a woman several seats to my right in the Bullpen (tickets provided to me by Beyoncé's publicist) screamed about how curated this whole deal was. She knew it and so she said it. "It's a marketing ploy! It's a ploy!" she yelled, in reference to the marital conflict that bridges Lemonade with its message of solidarity. "I'll still pay for whatever she's selling. But it's a ploy! It's a ploy!" As if that should make anyone feel silly about watching a masterful musician perform.
The outburst was in direct response to footage on the giant bright rectangular block in the middle of the Formation stage, which showed homemade videos and Beyoncé, in a wedding veil and gold grill, saying: "Why can't you see me? You're the love of my life." These and other lines plucked from the Lemonade film were a reminder that in comparison to our living proximity to Bey last night, the visual rollout of Lemonade felt oddly fresher, like watching her metamorphosize in real time.
The show experience, even the clockwork of it all, is intimately special in its own way; more so if you'd never seen her before. Earlier in the day, a friend of mine who attended the first night at Citi Field had written on Facebook: "I take back everything I've ever said about Beyonce. She is magic," a conversion I've seen happen a lot. This friend had finally obtained sufficient physical and emotional proof of Beyoncé's greatness.
G/O Media may get a commission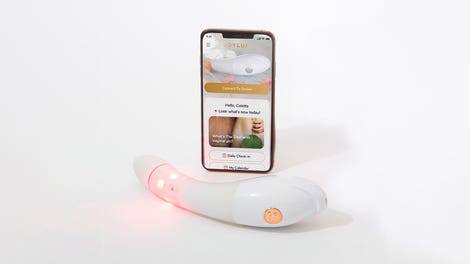 $50 Off
Joylux vFit Gold Device
On the way to the show, my Formation buddy wondered why this greatness so often requires extensive proof. We did the usual pre-show rituals on our way to the show: the What to Wear, recapping Lemonade, brag-texting and predicting how much we'd be changed. "Believe me if I say it. 'Cause it doesn't hurt you to believe," my friend said, already knowing proof is the burden of black female artists. The way people talk about Beyoncé often involves a frustrating cycle of persuasion, convincing others that that perceived worship is a warranted appreciation of musicianship that doesn't necessarily dismiss valid criticism. You know, like when people say the Beatles are Gods. Disbelievers, overwhelmingly male, consider you clinical, forgetting that, as Julianne wrote in her excellent piece, "It's women and girls, predominantly black and/or Latina, whose existences benefit from Beyoncé's public acceptance."
At the biblical water part of Formation, post-"Freedom," Beyoncé performed a song for survivors (aptly, "Survivor"), then transitioned into "End of Time." Save for that transformative feeling that happens, Beyoncé's shows have become expectedly precise, never exactly what you want from them but the most satisfyingly perfect anyone can get out of a show. It's routinely, annoyingly to some, described as a "religious experience."
Like any artist who tours insanely, Beyoncé's declarations on stage are nearly the same across cities ("I'm so happy to be here," she told us. And "Thank you for allowing me to grow." And she noted that "All Night" is her fav because it's "the sweetness after all of the crap"). There's a fluid uniformity that's a reflection of the supposed pop star rigidness that's become increasingly understood (as Beyoncé has become more intimate and forthcoming in her music) as essential armor.
The power of this concert was more in what's unstated, particularly visually, like the way she predominantly promotes women, and black women and sexuality. Bikini, lace and latex costumes in black, white and red clutch their bodies for dear life. Dance and movement are their expression. There's a part where one of the dancers does a high-flying trapeze act, swinging into splits, her legs open wide and free; it's a sensual presentation also meant to be artistically sensational and it doesn't last that long, just a quickie.
By now, having seen Beyoncé three times, I've subconsciously categorized the emotional segments of her show: the bonding part for women ("Sorry," "Run the World")—"There's no such thing as a weak woman," she says (Me: "Wooooooooooo!")—the parts where she breaks for posturing and self-praise ("Diva," "Feeling Myself"), the sexy part ("Rocket" and the red-box set-up for the sensually demented Fifty Shades of Grey version of "Crazy in Love"), the party time ("Countdown," "Party"), the supreme loving ("Drunk in Love," an acoustic sing-a-long to "Love on Top") and the "Must she always end this shit with 'Halo'?" part.
Why did she giggle right there? Why is she smiling? What is she thinking about during the angry portion—my favorite next to the baptism—when "Don't Hurt Yourself" vibrates the stadium floors and Beyoncé screams, "Who the FUCK do you think I am?" like she really, really means it? Maybe nothing other than performing. She does it in a heavy jeweled cape and jewel-encrusted two piece. "Beautiful man I know you lyin'" she continues, and then plops into a throne that seems like it's always just there, before getting to "Ring the Alarm." I'd seen this part before, too, as part of her On the Run Tour with Jay Z. That show was half his. He's not around this time. Just a detached thought, with different implications for obvious reasons.

A highlight of this cold, communal Formation stop was the gospelesque arrangement of "Me Myself & I," where Beyoncé became, instinctually it seemed, pastoral in her runs. On the miserable train ride back home after the show, after we got done wading through a still hype crowd, a group of kids hyperbolically recapped the sequence of events on the train. One of them screamed: "Beyoncé is literally Jesus!" And then, of course, she quickly had to defend it.
---
Images via Parkwood Entertainment