Jolie Kerr is a cleaning expert and advice columnist. This holiday season she's got gift ideas for the clean, or not-so-clean, person in your life. Are you dirty? Email her.
Jingle bells, everyone smells, and the bed is never made/Oh what fun it'd be to clean, if I only had the means .... Eh, okay, not my best work. But you catch my drift, so how about giving the gift of clean this holiday season?! If I were a Clean Person, which I am, here's what would be on my list for all the naughty and nice people in my life.
Satin Hangers (Set of Five) | Boscov's, $6.99

A set of satin hangers is one of those things that can feel a little too decadent to buy for oneself, but that is actually an extraordinarily practical thing to have. Use a satin hanger to air out a delicate sweater or blouse, or to hang a fur- (faux or real) lined jacket to help protect the nap from the wear that can be caused by a non-padded hanger.
And obviously this is the proper card to include with the gift.
Cotton Travel Bags | Talbots, $39.50

This set of three travel bags—one for laundry, one for shoes and one for lingerie—comes in red or blue, and is so cute it'll make you actually consider buying something from Talbots. (We'll not talk about it ever again.)
G/O Media may get a commission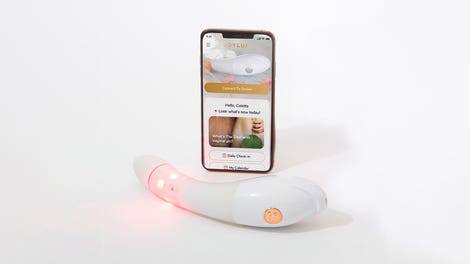 $50 Off
Joylux vFit Gold Device
Cranberry Holiday Set | Mrs. Meyer's, $12.99

Every year I experience a MASSIVE CLEAN PERSON FREAK OUT when the Mrs. Meyer's holiday scent is introduced. That this year brought us cranberry certainly did not help matters. The set of three products includes dish soap, countertop spray and liquid hand soap, packaged in a darling and festive box.
Lingerie Wash Bag & Lingerie Wash Powder | Hanky Panky, $15.00 & $8.50

The perfect under-$25 gift for the lingerie lover in your life—or for that friend (it's always a "friend" isn't it?!) who just really, really needs to wash her bras.
Lint Shaver | Knit Picks, $3.99

BUY ONE FOR EVERYONE.
The Laundress Stain Brush & Stain Bar | Crate & Barrel, $7.95 & $6.95
A few months ago someone made fun of me for writing about laundry brushes on Deadspin by making a comparison to how the-much-more-realistic-in-the-eyes-of-one-reader Albert Burneko, of Foodspin fame, assumes his readers don't own spatulas. What I'm saying is that I want you all to go out and buy a laundry brush for all the Deadspin readers in your life.
The Laundry Pod | $99.95
This thing is basically a giant salad spinner for your clothes and that is genius and hilarious and also totally want someone to use it to make a giant Caesar salad.
iClean Eyeball | Casabella, $7.99
The iClean Eyeball would be a great add-on gift for someone who's getting a new tablet or telephone or lappie to help keep it clean—the microfiber "eyeball" can form to any shape and picks up dust, hair and lint from electronics.
Riedel Bottle Cleaner Beads | Wine.com, $9.99
Bottle cleaning beads are another a nice little add-on-type item to go with a wine-themed gift or for a friend who has a treasured wine decanter. Though if we're being really honest with ourselves a bottle of Wine Away red wine stain remover is a gift much more likely to be appreciated by the recipient.
For Packrats Only by Don Aslett | Don Aslett's Cleaning Center, $11.95
When I was a little girl there was a book in our home called How Do I Clean The Moosehead written by one Mister Don Aslett. (That book is now in my home.) It's not for sale in his store, which is a shame, but many of his other titles are, including this one dedicated to uncluttering and organizational tips. Since my book won't be out until February 25, this is a good one to consider giving as a gift to someone who you're SURE won't be offended by it! And, in shameless plugging, if you wanted to give me a gift you could certainly pre-order My Boyfriend Barfed In My Handbag … And Other Things You Can't Ask Martha! (Oh God please buy my book. *sobs*)
Image via Shutterstock.