Film is a resource-heavy industry, between the innumerable props required, the insane production schedules and the flurry of people constantly barking into headsets like they're coordinating a ballistic missile launch and not another hackneyed crime procedural that will get cancelled after the first season anyway.

To their credit, many shows are conscientious about their waste, particularly cooking shows, which tend to donate their unused food to local charities. But residents in Chicago's North Lawndale neighborhood became extremely annoyed this week after The Chi, created by Master of None's Lena Waithe, rolled into town, set up a fake corner deli (in a neighborhood with little by way of grocery stores) and, at the conclusion of filming, pitched an entire fake-store's worth of packaged food and household supplies into a dumpster.
According to DNAinfo, North Lawndale residents were initially thrilled at what they thought was a badly-needed corner store opening up in their area, and subsequently disappointed to learn that it was only a set for the Showtime's forthcoming series on life in Chicago's South Side. In an area where many locals have to coordinate an entire day to strategize their food shopping due to the dearth of local grocery stores, the fact that many useable items—including canned tuna, snacks, sponges, cleaning supplies, diapers and condoms—were thrown in the trash came as an insulting blow.
Kimberly Camacho, a Harold Washington College student, described to the outlet how neighbors plucked salvageable items out of the dumpster once the crew departed, saying that children picked around broken glass to grab goods for their families, and how neighbors helped each other into and out of the bin to collect what they could:
"I just don't understand how they can film about the South Side struggle and then not help the struggle," Camacho said. "I just don't understand what happened, what went through [the show organizers'] heads when they threw that all away. How did no one on the team be like, 'Hey, someone can eat that'?
"It just seemed like common sense to give it to someone. ... How do you become so entitled that you think it's best or easier to throw it away and that it's not worth the effort to give that food to someone in need?"
G/O Media may get a commission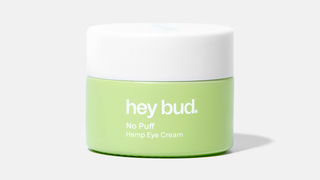 15% off
Hey Bud - No Puff Hemp Eye Cream
According to a study from Feeding America, 44 percent of North Lawndale residents were "food insecure" in 2014, meaning they live in a state of uncertainty as to whether they'll consistently be able to meet their dietary needs. In Cook County, where North Lawndale is located, around one in six residents are food insecure. In North Lawndale itself, that number is closer to every 2 out of every 5 residents, said a spokesperson for Congressman Danny K. Davis, who represents the county.
Diane Carioscio, a coordinator at Harmony Food Pantry in North Lawndale, told Jezebel that nobody from The Chi called to offer donations—but that Harmony would have been more than happy to accept if they had.
"We probably would have just asked that they drop it off, and would have gone through to make sure none of it was expired," she said. "We would have had no problem giving it away."
North Lawndale has no shortage of donation options, with more than 20 food deposit locations, including ten food pantries, a shelter, multiple mobile programs, children's programs and more, said Paul Morello, a spokesperson for the Greater Chicago Food Depository, who added that the organization provides around two million pounds of comestibles for residents in Greater Lawndale each year.
In most cases, little effort is required to donate the sorts of items that The Chi threw out. Reached by Jezebel, no fewer than four organizations said they would have accepted the items, including Willette Grant, the hospitality coordinator at Lawndale Community Church.
But: "No one called us here," she said.
Attempts to reach multiple members of The Chi's production team, including Lena Waithe, were not successful.