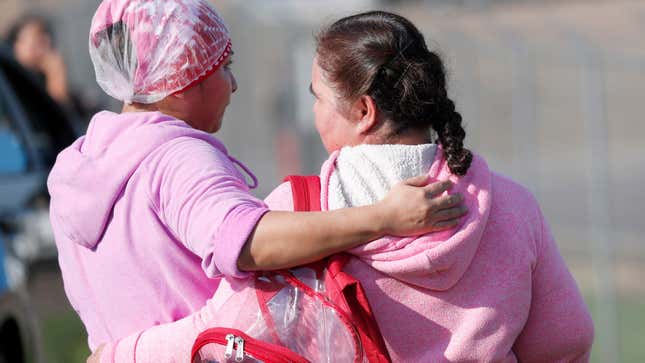 On Wednesday, the Trump administration conducted the largest workplace raid since the Immigration and Customs and Enforcement was founded nearly 20 years ago. The sweeps targeted undocumented immigrants working at poultry processing plants in six different towns around Jackson, Mississippi. They caused chaos and confusion, particularly for the children of those who were arrested, many of whom came home from their first day of the new school year to find that their parents were gone. In some cases, children were there to see their parents being taken away.

Taylor Lautner Doesn't Even Remember Saying 'Bella! Where the Hell Have You Been Loca?'
More, from the Jackson Free Press:
Children finished their first day of school with no parents to go home to tonight. Babies and toddlers remained at daycare with no guardian to pick them up. A child vainly searched a workplace parking lot for missing parents.

Those are some of the many stories immigrants' rights advocates told the Jackson Free Press they heard on Wednesday in calls with school officials, coworkers and distressed family members of immigrants whom ICE rounded up in Mississippi today.
"I've been getting calls, and I've been hearing stories about children who went to their first day of school today and whose parents were hauled off, and how the government did not make accommodations for those situations," Cliff Johnson, the director of the MacArthur Justice Center at the University of Mississippi School of Law, told the Jackson Free Press. According to Johnson, federal officials told local schools to "bring children back to school if they arrive home and their parents are not there."
According to the New York Times, ICE planned to interview everyone arrested "to record any potential mitigating humanitarian situations," including whether or not they have children, that "would determine who would remain detained and who might be released from custody."

Some children in Forest, Mississippi were held at a local gym while waiting on news of their parents. From WJTV:
Following this massive undocumented immigration enforcement many children of those arrested across the state are now left homeless with nowhere to go.

12 News Reporter Alex Love went out to Forest, Mississippi where community leaders are coming together to put them up for the night in a gym. He was granted permission to talk to community leaders and the children.

These children who some are as young as toddlers were relying on neighbors and even strangers to pick them up outside their homes after school and drive them to a community fitness center where people tried to keep them calm. But many kids could not stop crying for mom and dad.
The owner of the gym, Jordan Barnes, donated his space, a generous act that also highlights how communities have to scramble in the aftermath of raids like Wednesday's. "We're going to have bedding available for them and we're going to have food available for them just to get them through the night," he told WJTV. He added: "I understand the law and how everything works and everything needs to have a system. But everybody needs to hold the kids first and foremost in their minds and that's what we've tried to do here is give them a place to stay and ease the pain a little bit." (When Jezebel reached out to Barnes, he wrote that as of Thursday morning, all of the children who had gathered at his gym had been reunited with family members.)
Christina Peralta is the godmother of two young boys whose mother was arrested by ICE. "He said his mom is gone, that he's upset with Trump, he said he just wants his mom back," Peralta told WJTV. "And they've been crying all day long since they got home from school."