While the majority of Hollywood relies on a select handful of publicists to procure the same five designers for their red carpet events, Carrie Fisher did it like she did everything: by her damn self. It must have been funny to her to have been such an icon of the silver screen, and also a writer in a world that tends to Hollywoodize even the most unglamorous and solitary of professions, which is how we get, say, Meryl Streep playing Susan Orlean as immaculate and intellectual and in crisp white shirts to match the garden of freakin' oleanders around her like a halo.

Carrie Fisher wasn't like that! She dressed for the part of herself exclusively, and it was wonderful. Her best accessory was Gary, her little dog with the uncontrollably wagging tongue, whom she toted everywhere, including late-night appearances—he wasn't just her best friend, he was her therapy dog, too, a reminder of her fallibility and of our own. But also, his presence was a reminder of the way she consistently bucked convention; at Cannes in May, for instance, she not only flouted its notoriously sexist high-heel mandate for women by donning oxfords and a sensible tweed with a tulip skirt, she doubled down with Gary (and Fisher Stevens, who co-directed her Debbie Reynolds documentary) getting comfortable on the carpet. The French surely blanched; I hope Gary shed a little.
Fisher's own writerly looks were generally quirky-sensible with a bit of glam; at the New York Film Festival, she paired eggplant with eggplant, a long scarf and fur atop that; at ComicCon in August, her snake-print cardigan added brightness to sleek black, and her embellished sneakers were a chic topper—they could have been Prada, or Dior, or Donna Karan, or Christopher Kane.
G/O Media may get a commission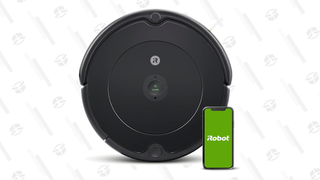 35% Off Black Friday Deal
iRobot Roomba 694 Robot Vacuum
At the EE British Film Academy Awards, she spoke to us through her handbag and a swathe of painterly stripes; at the premiere of Absolutely Fabulous: The Movie, with daughter Billie Lourd, she went as a proper schoolgirl, tweed and knee-highs; her The Force Awakens premiere look was crystalline and velvet like a royal would, but she also found time on the carpet to mock standard red-carpet posing, one leg cannily in front of the other, lips pursed.
At the premiere of Vacation, a statement dress, and a selfie.

And one of the most iconic fashion moments on television of the past ten years happened at Roseanne Barr's Comedy Central Roast: she wore a brown pantsuit, tinted eyeglasses, and puffed an e-cig for the duration. And she was funnier than any of the professional comedians on the lineup.
A Michaelangelo-print blouse; full-body scarf; a silk robe for a pajama party in support of Barack Obama's 2008 campaign. Every choice was made with whimsy, and to be unmistakably herself.
And finally, with her mother Debbie Reynolds in a smart patterned blazer as a young girl, proving that she's maintained this personal flair her whole life.
Goodnight to a true queen.