"Before Sex And The City, Carrie Bradshaw was a girl with great friends, big dreams, and, of course, boy drama." Sounds like something Teen Vogue readers can relate to, right? Except: Candace Bushnell's new novel is set in the '80s.
SATC has a teen following, to be sure. Glamour, high heels, cocktails, New York — the appeal is understandable. But for today's savvy, designer-label lusting teens, what's the appeal in reading about small-town-girl Carrie? A person who wears "white patent leather" cracked go-go boots?
Especially since these references are so…old? Do 19-year-olds know even who Lief Garret is? Because that's one of the names dropped in The Carrie Diaries.
Also, when one character tells Carrie a boy was kicked out of boarding school for dealing drugs, she asks what kind, and the person replies, "painkillers." Carrie asks: "Like in Valley Of The Dolls?" Yeah...
Or like Intervention, or like Marissa Cooper on The OC, or like whatever Jenny on Gossip Girl is probably dealing. In fact, you could argue that Gossip Girl really raised the stakes for teen fiction; Carrie's little moments by the lockers at school seem very… small. Not edgy, fierce, exciting, or even modern — all the things SATC are known for.
In a description of Cynthia Viande, one half of the school's "golden couple," Bushnell notes that Cynthia is wearing a "tweed skirt, white shirt with cashmere sweater, sensible shoes, and a string of pearls." It's impossible to determine if this is good or bad. Put together perfectly and properly, she's a small-town version of Gossip Girl's Blair Waldorf; put together the wrong way, she's a freak or geek.
G/O Media may get a commission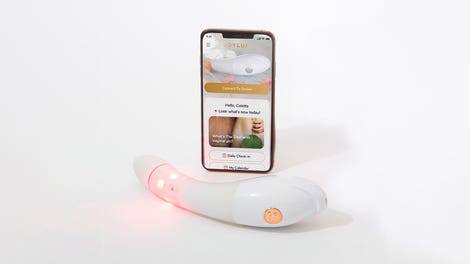 $50 Off
Joylux vFit Gold Device
There are one or two good observations in the admittedly short excerpt. Carrie recalls a feminist-y moment she had when she was 12 and told someone's mom, "[Certain author] believes that most forms of sexual intercourse can be classified as rape… I don't plan to get married, it's a legalized form of prostitution." And when describing the relationship between Cynthia and another student, Donna LaDonna, Bushnell writes:
Donna and Cynthia were friends in that weird way that girls are when they belong to the same clique but don't really like each other.
Still, if you're watched Gossip Girl or Mean Girls, none of this is new territory. And the faux-Louis Vuitton cover of the book? Stephen Sprouse did those bags in 2001. Forget the '80s: In the quick-moving teen fashion world, that's old.
Exclusive Excerpt: The Carrie Diaries By Candace Bushnell [Teen Vogue]