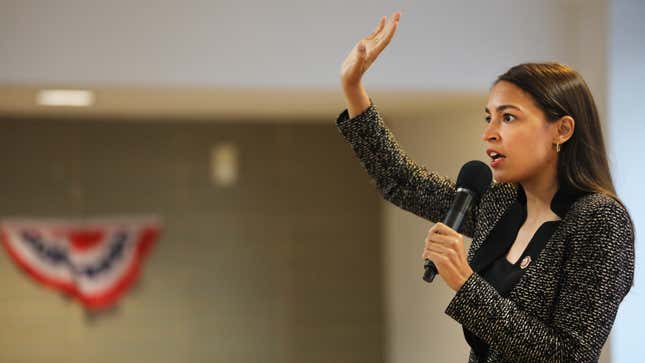 After her championing of the Green New Deal framework helped make it the gold standard for progressive Democrats, Congresswoman Alexandra Ocasio-Cortez is back with a fresh round of ambitious legislative proposals. On Wednesday, Ocasio-Cortez unveiled "A Just Society," a six-part bundle of bills and resolutions that focus on reducing economic inequality, making housing more accessible and affordable, and protecting the most vulnerable members of American life through the kinds of basic social supports that everyone deserves.
"In a modern, moral, and wealthy society, no person should be too poor to live," Ocasio-Cortez says in a video introducing her legislation. "That's what a just society means to me." It's a simple message, but also feels revolutionary at a moment when Republicans work tirelessly to strip away the safety net and moderate Democrats propose half-step bullshit and call it progressive:
Here's the breakdown of the individual proposals:
The Recognizing Poverty Act will update the national poverty guidelines to include factors such as the geographic cost of living, the price of health insurance, childcare, and internet access.
The Place to Prosper Act creates national rent control with a 3 percent cap on annual rent increases, a national legal fund for renters who are facing eviction, and seeks to penalize predatory landlords
The Mercy in Re-Entry Act ends federal benefits discrimination against formerly incarcerated people "We know that poverty is one of the leading causes of recidivism," Ocasio-Cortez said. "The only way that we can successfully reintegrate people into society is by making sure that the safety net can apply to them too."
The Embrace Act extends public benefits to undocumented people.
The Uplift Our Workers Act creates what Ocasio-Cortez calls a "worker-friendly score" similar to LEED certification, for federal contractors. The government is encouraged to work with contractors with high worker-friendly scores, which are based on metrics such as union membership, paid family leave, health care, and other benefits.
Ratify the UN Covenant on Economic, Social, & Cultural Rights is a Senate directive to join 170 international parties in ratifying this UN covenant that vows to follow a "modern set" of human rights standards.
It's actually dizzying how straightforward and simple Ocasio-Cortez's plan is. It emphasizes basic decency—the kind that a wealthy country like the United States can more than afford. While this is an ambitious package, it shouldn't be. These are the kinds of goals that elected officials should be striving toward every day. The proposal feels radical, which is both the promise and the tragedy of it.