So by now, you've probably read all about Michael Kors, Marc Jacobs, and Oscar de la Renta and what they're doing for spring. You've seen photo galleries of the big designers' collections, their backstage scenes, their favored beauty looks, their nail art for the season. Maybe you've read random people's thoughts about them on Twitter and Facebook. Those labels are can be great — but there's a lot more to fashion week than the marquee names. Here are six designers who held smaller shows and/or presentations during the just-ended New York fashion week, shows and/or presentations that I just happened to like very much. Some are established designers; some are still emerging. All of them are doing exciting things you should probably know about.

Rachel Antonoff showed her collection in an airy, light-filled room that had been transformed into a living illustration of a slightly creepy vaguely Victorian house. Black-and-white trompe l'oeil drawings of furniture and even a piano covered the walls and floor, and touches like a trapdoor and the axe that one model held established a sort of creepy-funny Gorey vibe. (So did the drawings of grave headstones that had been laid out on the floor.)

Antonoff's presentations are always impressive — one season, she rented a high school gym and turned her show into prom; another season, the models looked like girls at a sleepover — and the mise en scène was truly impressive. It was the perfect setting for Antonoff's beautiful, unapologetically girly, vintage-inspired clothes.

G/O Media may get a commission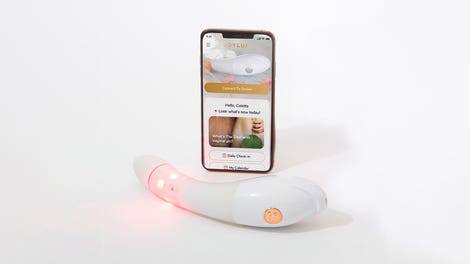 $50 Off
Joylux vFit Gold Device
I also loved the shoes.

Chris Benz's clothes for spring were bright, 60s-inspired, and a little trippy. The pink-haired designer put in time at Marc Jacobs and J. Crew before launching his namesake line, and the experience shows in his preference for color.

Also, how cute is the sneakers + day dress combo? She looks like she could go places.

Duro Olowu's clothing is not for the faint of heart, or the shrinking violet. He mixed vintage fabrics and his own prints in his beautifully cut dresses and separates. Everything turned out vivid and mixed-up.

There were also nice touches that only a wearer would need to know about — like a white blazer that had a leopard-print lining.

Really precise fits kept the collection flattering.

The jewelry line Erickson Beamon won my vote for most spectacular presentation of the season, however. (Back in February, I would say Elise Overland had that honor — she showed her clothing on professional ice-skaters, including Johnny Weir, who performed at an open-air rink, and let anyone watch who wanted to.) Erickson Beamon showed their wares on elaborately made-up models who posed on scaffolding that was covered in lush greenery and flowers.

Their eyelashes were practically prehensile.

And the pedicures. The pedicures.

Meanwhile, in the center of the room, professional dancers clad in Erickson Beamon jewelry and feathers performed. It was absolutely gorgeous.

I also loved the presentation by lingerie brand The Lake & Stars. Like last season, they showed their elegant underthings (which have an obvious appeal to anyone who's ever longed for lingerie that combines some of the aesthetic of vintage smalls with the modern taste for fit and comfort) on a really great, diverse cast of models — all without making a big deal about it. They even booked a plus-size model, the lovely Inga Eiriksdottir, and just put her in the lineup without any fanfare — almost as though she was, you know, just a model, doing her job.

I loved the mix of textures in the various pieces.

And the vintage-inspired details, like seaming and pin-tucking.

Suno, a label that has been known for its loud mixes of bright prints, showed its spring collection at a runway show for the first time ever. (That format perhaps befits a brand that was nominated this year for the Vogue/Council of Fashion Designers of America Fashion Fund award; the winner will be announced on November 14.) And the collection was a bit of a creative departure: the whole thing was relatively restrained, with a lot of white, and an exploration of some different textures. (There were some really lovely dresses in white lace.)

I thought it was a really successful collection.