Another year, another Emmys telecast. There were some great wins, some upsets, and Modern Family dominated pretty much everything. Whether you missed it or watched and just blacked out, here are all those noteworthy, "water cooler moments" you missed.
We're going to say the number-one highlight moment was the presentation of Best Actress in a Comedy category (above). As the nominees were being read aloud, each of the women ran onstage as their names were read, and the show suddenly turned into the Miss America Pageant. (Supposedly, Amy Poehler masterminded the whole thing.) When Melissa McCarthy won, I found myself choking the tears back and feeling so proud for her, despite the fact that I've never once tuned in to Mike & Molly. We can pretend it was really given to her for Bridesmaids, right?
---
Jane Lynch's gay agenda.
It includes calling Rachel Maddow and her fannypack. Plus, Entourage is pretty much the reason all women become lesbians.
---
Charlie Sheen apologizes, kind of.
And later, Jon Cryer and Ashton Kutcher make some unfunny jokes about the situation. Can't we all just agree that Two And A Half Men isn't worth this much televised awkwardness at an awards show and move on?
G/O Media may get a commission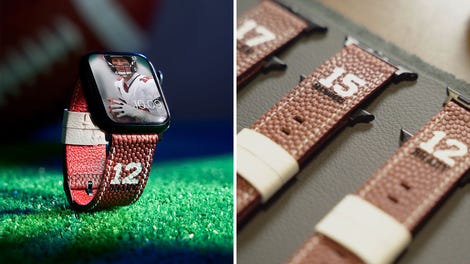 Official NFL PRODUCTS
Official NFL Apple Watch Bands
---
The Lonely Island's megamix.
Michael Bolton, Akon, William H. Macy, Maya Rudolph, Ed Helms, and John Stamos all partake in a medley of SNL Digital Shorts that you've laughed at over the past year. Plus, learn how to "Freak Bill Macy."
---
"And the Emmy award goes to ... The Daily Show."
An honest reaction to Jon Stewart's millionth win in a row.
---
So that's where all of New Jersey's reality programming comes from.
Like you didn't expect at least one cameo by one of the Jersey Shore kids in this telecast.
---
Ricky Gervais gets censored by Fox.
There there, Alec Baldwin, it would appear that you're not the only one.
---
Friday Night Lights' Coach Taylor wins an Emmy.
Clear eyes, full hearts, can't lose.
---
The star-studded opener.
The obvious winner in this medley is the cast of Mad Men, who struggle to comprehend the future, as it is now. Jane Lynch: "People watch television on their phones!" John Slattery: "Like this?" (Holds dial-up phone to his eyeballs.) Plus, our host sings without autotune.
---
Gwyneth Paltrow "wings it."
The teleprompter was apparently down, causing the actress to improvise for a moment. We were not impressed.
---
The Office gets a new boss.
As well as a slew of new employees, that include Mad Men's Roger Sterling, Law & Order SVU's Detective Benson and Parks & Recreation's Tom Haverford — all in character. Plus, Creed gets a "special delivery" by none other than Breaking Bad's Aaron Paul.
---