The Golden Globes! So many drunk winners and so many more drunk losers! Tight-lipped smiles. Barely-contained grimaces on beautiful Hollywood faces. The losers are the true heroes of the night! Here are the ones who gave this year's best performances.
Is Jessica Lange disappointed about losing to Elisabeth Moss? Is she bored? Is she watching her table mate completely miss his coaster? Whatever the reason, she didn't even try to look excited after losing. Oh, well. Lange's been in this business long enough and has sat through plenty of these dog and pony shows. She can make whatever face she wants and still be the most glamorous person in the room.
Michael Sheen and his daughter gossip (probably about why the hell Lizzy Caplan wasn't nominated for Masters of Sex) as Bryan Cranston takes the stage to accept his prize.
G/O Media may get a commission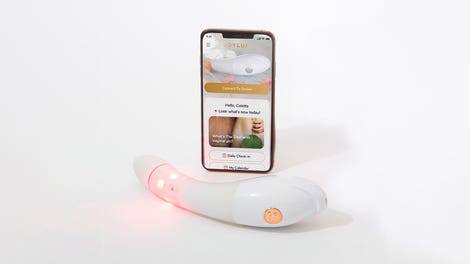 $50 Off
Joylux vFit Gold Device
Amy Adams won a Golden Globe for for American Hustle. Meanwhile, Meryl Streep won for best IDGAF grin, Julia Louis-Dreyfus won for best "Whatever I Just Swallowed Tastes Terrible" face, Greta Gerwig won for best "Keeping It Together Until I Can Cry in the Bathroom" smile and Julie Delpy wins for looking like she just wants Adams to wrap the whole thing up.
None of winner Jared Leto's fellow nominees (Michael Fassbender, Barkhad Abdi and Daniel Brühl) are quite ready to embrace the actor's man bun. Next year, every last one of them will be wearing it.
Joaquin Phoenix throws out a calm serial killer vibe while watching Leonardo DiCaprio accept the award for Best Actor in a Musical or Comedy.
While Oscar Isaac makes it clear that Leo better avoid him at the after-parties.
Robert Redford contemplates how it's even possible that Matthew McConaughey could do such a terrible Matthew McConaughey impression during his own acceptance speech.
Chiwetel Ejiofor agrees: It's total bullshit that neither he nor Lupita Nyong'o won for their work in 12 Years a Slave.
And everyone's just honestly happy for Amy Poehler.
And here's the moment where everyone lost:
LET IT FLOW, EVERYBODY.