Rob Lowe and Rashida Jones will be leaving Parks and Rec during the 13th episode of the upcoming sixth season, executive producer Mike Schur has confirmed — because their characters are maybe, probably, having that baby they were talking about at the end of last season.
"With [on-and-off couple Anne Perkins and Chris Traeger] contemplating parenthood, it felt like a natural time to move them into the next phase. We absolutely love both Rashida and Rob, and will be sad to see them go.

Rashida was one of the very first people we knew we wanted in the cast, and as important as Ann is to Leslie (and vice-versa), she'll certainly never be far from Pawnee. Rob we initially thought we could only have for six or eight episodes, and we couldn't be happier that he will have stuck around for 75."
The episode will probs land during February sweeps. Both Lowe and Jones have projects on their hands — he is about to play JFK in a NatGeo biopic, she has a TV deal with Warner. I have to admit that I have never been super-nuts about Ann, but Rob Lowe proved himself indispensable with the following 0:27 seconds. [Buzzfeed]
---
Amanda Bynes has been stabilized and seems to be improving at the psych hospital, where doctors prescribed a drug cocktail geared towards controlling schizophrenia. In the last three days, she has stopped talking to herself and insulting people, and has begun to use "please" and "thank you." However, today is her court hearing to try for a release, and the fact that she seems to have improved may help her get out — even though there are no guarantees that she'll stay on the meds. [TMZ]
---
G/O Media may get a commission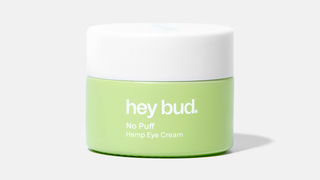 15% off
Hey Bud - No Puff Hemp Eye Cream
Chris Noth(stache), who has hated on Sex and The City in his day, agrees with TV critic Emily Nussbaum's defense of the show's cultural importance in the New Yorker: "I thought she was spot-on about how we've sort of gotten used to [talking about the show] in the wrong way. And I think people — and I have, too, wrongly, sometimes — said, 'Oh, it's just about the glitz.' I think people got sick of the materialistic aspect of it, which flowered the most in maybe the last movie, but that's not the heart of what that show was. It was nice to be reminded."
It is less nice to be reminded what Mr. Big would look like if he ran at lightning speed into McGruber. Shaaaaave? [Vulture]
---
Carly Simon has apparently told Taylor Swift who "You're So Vain" is about. (Warren Beatty's the most popular theory.) (How about a curveball, like thinking-lady's '70s sex symbol Elliott Gould?? He is my phone background!) [TMZ]
---