For the past 11 weeks, I have been adrift, lost in a sea of meaningless interactions. But alas, as I opened my eyes this morning, a new reality emerged: The sun was shining with an incandescence that can only be accompanied by that familiar scent of rose petals and fresh blood. Ahhhhhhh, 'tis a new season of The Bachelorette.
What a sensation. It's like having a thousand dumb-but-hot angels tickle your heart and fondle your soul. I was healed. My lifeforce had begun anew.
…So, IDK, let's count some stuff?
Season 9, Episode 1
25: Potential suitors.
1: Potential soulmates.
1: Actual soulmate for all of North America and sections of the Galapagos. Chris, my dear, I've missed you so.
5: Total minutes Desiree could contain her tears on live television.
Seemingly unlimited: Triggers for Desiree's casual weepfests. Don't even think about mentioning her brother's living room/bedroom.
G/O Media may get a commission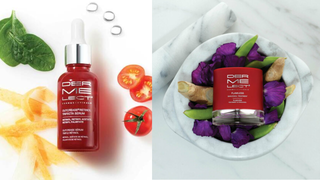 Save $19
Retinol Renewal Kit
6: Minimum references to Cinderella and/or Prince Charming in a Bachelorette's opening montage, as per ABC's Standard Operating Procedure.
A gajillion: Dollars donated by The Malibu Board of Tourism to this episode.
0: Rulebooks in Desiree's library.
0: Anysortofbooks in Desiree's library.
650: Percent of Desiree that is "truly humbled."
6: Viewers who had heretofore heard of "Missoula" before meeting Bryden
35: Diseased individuals thanks to Will's high-fiving rampage of terror throughout the streets of Manhattan.
1: Slash-who-must-not-be-named. You are a tailor or you are a magician. You cannot be both. (And you shouldn't really be either.)
A surprising amount: Level of transcendence reached whilst sipping a mug on a balcony in the nude. Namaste, Zak.
0: Jobs that suck more than being those-sign-spinning-guys. Way to contribute to the world, Robert.
1: Minimum number of high-fives Robert and Will have exchanged throughout the 21st century, based on the law of averages.
55: Total percent attractive Mike would be if he still had a British accent, thus making him "30% more attractive."
#: The number sign.
#: The pound sign.
#: The sign that, if repeated aloud, indicates that you are one of the worst people in the world. @Kasey #marriagematerial #letthejourneybegin" #iwantarose #shrinkage #fantasysuitefail (7 = the number to beat)
911: The only possible reaction to Fantasy Suite Jonathan. If only there was a rose set aside for "most murdery."
2: Visible nipples in this season's premiere. Zak, I really think Chris Harrison would appreciate your fashion tutelage.
8: True number of deadly sins, per Larry's potentially-maybe-almost ripping Desiree's dress. Svedka made that special for her, Lar.
3: Words I wrote down upon meeting Zack K., the book publisher in sneakers and a bowtie – "I'll" + "Take" + "It"
2: Reactions a gal can have to a man in a full suit of armor, according to Brandon – "A girl's either gonna like it or she's gonna be like, 'Holy shit. That guy waxes his eyebrows, definitely don't want to hang out with him ever again."
1: Guy who DEFINITELY waxes his eyebrows. (See above.)
2: Words I wrote down upon meeting Drew – "Yes" + "Hot."
2: Words I repeated upon meeting Robert. (See reaction to Drew.)
Same 2: Words that lost absolutely all meaning upon meeting Juan Pablo. Muchas gracias, ABC.
3: Word pairs it takes to win The Bachelorette by a landslide, as demonstrated by Nick M. – season/reason, emotion/ocean, you/too (ha/ha j/k)
100: Percent of Desiree's ovaries that began to tremble upon sight of Ben and Brody.
1: Nutshells this episode could fit in, per Chris Harrison's review, "25 bachelors have arrived. HOW INCREDIBLE IS THAT LITTLE BOY?!"
A whole lot: Fear visible in Desiree's teary eyes as she realizes she's met the full range of possibilities for her future husband.
All remaining: Toasts I will give in which I quote "To new faces, new hot bodies, and wonderful nights." Can't wait for the fantasy suites, Des.
1: Former star of Reba now featured on The Bachelorette. Identity theft is not a joke, Brooks.
0: Percent that "two friends having a kid together" has ever been a thing, Ben.
1: Anonymous suitor who VERY CLEARLY yelled, "Take the Calvin Klein off!" to a half-naked Zak. I DEMAND ANSWERS.
5: "Mm" repetitions Desiree restricted herself to re: Juan "Dream of a Man" Pablo
905: Times Larry took his glasses off during one conversation with Desiree. (Really. Can we get some bifocals for the B-side Clark Kent here?).
"YEARS": How long Jonathan's "love tank" has been depleted
"YEARS": Before anyone steps foot in Jonathan's hometown of Hickory, North Carolina. I don't care how attractive your mom says you are.
"DAYS": Before someone buys my pitch for the new spin-off series Love Tank in which a frisky group of singles find love in a submarine.
48: People Larry has dipped without a gosh darned hitch! #whataretheodds
1: Literal "explosion of love and feelings" possible here on earth. Thanks for helping me find the words, Diogo… Now off you go.
Follow Emily Hirshey on Twitter: @EmilyHirshey