On Tuesday night, two Jezebel staffers with varying degrees of encyclopedic knowledge about the modern Bachelor universe watched the tenth episode of Colton Underwood's season of The Bachelor. The wine was poured, and the virgin jokes flowed. This is their story.
Maria: The Women Tell All episode is often one of my faves of the season because it's so damn melodramatic, and there's always one woman who was cut, like, night one who is weirdly vocal for no particular reason. Last night didn't disappoint. I will say that I'm sad I didn't suggest we drink every time Chris Harrison mentioned the fence or ABC showed footage of Colton hopping it because... it was a lot.
Thank goodness for producers who force women in a tense situation to re-watch their most confrontational moments and then ask they recount it one by one. Remember when Catherine was on lock to be the season's villain? I guess it was interesting to watch Onyeka and Nicole challenge one another again—though, like you said in our group chat, Onyeka delivered her "apology" straight to camera and not to Nicole. I also thought it was deliciously devious to unearth all the drama about the ladies warning Colton about other women who weren't ready to get married. Katie finally named Cassie and Caelynn as the contestants she believed had the conversation about "winning" and "becoming the Bachelorette" back in Singapore. I just don't know why some drunk woman named Jane started shouting about it—literally who is she?—and where is Elyse, our fave member of the cougar club?
Then, of course, like clockwork, Demi and Courtney get into it—which was expected and mostly fine until Courtney stood up and shoved a pacifier so hard into Demi's mouth, her head jet back. That was so fucked up!
G/O Media may get a commission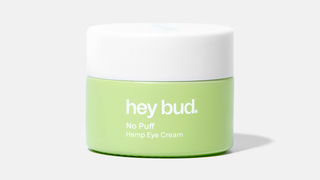 15% off
Hey Bud - No Puff Hemp Eye Cream
Lisa: Not to mention, that means Courtney brought a pacifier to the studio and was just waiting for the right moment to assault one of her former castmates.
So much was happening last night that a lot of it was hard to catch, but when the 20-person screaming matches took a break, there were actually some juicy nuggets in there. Caelynn being accused of sliding into Dean Unglert's DMs? I'm pretty sure he had a reputation for being a huge asshole on Bachelor in Paradise, but maybe that's more her type. All the women looked great in their "seeing my ex for the first time since we broke up" outfits, but no one looked as good as the audience member in a full sloth costume. My favorite part of the episode by far was the teaser that kept occasionally popping up in the bottom left corner, promising "MORE COLTON" over a video of him taking a sexy sexless shower. I really appreciate this show's commitment to never being subtle.
Demi and Hannah B stole my heart again during their time in the hot seat. Petition for them to be The Bachelorette together. Maybe we can reboot Double Shot at Love for them? I'm calling MTV. Chris Harrison used most of Caelynn's hot seat time to milk the goodwill from her sexual assault revelation, which was irrelevant and inappropriate and not his place to bring up again.
Maria: Of all the women who were invited in the hot seat to talk about their time on the Bachelor, it was weird that Chris asked Nicole to come down. He spent the entire time joking about how much she cried (at one point, questioned why her "spicy" never came out after she mentioned she's Cuban American, the kind of casual racism this franchise thrives on) which apparently was a long play to give the audience free Halo Top ice cream. (Get it? Women love to eat ice cream when a boy makes them sad!) Then, of course, there was a Halo Top commercial starring former Bachelor and current Nick Viall. Speaking of fuckbois—Dean was so bad to all the women on Paradise, you heard correctly.

I have no idea who thought it was okay to let Chris Harrison bring up and moderate a conversation about sexual assault, but ABC should be ashamed for being so clueless at best, re-traumatizing at worst.
Within seconds, Harrison changes direction and Colton comes out. The women ask him important questions like: "Are you still a virgin?" He doesn't answer, but is kind of a douche about it, so I guess that means "no" or "just the tip."
Lisa: Colton's time in the hot seat essentially begins with Demi re-introducing Courtney to him, in case he forgot. Someone give this woman a regular show already; she's on fire.
He and Caelynn have an awkward and mostly useless chat about why their relationship ended, but truthfully I blacked out for most of Colton's screen time. That's because I was staring at his obviously dyed hair that no one in the studio had the courage to bring up. Cowards! When did this happen? Did he do it himself? (It looks like he did.) Why? Did he and Cassie end up together on the condition he dye his hair darker? Is this a single person's revenge makeover? Is he auditioning to play the very polite jack-o-lantern in You're a Good Man, Charlie Brown? I must know.
Maria: And hopefully we'll find out next week in a two-part finale. Godspeed to us, and to Colton's new life as a potential non-virginal brunette.