"Dear Ivanka, Much like you, we are professional women and mothers," the most recent letter from the artists that run Halt Action Group begins. "We need to talk about your Dad, Ivanka," the letter continues. The letter, signed by artists Allissa Bennett, Alison Gingeras and Jamieson Webster, is an open appeal to Ivanka Trump, daughter of the president-elect, variating between Ivanka's pseudo-feminist brand of personal achievement, that mystical thing called work-life balance and the blatant sexism of her father.

For all of Ivanka's allure to conservative voters, lifestyle magazines, and Macy's customers, Ivanka, the Halt Action letter indicates, is her father's collaborator.
Bennett, Gingeras, and Webster write:
Now that you're our First Family, we're not exactly prying when we ask to know what kind of family we are going to be living with for the next four years. Our big white Daddy in that big White House—and you'll be there helping him, the perfect hostess. You're the head whitewasher in this new big happy family arrangement.

Help us Ivanka. Because if 46 percent of the country wanted a Daddy, then it is from you that we need to hear what we are in for—the First Daughter, his true and only beloved.
The letter, published earlier this week in Artforum, is part of "Dear Ivanka," an artist-run project that began on Instagram. In the Instagram project, artists use found photographs of Ivanka—usually, ones that she's either shared herself or publicity photographs; all of which work to visually construct her brand—and juxtapose them with a plea to engage with political issues that she's typically ignored (abortion, racism, her father's sexism, etc). The project also has a template to share hand-written letters to Ivanka. "You can change things," one letter, for example, reads.
G/O Media may get a commission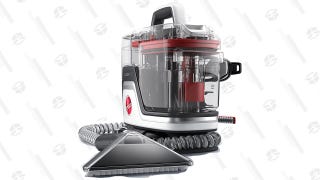 Save $10
Hoover CleanSlate Plus Carpet & Upholstery Cleaner
According to their website, the Halt Action Group is writing to Ivanka because "we look to you as the voice of reason." It's a bit of tongue-in-cheek, a play on the public perception that Ivanka isn't like her dad; that while her father might surround himself with the Steve Bannons of the world, Ivanka's brand has always been one of style and grace, far from the rough and tumble language and policies of the Trump administration (as though those things are mutually exclusive). Ivanka presents herself, at least, as far from the ideologies of her father. "While everyone is concerned about your conflict of interests, spread thin between the American people, your Dad, and your brand and business, I know you will sort it out," a Dear Ivanka post from earlier this week reads. "I know you won't use your father's presidency to sell jewelry or clothes or handbags or trips to the spa!"
More broadly, the "Dear Ivanka" project is a critique of the mystique of Ivanka, the powerful First Daughter who has the trust—and ear—of a man who seems to otherwise have little regard for women. A recent New York Times report indicated that some of corporate feminism's most recognizable names reached out to Ivanka, believing that she can offer a pathway to a White House that seems to unwilling to engage with that broad thing called "women's issues." Via the Times:
Sheryl Sandberg, the chief operating officer of Facebook and the author of the best-selling women's empowerment book "Lean In," reached out to Ms. Trump, hoping to begin what aides from both sides described as "a dialogue."

Anne-Marie Slaughter, a policy adviser to Hillary Clinton at the State Department and the author of "Unfinished Business: Women Men Work Family," had met Ms. Trump about a year ago at Fortune's Most Powerful Women Summit. She also sent word to the incoming first daughter a week after the election, saying that she hoped to be in touch with her after her father took office.
It's not clear what that "dialogue" would look like. On the campaign trail, Ivanka advocated for better maternity leave policies but was hostile when Cosmopolitan questioned her about them specifically. Nor has Ivanka said anything about the fact that Trump's tax plan would raise taxes on single parents. Nor has Ivanka said anything about the numerous sexual assault allegations made against her father or his constant wavering on issues like abortion. In fact, she's remained virtually untouched and unresponsive by the sexism that was a hallmark of her father's campaign. The only whiff of scandal that's touched her was criticism over her attempt to use the White House as a platform to sell expensive jewelry.
And yet, Donald Trump has made it clear that Ivanka is the go-to person for "dialogue" on women's issues. The same Times report notes that when Democratic House Leader Nancy Pelosi reached out to the Trump transition team to discuss "women's issues," Trump, "handed the phone over to another person in the room — his 35-year-old daughter, Ivanka."
It's clear, however, that Ivanka has both agency and authority with her father that will very likely extend to the White House. The Daily Beast reported this morning:
"She operates in a bubble of 'can't touch this,'" the source said. If she had concerns about the appearance of impropriety, "Don't you think she would recuse herself from sitting down with the Japanese prime minister? No one is making her do that—she's fully autonomous."
That same Daily Beast story is focused on the maintenance of Ivanka's brand, as though its erosion is a central source of concern. But as the artists behind "Dear Ivanka," have demonstrated, that brand is practically pure illusion, perfected by a marketing team and two decades of Ivanka's experience as the most likable member of the Trump family.
It's clear that Ivanka is powerful and, as "Dear Ivanka" points out, if she wants it, she has the ears of politicians, lobbyist and corporate leaders alike. Less clear, however, is whether or not Ivanka wants to listen.