So much of the African American experience is stashed in basements and attics. So writes fashion journalist Robin Givhan in her recent article about the Black Fashion Museum Collection's move to the Smithsonian National Museum of African-American History and Culture.
For Givhan, the new home of this "treasure-trove of garments designed and worn by African Americans over the course of generations" at the Smithsonian Institution secures the preservation of a "hidden history...in danger of being washed away by the enormity of another Katrina or even a trifling family rift."
An Other Fashion seeks to find these hidden histories stashed in the basements and attics, in the backs of closets, and in lesser-known personal and institutional archives of and about women of color. These histories are not only kept hidden due to the informal and often inadequate practices of preservation by ordinary people; instead, it is the official cultural archives such as museums and libraries that have played a significant and profound role in keeping hidden the sartorial histories of racially minoritized women.
Recent fashion exhibitions in New York City have included "Night and Day" and "Fashion and Politics" (both at the Museum at FIT); "American Woman, Fashioning a National Identity" (Costume Institute); and "American High Style: Fashioning a National Collection" (Brooklyn Museum). While these exhibitions focus on the convergence of fashion, nationalism, and collective memory, their emphases on formal politics, designer fashion, and eveningwear implicitly privilege dominant styles of dress and womanhood and tacitly inscribe Americanness with bourgeois white femininity. If racial, gender, sexual, class, and language barriers have historically shaped and limited the achievements and life chances of non-White and working women, then traditional museum exhibitions that emphasize the styles of bourgeois white womanhood to the exclusion of Other women collude in the ongoing marginalization and erasure of the lives and material cultural histories of minoritized American women.
G/O Media may get a commission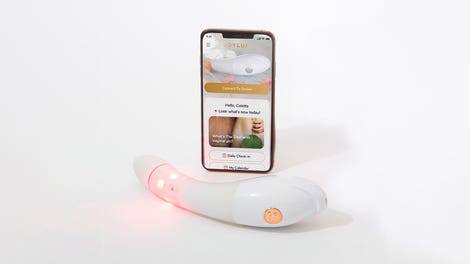 $50 Off
Joylux vFit Gold Device


Dancers from San Francisco nightclub Forbidden City, backstage 1950
An Other Fashion is a critical intervention into traditional understandings of fashion history, histories of "American" womanhood, and official memory practices. The exhibition seeks to critically explore the creative, cultural and political ways in which racially minoritized women in the U.S. have employed practices of dress and beauty to claim Americanness. Through highlighting garments, accessories, photographs, videos and texts, An Other Fashion does more than rediscover a hidden past; this groundbreaking exhibition reimagines our understanding of and relationship to the past. In providing a glimpse of the sartorial ephemera of women of color's material cultural histories, this exhibition commemorates lives and experiences too often considered not important enough to save or to study.
Contributing to the Exhibition
We are looking for donations that will enhance the breadth and depth of this exhibition. Items we are interested include, but are not limited to:
Handmade, store-bought, or altered garments and accessories. Please note that garments do not need to be in perfect condition. The life of the garment is important to us!
Family or vintage photographs featuring women of color in fashionable looks
Newspaper and magazine articles and advertisements targeting women of color. Original prints are useful.
Other sartorial ephemera, such as accessories, packaging, cosmetics etc.
Please provide as much information as possible about the objects — for example, who made or designed them, who wore them, where they were used and how and why they were passed down to you. It is especially helpful if you send photographs of the pieces for consideration since we cannot accept all the objects offered to the collection.
The goal of this exhibition is to honor the life and memories of your treasures. Our fashion and textiles museum expert will make sure your items are well cared for and returned to you in as good or, when possible, better condition. The condition of your garment will determine the method of display — we will not display or store your objects in a manner that can cause further harm. You will be listed as a donor and items will be returned to you or otherwise disposed of in accordance with the donor's wishes.
If you have or know of material, visual, and textual objects that you believe we should consider, please contact us at threadbared.75@gmail.com. (Include "An Other Fashion" in the subject line.)
Costs, in time and materials, for shipping and storing items are quite substantial. Our museum expert estimates that each object will require approximately $100 to appropriately store each object (shipping and display costs excluded). We would greatly appreciate your help toward meeting these expenses and hope that you will accompany your gift with some of the funds necessary to help us preserve it.


"Short Cut to Glamor" (about correcting the "chunky" Japanese American female body with a cute haircut) from the post-WWII Japanese American magazine, "Scene: The Pictorial Magazine" (April 1950).
This post originally appeared on the blog Threadbared. Republished with permission.
The author of this post can be contacted at threadbared.75@gmail.com
Want to see your post here? Email us.